Are you wondering how to get from Cancun to Playa del Carmen?
As one of Mexico's liveliest cities; Playa is no stranger when it comes to entertainment, however, there are tonnes more things to do here.
In this guide, we'll explore how to get to Playa del Carmen, why you should visit as well as some of the best things to do here.
Playa del Carmen from Cancun
Playa is more than just a party hub, and there really is something for everyone in this beachside town.
Why Travel to Playa del Carmen?
Getting to Playa del Carmen couldn't be easier and with its great central location, many use Playa as a base for exploring the region, including cenotes and ancient pyramids.
Playa del Carmen is safe and has many beautiful beaches within reach, such as Xpu-Ha and Puerto Aventuras.
The legendary Quinta Avenida is also a pull as it's full of great restaurants, bars, and unique novelty shops.
The town is also home to some remarkably interesting sights such as the Frieda Kahlo museum.
How to Get to Playa del Carmen
If you are like many people who are looking to travel from Cancun airport to Playa del Carmen you'll need to bear a few things in mind.
Although you can book your ticket directly on the Ado website, I recommend you get your ticket on arrival at Cancun airport.
Depending on your preference you can also take a taxi from Cancun airport but you'll pay around double the price.
Another option would be to consider hiring a car which is a great option when traveling as a couple, or, as part of a group.
Distance from Cancun to Playa del Carmen
The distance is roughly 75km, which is about an hour's drive.
If you're staying in the Hotel Zone in Cancun and looking to visit Playa, then it'll be a little less distance.
As it's located so close to such a popular international hub, Playa is easily one of the most accessible destinations in Mexico.
Cancun has international flights arriving daily from all over the world.
Bus from Cancun to Playa del Carmen
Buses in the Riviera Maya are some of the most luxurious and reliable in the country. I usually like to carry a travel pillow for longer trips.
Also, as these cities are both immensely popular, there are multiple buses leaving pretty much every hour on the dot.
Using the bus is the best option in my opinion, as it's cheaper and only takes an hour to arrive.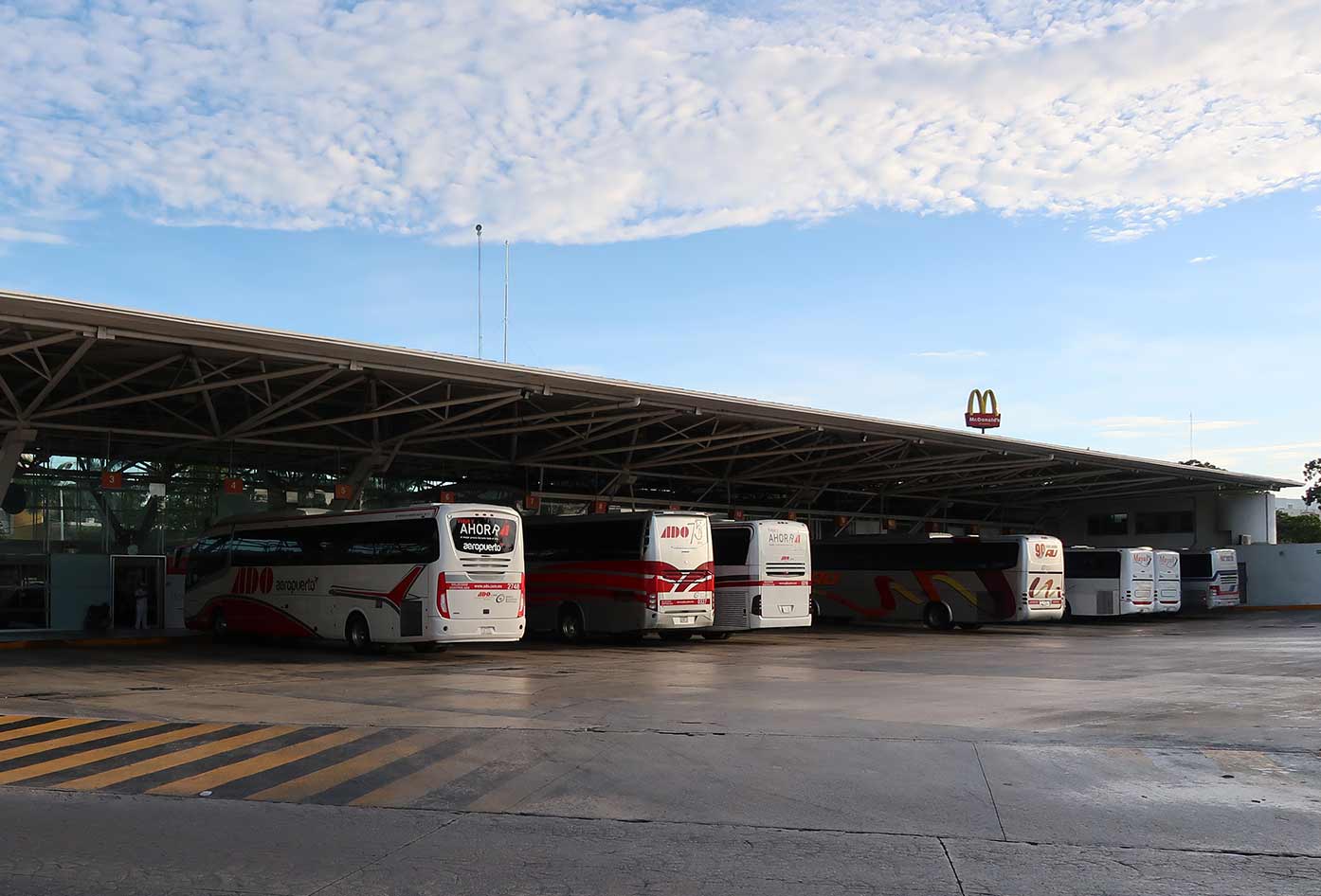 If arriving at the airport, head straight to the desks near the exit and you will see an ADO sign (ADO is the best provider in this region).
After buying a ticket, simply exit the main doors and you'll see the bus bays outside. You can also buy your ticket online here from Ado.
In a rush? Take a bus from the main bus station in downtown Cancún, which has even more connections than the airport.
Taxi from Cancun to Playa del Carmen
Another just as a popular option is to take a taxi.
Whilst a lot more expensive, it'll be a lot quicker and can save you time walking around trying to find your accommodation!
There is a large ring of taxis waiting outside the airport, and you're almost guaranteed one as soon as you arrive.
Expect to pay a very wholesome $50 for a one-way trip to Playa.
Things to do in Playa del Carmen
Now you know the logistical side of the journey, let's look at what to in Playa del Carmen once you get here.
Beaches
As you may well know, the Riviera Maya is safe and the region is home to some of the world's best beaches, and Playa is no exception.
The main beach in town is quite expansive and a great choice for ease, it happens to be popular with both tourists and locals also.
Take Colectivos (minibus) out of town to find more secluded options. Going from Playa del Carmen to Akumal is popular, for example.
Puerto Aventuras, in my opinion, is the best beach, as it has beautiful white sands yet not so many people.
Be sure to check out Xpu-Ha as another close-by option, and the further Akumal if you want to swim with turtles!
Museo Frida Kahlo
For the Frida lovers, or those simply interested in Mexican history, a visit to this museum is a great thing to do whilst in Playa del Carmen.
Entry is only $15, and you can learn all about the key events that shaped her life, and how Frieda has helped to change society with her conceptual approaches and views.
Whilst she didn't personally have a connection with Playa, this museum is arguably one of the best in the country to visit, along with her home in Mexico City.
Cenotes
Cenotes are incredible, naturally occurring structures that are found throughout the region. They are small caves filled with sparkling green water, which is great for a cool-off or for cave diving.
Cenote Azul is a great, nearby option and is relatively cheap to enter.
If you want a more "mysterious" and secluded vibe, then head down to Dos Ojos Cenote (less than an hour south) near Tulum.
I wrote about the cenote in my guide on things to do in the Rivera Maya so take a look there for more information and travel tips.
The caves here are fantastic, and there are lots of tropical fish so be sure to bring your snorkeling gear. You can rent the equipment too.
Quinta Avenida & The Nightlife
The infamous Fifth avenue is the place to be in Playa del Carmen.
During the day you can eat at lots of traditional Mexican eat-outs or dine in at some more upper-market venues.
There are lots of souvenir shops here, which can be found near the end of the fifth avenue, next to the ferry port.
By night, this street completely transforms. There are lots of small bars and pubs littered throughout, and some of the best clubs in the country are found here.
You can also head from Playa del Carmen to Tulum to experience the nightlife there if you feel you want a more hipster nightlife scene.
But whilst in Playa, check Cocobongo for an ultimate experience, with all you can drink every night and even opera performances!
Xcaret Park
Located just outside of town, Xcaret is an eco-tourism park that is well worth a visit! With six different parks to choose from, there is loads to see and do.
There are well over 50 cultural attractions here, including different eco-systems such as caves, jungles, and rivers.
There is an abundance of wildlife here such as flamingos, monkeys, and bats. They also have a particularly large amount of marine species, and you can opt to swim and snorkel with them too!
Entry fees are quite hefty at around $85 per person, but if you want to try something unique then I fully recommend it.
Playa del Carmen Travel Tips
All in all Playa del Carmen has enough things going on to keep you occupied for days on end.
If you are feeling adventurous you can even jump on the ferry to Cozumel and spend the day on the beaches there.
Got Travel Insurance for Playa del Carmen?

Designed by travelers, for travelers, World Nomads covers more than 150 adventure sports and activities so you can explore your boundaries.
Traveling to Playa del Carmen
Thanks for reading this guide to traveling to Playa del Carmen.
We've explored the resort and you should now know how to get there. This guide on Playa del Carmen vs Cancun will help you compare both destinations if you're in doubt.
We've also looked at the best things to do, including the beaches, cenotes, and a trip to the Frida Kahlo museum!
📌 Like this article? Pin it…
Will you be traveling from Cancun to Playa del Carmen soon?
💬 Leave a comment below or let's start a meaningful conversation…
---
"Dear friend! Some links in this post contain affiliate links. Meaning, if you click through and make a purchase, book a hostel or sign up for a tour, I may earn a small commission at no additional cost to you. Your support means a lot and helps me to keep traveling and maintaining the quality of this site for you."