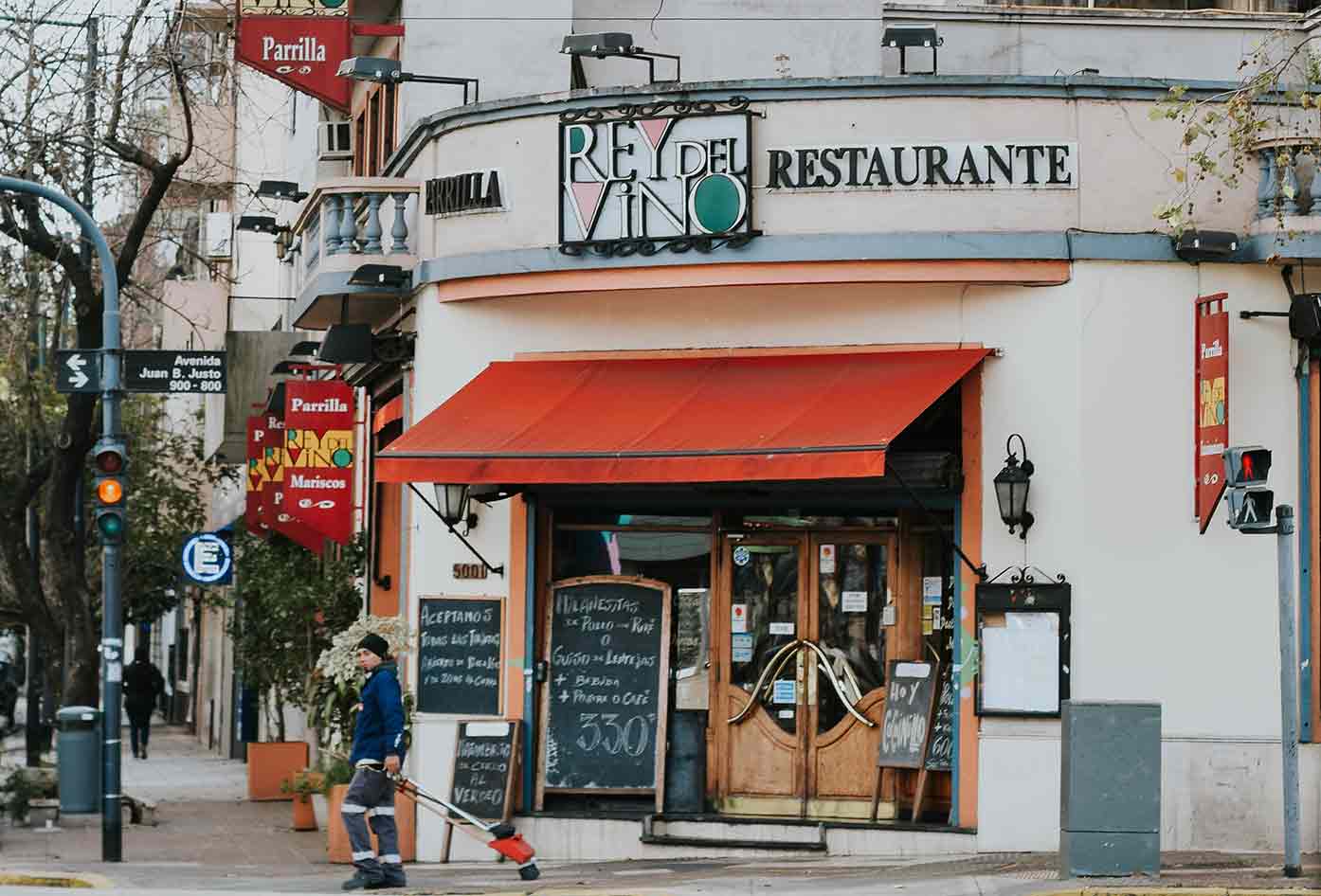 Deciding whether to visit Buenos Aires vs Mexico City for a trip?
The two most popular capital cities in Latin America, these incredible spots have the best people and party cultures.
Not many travelers would be able to fit both in, but many consider traveling to both cities to soak in the heritage and enjoy the nightlife.
This guide is designed to give you the answer to the ultimate question; which one is better for tourists to visit?
Buenos Aires vs Mexico City
Below we'll take a look at the differences in nightlife, safety, costs, and other factors to come to a definitive answer.
These two juggernauts both have a variety of different things to offer for different types of tourists.
They are similar in many ways, but there are some differences…
Let's jump in, shall we?
Buenos Aires
As a major recipient of millions of immigrants over the decades, Argentina's capital city is the melting pot that would envy America.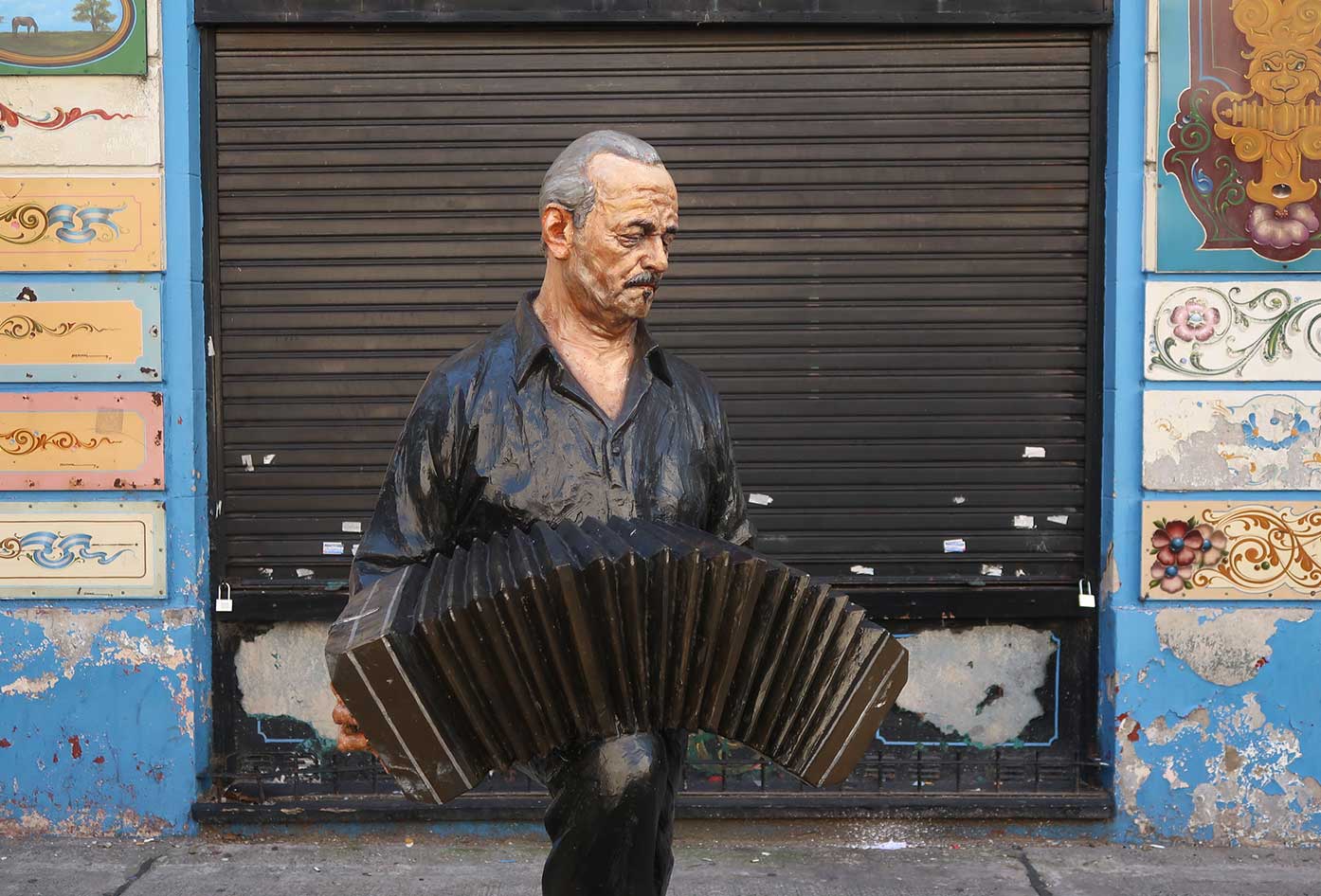 Serving the Rio de la Plata, the widest river in the world, it's the home of the Argentine tango and incredible feats of architecture.
Is Buenos Aires Safe?
The simple answer is; yes. Have no doubt in your mind when planning a trip to Argentina as long as you follow universal safety rules.
Compared with neighboring countries to the north and the east, Argentina is very safe not only in terms of crime and acts of God, but the people are extremely friendly.
As recently as the 1980s, Argentina was at war with the UK over the dominion of the Falkland Islands.
However, Argentina's animosity towards British citizens has largely dissipated over the years. There is a magnificent book called Goodbye Buenos Aires that talks in detail about the British in Argentina.
In certain regions, it would be extremely rare to receive any confrontation for British nationality, but it wouldn't hurt to not tempt fate by parading with a Union Jack.
So, other than petty crime (which is rife in some areas of the city), your safety in Buenos Aires should be nothing to worry about.
With tourism from other countries such as the USA or Canada, you'll find no issues in Buenos Aires at all.
In fact, Buenos Aires is one of the only melting pot cities in the world, with a flourishing history of mixing cultures from Spain to Japan.
Things To Do In Buenos Aires
You would be surprised to hear that one of the top tourist destinations in all of South America is a cemetery?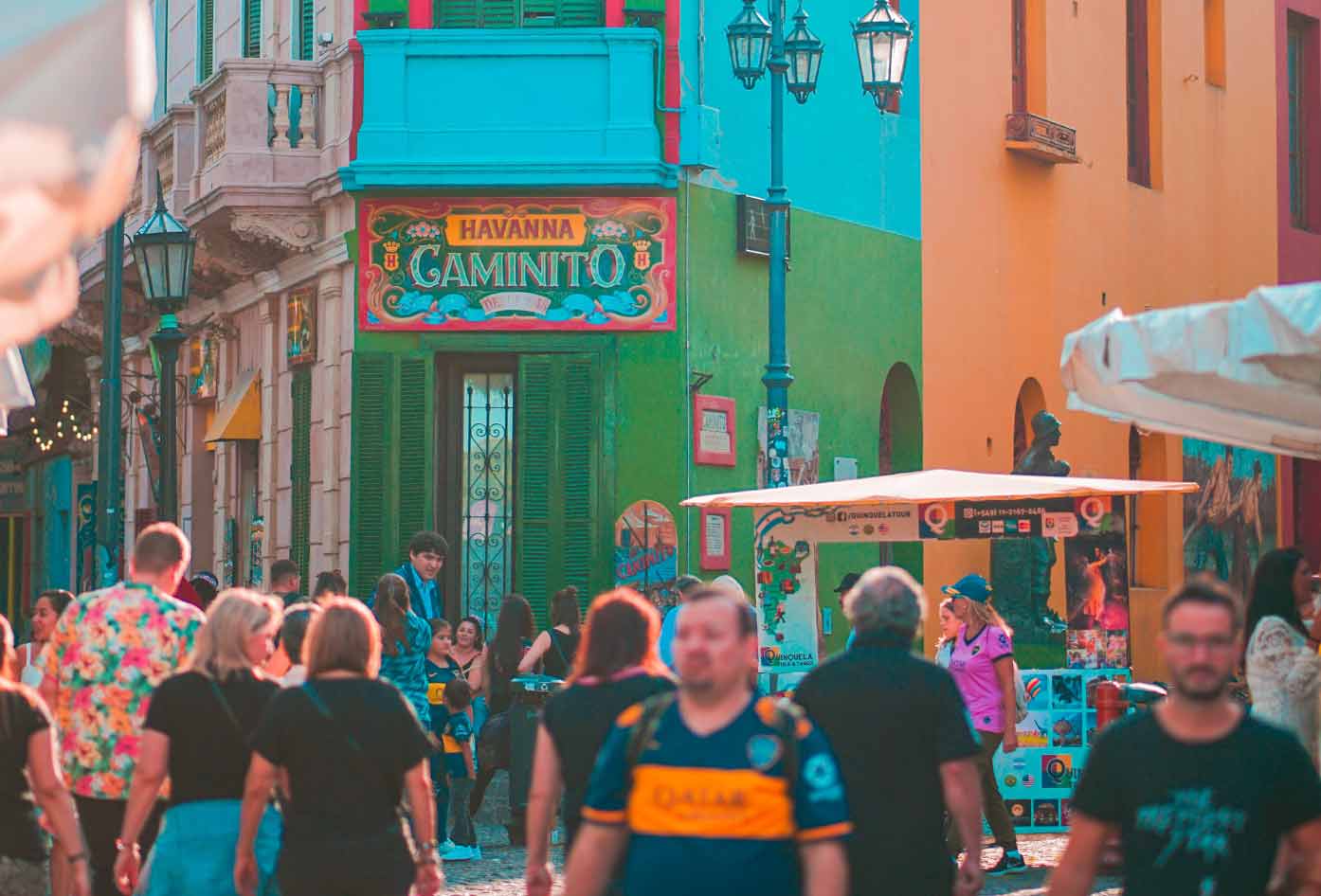 However, Recoleta Cemetery is no ordinary cemetery! It's a place of rest for the rich, famous, and powerful of Argentina.
See impressive, ornate mausoleums packed in a little corner of the city where you can wander for hours amidst a maze of the family graves.
💡Smart Travel Tip
Admission is free to the Cemetery and depending on how much you want to study the graves you may need a map to find your way around.
Perhaps the most "popular" site here is first lady Eva Perón's tomb, where people (most likely theatre fans) still leave flowers and tributes.
Other popular tourist attractions include:
Casa Rosada
Caminito
The Obelisco
One of the great facts about Argentina is that the Argentines love steak.
Once you arrive in BA, it means a few things, one is that you need to try the steak. And if you don't want steak, you need to have some wine.
And if you don't like steak or wine? Get up and learn how to dance tango while you are here! Asado and Tango are huge in this city.
Is Buenos Aires Expensive?
According to budgetyourtrip.com,
"A vacation to Buenos Aires, Argentina for one week usually costs around AR$49,380 for one person."
This is means that it costs around (USD)$510 a week per person. This is very cheap compared with a holiday in Europe or United States!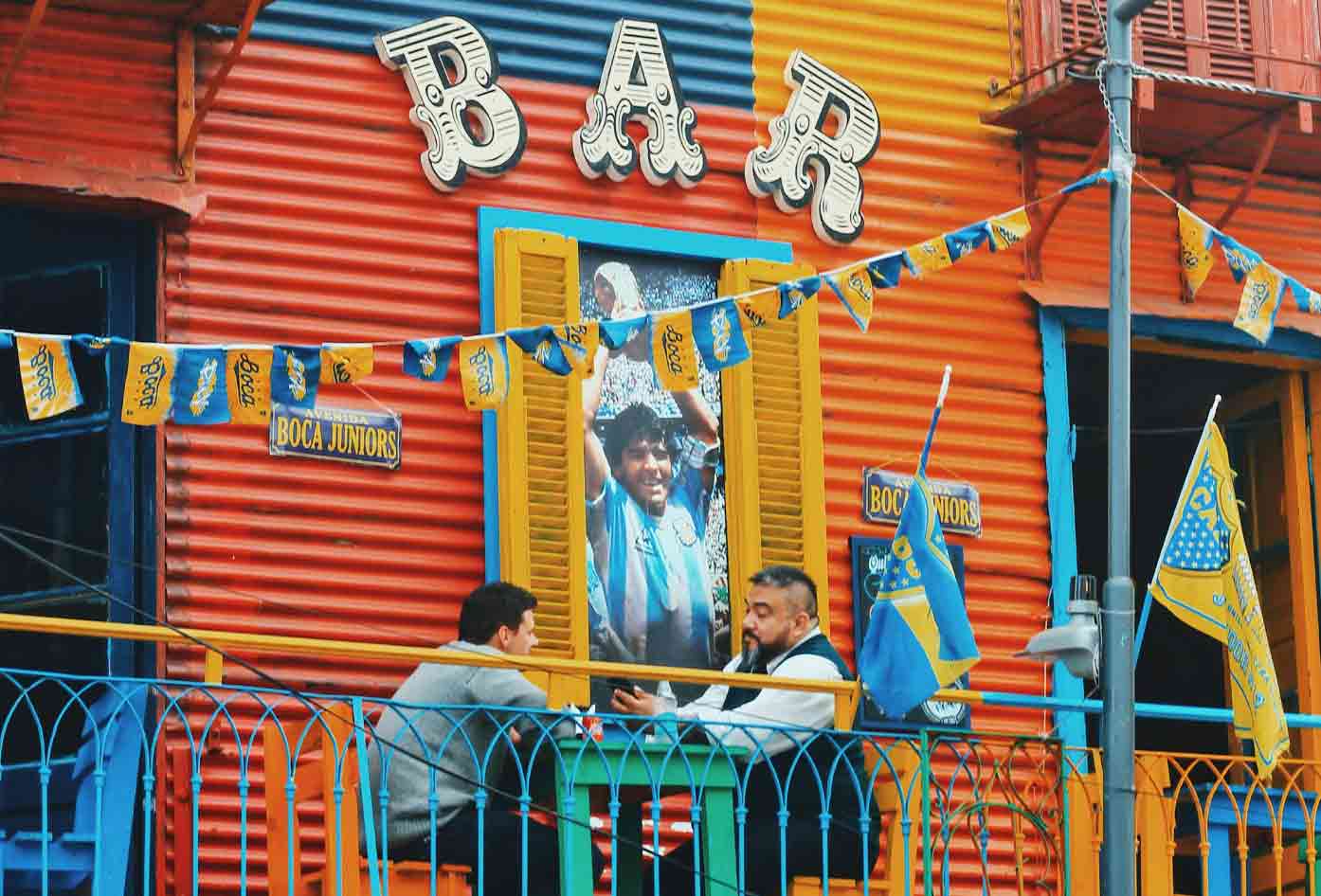 They also go on to say:
"a trip to Buenos Aires, Argentina for two people costs around AR$98,760 for one week. A trip for two weeks for two people costs AR$197,520 in Buenos Aires, Argentina."
There is a wide range of accommodation options. Why not try out the San Telmo neighbourhood, or the L'Adresse Hôtel for authentic stays?
Those traveling as a family find the price person often goes down because kid's tickets are cheaper and hotel rooms can be shared.
If you travel slower over a longer period of time then your daily budget will also go down. When you stay for longer, you spend less per day!
Why not stay for a couple of weeks? There are many boutique hostels in Buenos Aires that can help you get your cost down.
Best Time To Visit Buenos Aires
Peak travel season for the nation of Argentina is around December and January. Traditionally it's the most expensive time of year to travel in Argentina because it's the time many locals go on holiday.
If you want the best weather, you may have to fork out extortionate sums. Also, be prepared for some hot and muggy weather here.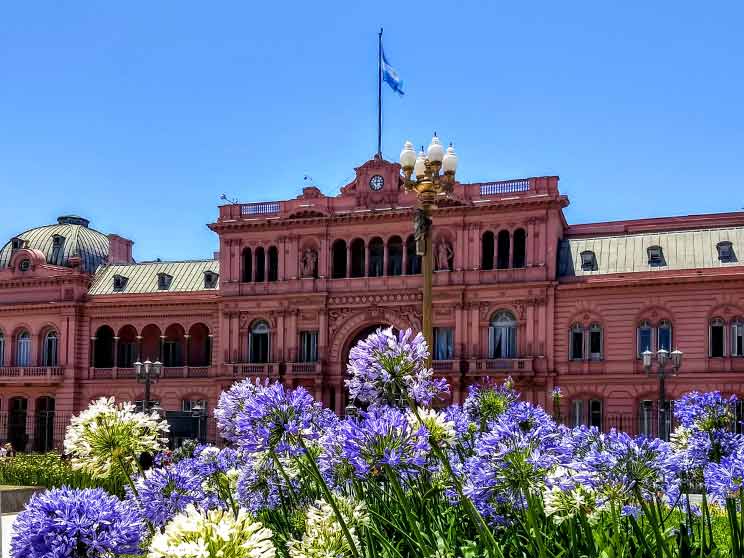 It's unlikely but this is also around the time that earthquakes are at a minimum, but you can never be fully sure that you'll avoid a mid-sized earthquake.
It turns out that January is a perfect time, not only will you get to stay home for Christmas. Since many residents leave for vacations, Buenos Aires seems to be much quieter than normal during this month.
If you decide to go from Buenos Aires to Iguazu falls during this season may want to book in advance to get the best prices.
Where to stay in Buenos Aires
Just in case you don't know, BA is a huge city with a lot of unique history and cultures running through the neighborhoods.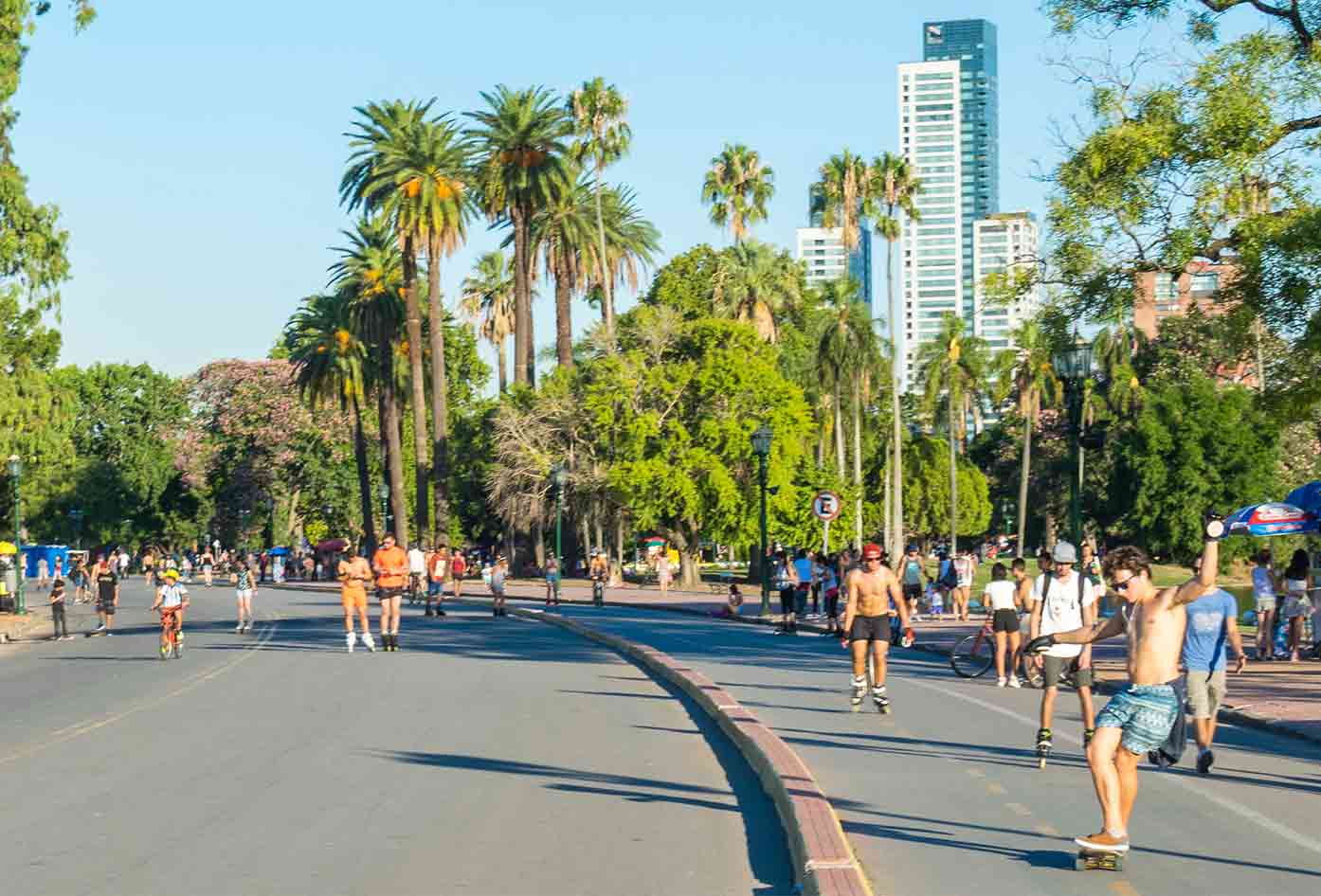 When looking for ideas on where to stay in Buenos Aires there are 40 neighborhoods in total. So it would be best to do more research separate from this article to figure out which one would suit you best.
For now, though, here are:
San Telmo
Home to one of the most famous markets in Buenos Aires, San Telmo is known as one of the cities most traditional neighborhoods.
Think cobblestone streets and colonial buildings. You'll find museums and artwork that encompass the neighborhood's bohemian style.
Recoleta
Recoleta is one of the most wealthy and walkable neighborhoods you can visit.
Take a stroll down Avenida San Fe and you will feel like you are in one of those popular European cities such as Paris or Madrid.
Aside from the great shopping opportunity, you have many parks and cultural spaces.
Palermo
For many Palermo is the best neighborhood in Buenos Aires with a host of good shopping, high-end restaurants, and market stalls.
The streets are quiet and lined with trees and residential housing. Palermo is much more than meets the eye so look out for the following: Palermo Viejo, Palermo Soho, Palermo Hollywood.
Read this action-packed guide on things to do in Buenos Aires which covers what to, things to see and where to stay more in-depth.
Mexico City
Did you know Mexico City is one of the most populated cities in the whole country? It is famous for its colonial-style architecture, iconic art scene, aromatic cuisine, and rich cultural heritage.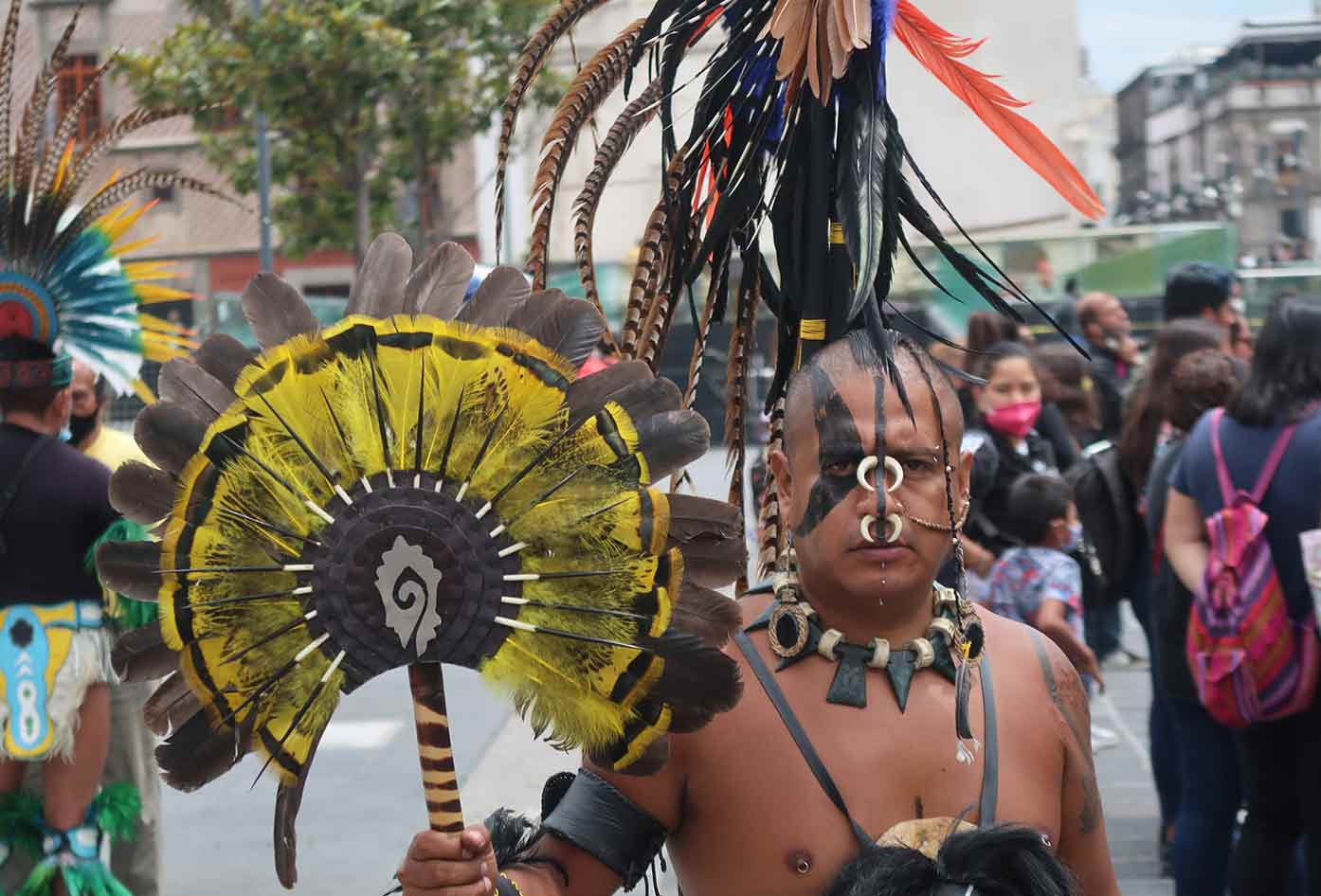 Being such a huge metropolitan expanse, you would expect Mexico City to be the better location for tourism. We'll see, shall we?
Is Mexico City Dangerous?
It's right smack bang in the middle of Mexico, so many who travel through Mexico from north to south or vice versa will make the stop.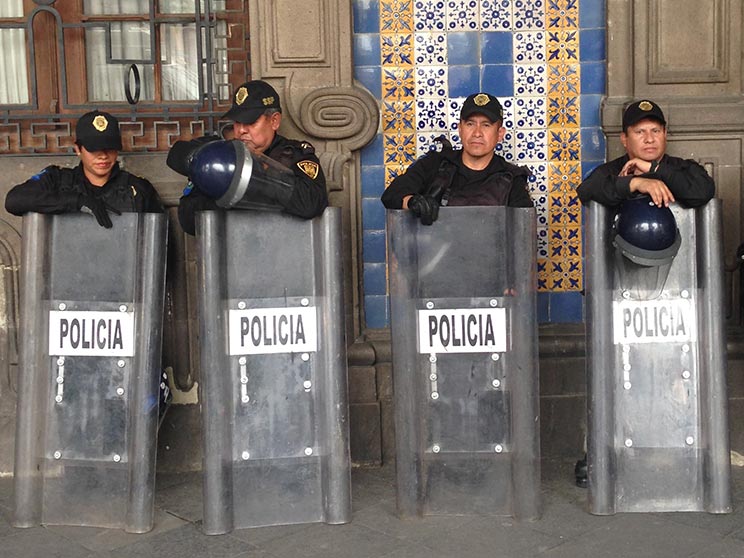 The thing is, many new visitors who travel to 'so-called' safe places in Mexico usually need to double-check to see how safe the area they're looking at truly is.
It would be wise to do this, and you may consider the idea that Mexico's cartels may most likely interact with the capital city.
However, this is largely untrue and you can never trust the news reports to reflect reality all the time.
You can visit this article title is it safe to visit Mexico City and see just how safe a trip can be based on factual information.
Mexico City Tourist Attractions
The beating heart of Mexico City is Zócalo – the Plaza de la Constitución (Constitution Square) – where the country's first constitution was set.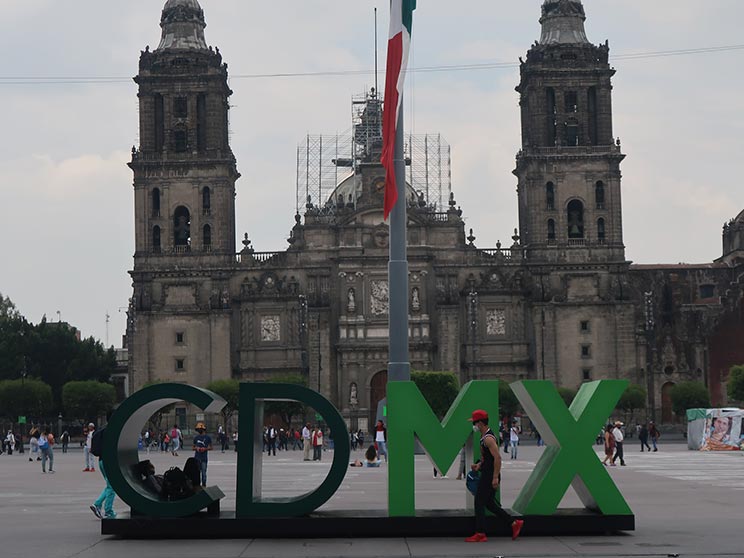 It's one of the world's largest squares in the city and was laid out almost immediately after the conquest of the former Aztec city of Tenochtitlán.
In the early colonial period, the square served a variety of purposes, including as a bullfighting arena and market, while today, it's used for festivals and parades.
It's also dominated by three of the city's most visited tourist attractions:
National Palace
Metropolitan Cathedral
Templo Mayor with its Aztec relics
If you are starting your visit in the city's historic center, the Zócalo is the perfect place to begin exploring historic Mexico City.
You find more in this action-packed Mexico city itinerary that lists some of the most popular places to visit in Mexico City for new travelers.
Is Mexico City Expensive?
Visitors to Mexico City spend around M$2,736 (USD$137) per day, which is the average daily price based on the expenses of other visitors.
Past travelers have spent, on average, just M$366 ($18) on meals for one day and M$176 ($8.83) on the locally running transportation!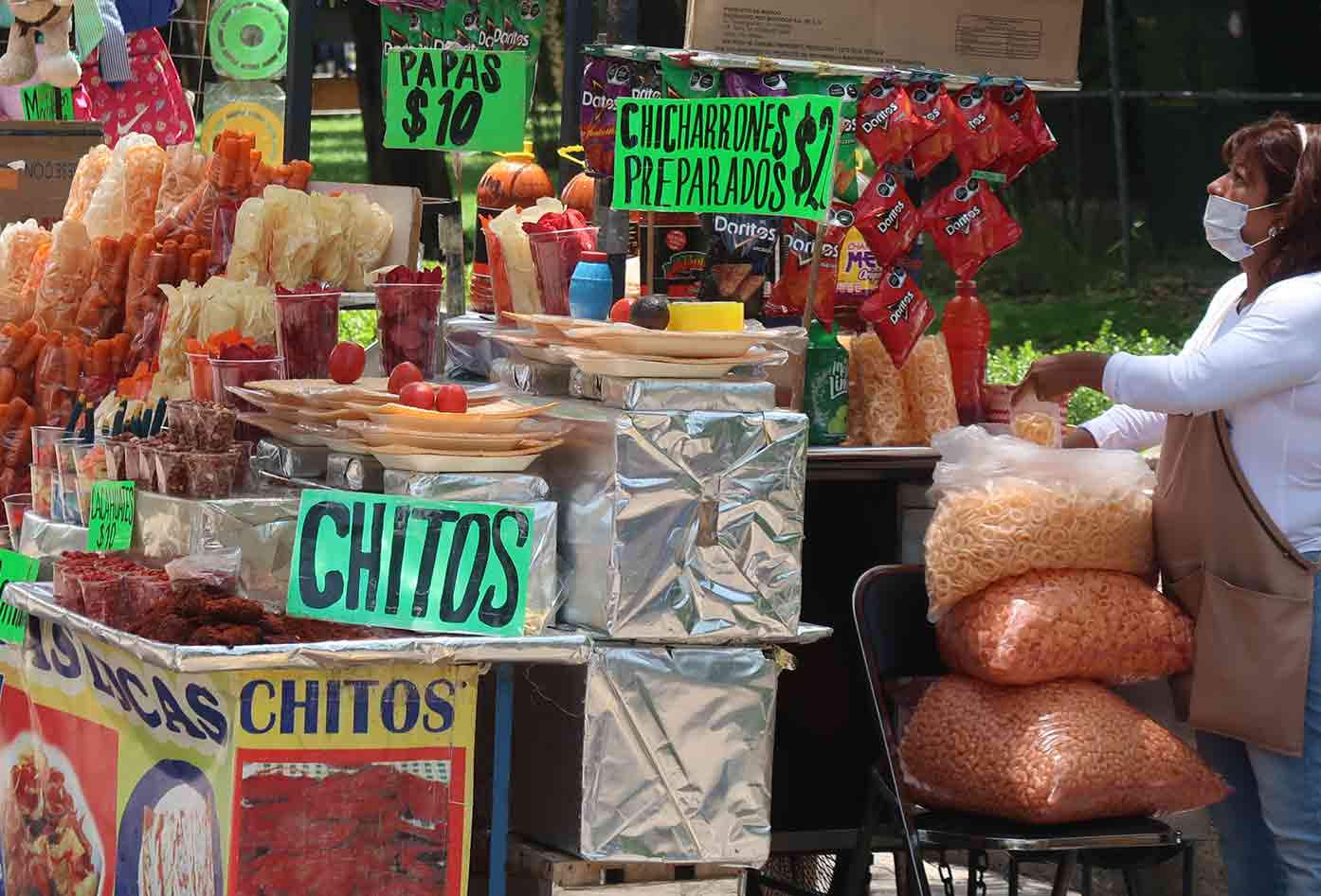 The average hotel price in Mexico City for a double bed in a place like Ibis Mexico Alameda is M$881 ($44). So, a trip to Mexico City for two people for one week costs on average M$38,299 ($1,922).
Although quite cheap, it isn't at all cheap when comparing Mexico City vs Guadalajara or other lesser-known cities and towns in Mexico.
If you don't mind the prices, then visiting Mexico City for the culture and history more than the prices will definitely tick all your boxes.
Best Month To Visit Mexico City
The best time of year to visit Mexico City is between the months of March and May, even though the streets are pretty crowded during this section of the year.
The trade-off is the most beautiful weather, especially considering the city's winters can be chilly and the summers can be wet.
In Mexico, the high elevation can be an issue, but most people don't notice the effects. Mexico City sits about 7,382 feet above sea level.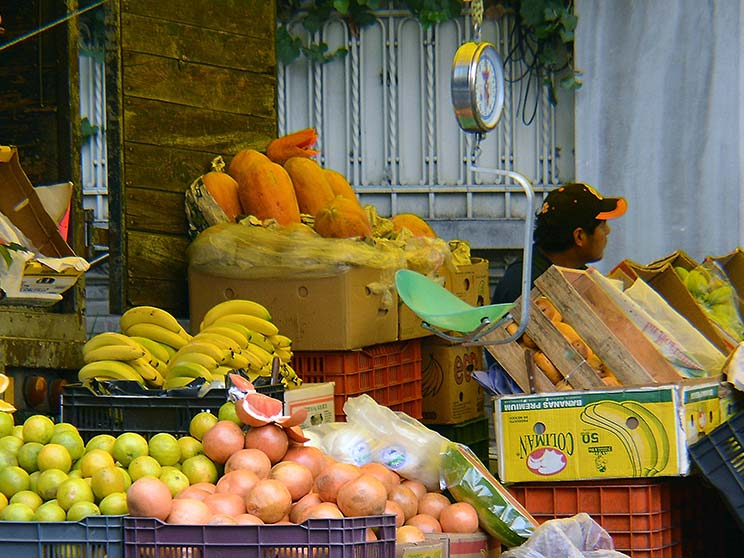 To help against the effects of high elevation, drink plenty of water, wear a travel sunhat and apply some sunscreen. Take it easy during your first few days.
Alcohol also worsens the effects, so if you are sensitive to these conditions then leave the tequila for another time.
Mexico City's air pollution is also quite bad sometimes, so on days when the pollution is the worst you'll want to travel with a mask on.
How Many Days Should you Stay In Mexico?
A long weekend is enough in Mexico City, and serves as a brilliant excursion destination.
Many people are satisfied with a short visit of 1/2 days but it is worth spending longer as there is so much to see and do.
There is a vast amount of side trips from Mexico City you can do, and you'll find museums that cater to more specialized cultural interests.
3 main areas of interest include:
Centro Historico
Chapultepec/Polanco
Coyoacan/San Angel
If you do decide to stay longer, why not break up a 2-week stay by staying in Oaxaca or even Cancun with a long weekend in the capital?
Got Travel Insurance for your trip?

Designed by travelers, for travelers, World Nomads covers more than 150 adventure sports and activities so you can explore your boundaries.
Buenos Aires Vs Mexico City
Thanks for reading this guide on Buenos Aires vs Mexico City!
Overall, Buenos Aires has just the same amount of history and incredible architecture as Mexico City at a lower price.
However, there are some things that Mexico City is just better with. One being the nightlife, another being the shopping culture.
After spending time in South America you'll love the heritage and late-night vibe of Buenos Aires along with its Asado and Tango culture.
What do you think of this verdict? If the Southern cone is calling you why not see the other safe places in South America you could visit?
📌 Like this article? Pin it…
When comparing Buenos Aires vs Mexico City which do you prefer?
💬 Leave a nice comment or let's start a conversation below!
---
"Dear friend! Some links in this post contain affiliate links. Meaning, if you click through and make a purchase, book a hostel or sign up for a tour, I may earn a small commission at no additional cost to you. Your support means a lot and helps me to keep traveling and maintaining the quality of this site for you."