Welcome to this guide on things to do in Buenos Aires travel guide.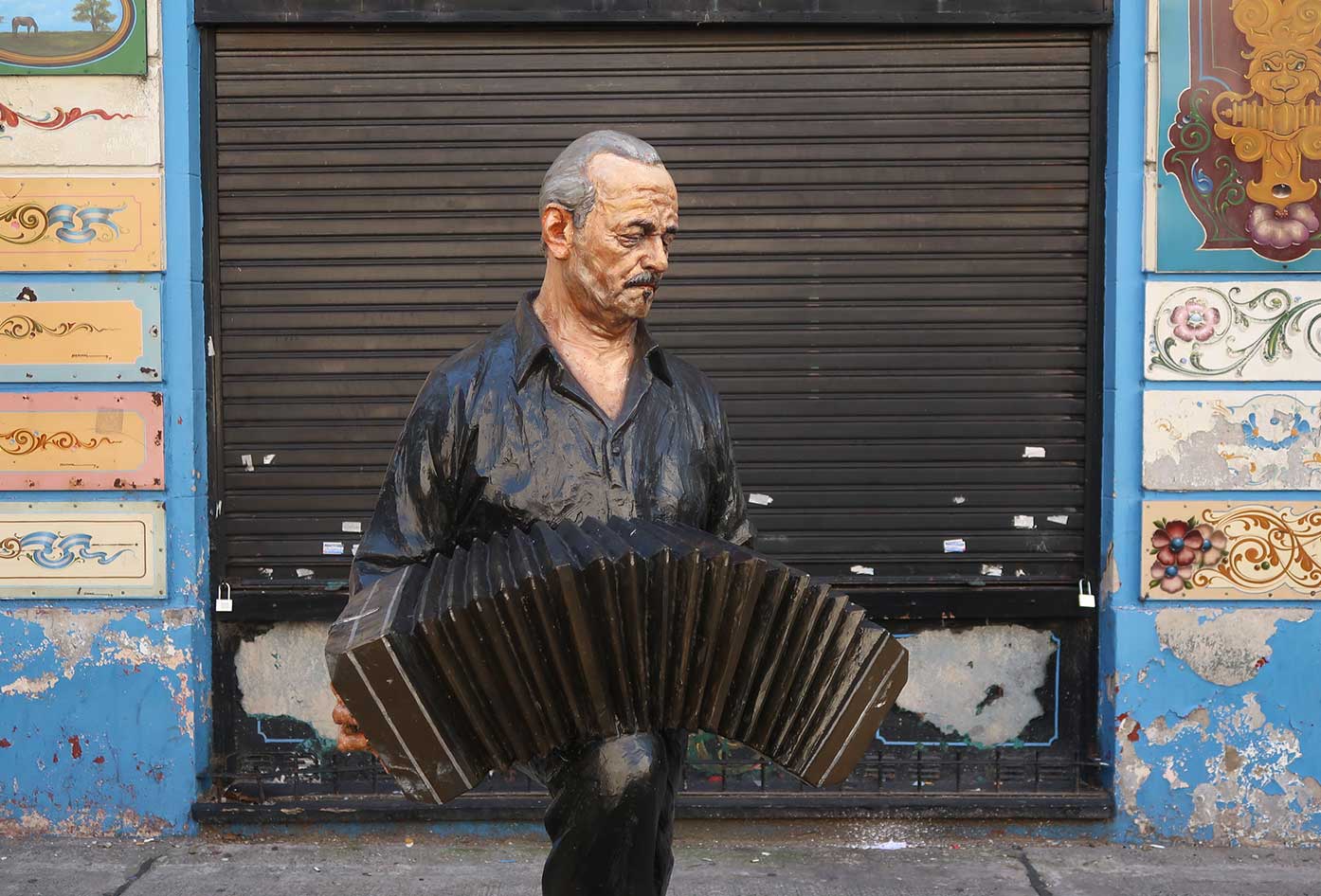 It's no secret that Argentina is a truly stunning part of South America.
Below, I've listed Buenos Aires travel advice from my own experiences while backpacking in Argentina.
Things to do in Buenos Aires
Named The Paris of South America, Buenos Aires is a city well worth visiting. I traveled to Buenos Aires and lived there for around six months.
Getting to Buenos Aires
Getting to Buenos Aires is easier to arrange than learning the language (most of the time).
For those arriving from Asia or Europe, I found that travel to Buenos Aires can be much cheaper if you fly to Madrid in Spain first.
You might find a better route yourself, but this was the cheapest traveling option for me.
Now that Norwegian Air is offering cheap flights from London to Buenos Aires, you can save even more money on flights.
Arriving in Buenos Aires via another South American country?
If you're arriving in Buenos Aires via another South American country, I recommend that you travel by bus if you have time.
It's a stunning, scenic way to take in many other scenic parts of the continent.
It may also allow you to pass through Uruguay, which is a stunning, small nation just across the river.
From Uruguay, you can easily hop on a ferry from Colonia to Buenos Aires without much hassle.
A scenic route is a good option if you fancy a longer travel experience. I highly recommend taking an overnight bus in South America.
Buenos Aires typical costs and budget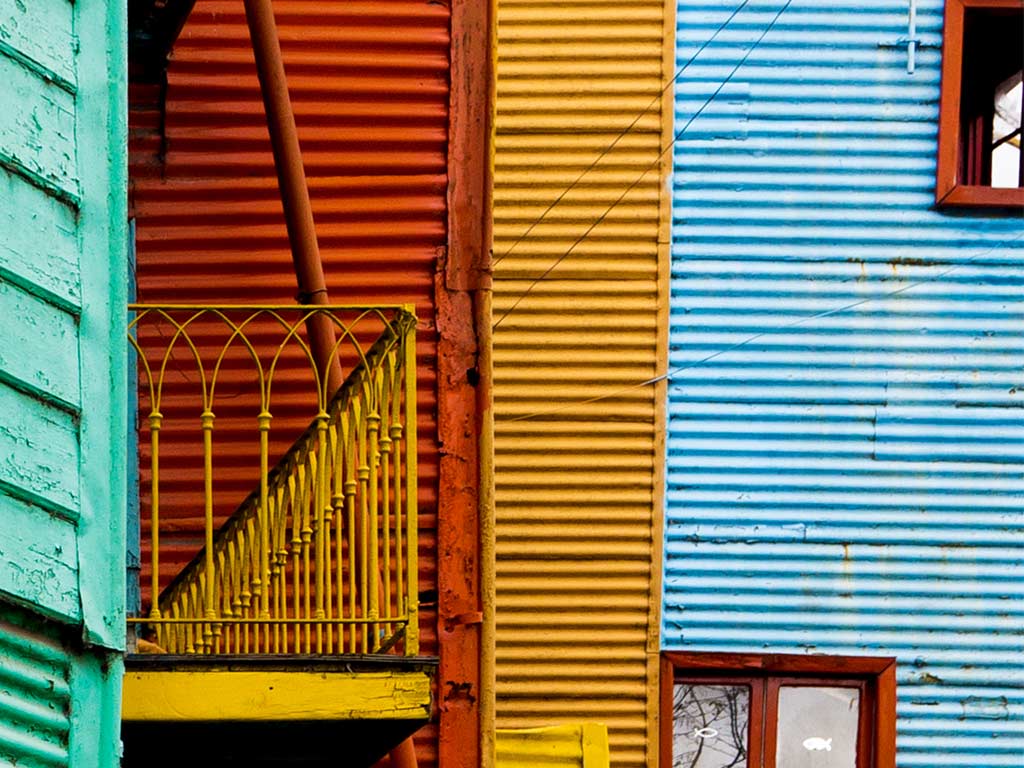 Daily Costs Breakdown:
🇺🇸 1USD – 🇦🇷 60ARG
My daily budget:
Up to 2.8KARG per day
Suggested daily budget:
1.7K-2.4K ARG
Is it possible to travel to Buenos Aires on a Budget? Of course 🙂
In this article, I'll do my best to share all my Buenos Aires travel tips.
Wherever I can, I like to travel smartly, and I try my best to get the highest quality for the best price possible.
I have many strategies to achieve this, and knowing what travel accessories to carry helps me a lot.
Accommodation in Buenos Aires:
Expect to pay anything from 400ARG for hostels and 2.5KARG upwards for Buenos Aires hotels. I use AirBnb, but I also stay with friends. Please refer to the guide below where I talk about where to stay in Buenos Aires and the rest of Latin America.
Food & Drink in Buenos Aires:
One can live on Empanadas, Medialunas and Pizza, which can be bought for less than 30ARG. I suggest you dig deeper and look for barres notables (which all have cultural importance in some way); there are 73 scattered around the city.
Transportation in Buenos Aires:
Train, bus, taxi, metro, Uber. You have access to all modes of transport in Buenos Aires. It's so cheap to travel in. Expect to pay 6.50ARG for the bus. 7.50ARG will get you a ride on the metro.
Activities in Buenos Aires:
Buenos Aires is thriving with things to do every night of the week. Expect to find theaters, cinemas, shows with lots of free events, which you'll find on the BSA's government website.
I'll highlight travel tips throughout this article for you to get a better idea.
💡Smart Travel Tip
When you're traveling at night, taxis can be a safer option, and 27ARG is the starting meter rate.
Buenos Aires Travel Guide
Below is a Buenos Aires map that I have added from Google. Use this to zoom in to see some of the neighborhoods I'm going to mention.
There are many great places to visit in Buenos Aires, depending on how long you have.
Let's dive into some of the tourist attractions in Buenos Aires you'll want to add to your list while exploring the city.
There are some places you must see when you're traveling to the city for the first time. Below, I'll list some of the best things to do in Buenos Aires.
I will add more locations once I have been, so keep checking back 🙂
There is a wealth of accommodation to suit all tastes in Buenos Aires.
On a backpacker budget? Check out these cool hostels in Buenos Aires.
Hotel prices do vary depending on the time of year. On a budget, finding a place to stay in such a diverse city is hard work.
If you're staying in Recoleta or Palermo, you can take a taxi to get to other parts of the city.
Avenida de Mayo is within walking distance of most places.
Here are some other popular areas that may interest you:
Las Cañitas
Puerto Madero
Plaza San Martín
San Telmo
Belgrano
La Boca
Microcenter
When I visit Buenos Aires, I stay with the locals. However, I find San Telmo is the best area to stay in Buenos Aires.
It's the oldest part of the city and has lots of beautiful historic buildings.
If you're looking for some of the coolest things to do in Buenos Aires, San Telmo has plenty to offer. Here you'll find amazing restaurants and bars.
Airbnb has some stellar options if you want to mix up your experience of lodgings in the city, you'll also find experiences unique to the area too.
Having said that, you can also find other day trips from Buenos Aires that will richen your overall experience if looking to get out of the big city.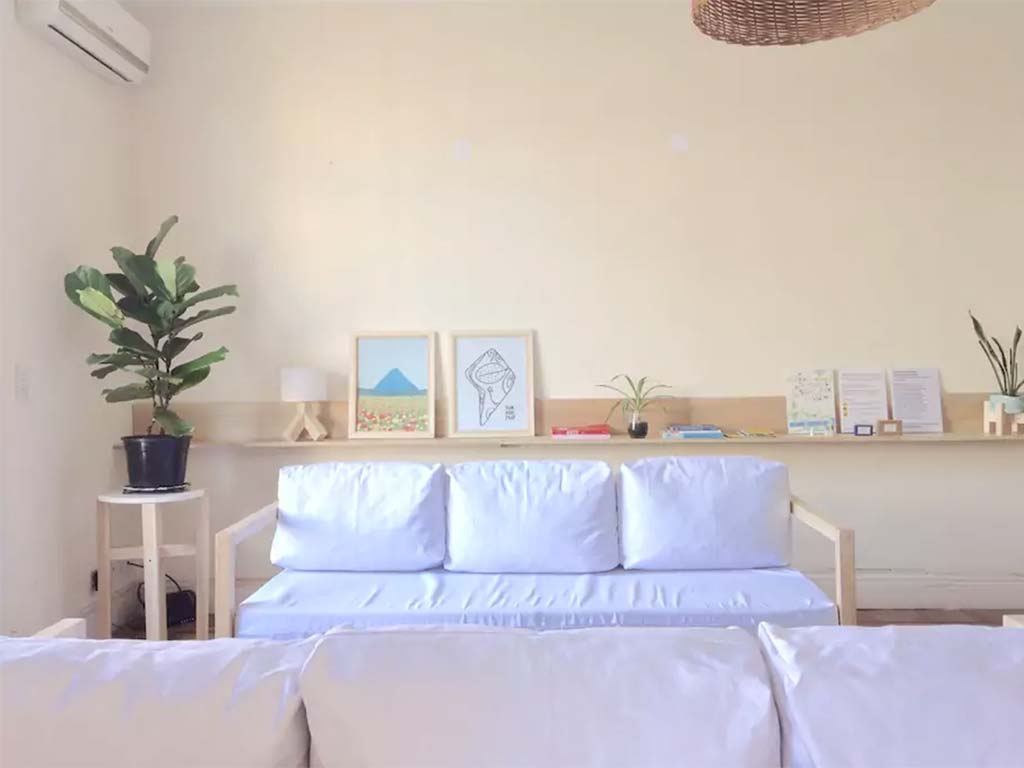 Reasons to use Airbnb:
To get to know locals
Authentic living experience
A private space to think
Hostels can also offer a unique experience for those seeking a more social living environment.
Below are three reasons why I'm recommending using hostels in this Buenos Aires travel guide. See the best hostels in Buenos Aires for more.
Hostels are great if you want to be able to do the following:
Connect with other travellers
Find special activities
To practice living on a budget
If you're thinking of doing solo travel in Buenos Aires, I recommend staying in hostels as a way of connecting with others during your trip.
Healthy Eating in Buenos Aires
If you'd like to eat at some of the best restaurants in Buenos Aires, no doubt you'll already be planning to go to a famous Buenos Aires steakhouse.
However, given the exceptionally rich Italian culture in Buenos Aires that runs through much of Argentina.
Don't be surprised to see an abundance of pizza and pasta in many restaurants.
The food quality here is very diverse. More so – if you like meat. In this Buenos Aires Travel, I'd like to promote healthy eating somewhat.
I quickly learned that choosing a plate in intercontinental Buenos Aires can quickly result in getting a bit of a potbelly.
The food menus are very meat-heavy, but if you look in the right places, you'll easily get the best steak you've ever tried.
When you're in the mood, fine dining in Buenos Aires is not to be underestimated.
There are a handful of Michelin Star restaurants you can test out.
For example, one of the restaurants in Buenos Aires that many tourists like is called Tegui Buenos Aires.
This restaurant has made it on the list of The World's 50 Best Restaurants.
If you'd like to test out one of their 9-course meals, make sure you book way in advance.
Or, if you're strapped for time – just pop into a kiosk to devour one of Argentina's favorite Alfajores while you're on the go.
Vegetarian Restaurants in Buenos Aires
If you're a vegetarian, there are also very good places to eat, and I've found some great places to eat a less meat-oriented meal.
Eating healthy costs more – healthy foods are expensive in comparison to meat dishes.
If you're avoiding excess meat and flour; small portions of fruit and veg can be affordable in Buenos Aires if you're smart with your money.
To enjoy your day, sometimes it's best to avoid eating too much.
In these cases, I recommend that you take a trip to the tenedor libres (buffets) – as they give you excellent value meals, and you can usually get a better variety of nutrition and taste by doing so.
You can expect to find a wide section of food and drinks in Buenos Aires, and I have found local specialties to internationally recognized dishes.
When I travel to Latin America, I like to eat mostly local food.
Below are 3 healthy places to eat in Buenos Aires:
Cumaná: Rodríguez Peña 1149, C1020ADW
Green Life: Av. Corrientes 1915, C1045AAB
Las Cholas: Arce 306, Palermo, C1426BSD
Due to inflation in the country, the prices frequently change in these restaurants, but all of them have healthy food options at very reasonable prices.
I found Green Life to be one of my favorite go-to food spots in the daytime.
One of my best Buenos Aires travel tips is to connect with locals inside restaurants.
Get to know the owners or exchange pleasantries with the waiter.
If you love coffee, remember, this is not Colombia or other coffee-producing countries in South America.
Although the coffee scene is massive in Buenos Aires, the quality of the beans, in general, is not as good as some of those Arabica varieties you may be used to in other Latin American countries.
---
---
However, make sure you check out the cafe notables, especially Cafe Tortoni, which is one of the most famous cafeterías in Buenos Aires.
If coming from places like the United States or Europe, you should avoid tap water in Buenos Aires at all costs.
After falling ill for three days when I was in Buenos Aires, I now carry water-filtered bottles, like the ones I have written about recently on my blog. You can click here to read my review.
Transport in Buenos Aires
In this Buenos Aires travel guide, I want you to feel like you know how to get around the city with ease.
If on a budget, one of the best things about traveling around Buenos Aires using public transport is how cheap it can be.
When you use public transport, you get to know the city faster. You can even get a SUBTE card, which you top-up and use in a pay-as-you-go style.
The card works for the bus and the SUBTE (the name for the metro). New York-style taxis are also widely available.
In addition to using public transport, buy yourself a decent pair of travel shoes and get to know the more obscure parts of the city by foot.
Watch out for protests and marches. They're quite frequent in the city and have a major impact on the transport network above the ground.
💡Smart Travel Tip
Avoid traveling during hora pico (Rush Hour) as the city can become gridlocked very quickly.
See me living in Buenos Aires, watch the video below…
When I first traveled to Argentina, I couldn't find many Buenos Aires travel blogs, so I created this video, to sum up my first moments in the city.
Things to do in Buenos Aires
There are many attractions in Buenos Aires, and that means there's plenty to do.
It's one of the main reasons why I love to visit; the sheer wealth of entertainment and opportunity is outstanding.
With many activities being available for free, you'll find things to do, even on the smallest budget.
Here are my top things to do in Buenos Aires that you can't afford to miss whilst here.
San Telmo Market
All travel to Buenos Aires must include a day trip to San Telmo. You'll find this historic spot is featured in many Buenos Aires travel guides.
Not only is it a great place to live in Buenos Aires, but it's home to an outstanding marketplace.
You'll find everything from extravagant accessories and utilities to amazing foods hailing from all across Argentina and beyond.
If you want to get a feel for shopping in Buenos Aires outside of supermarkets and malls, be sure to try out the San Telmo marketplace.
I love to walk around the market on Sundays.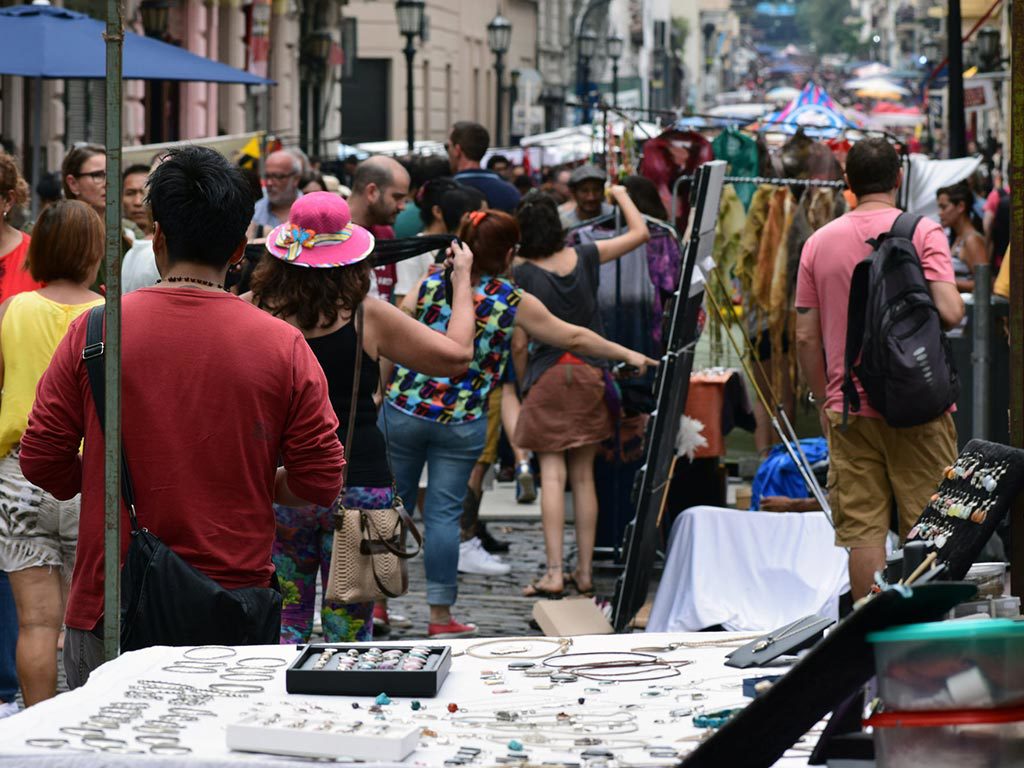 Expect to see lots of vendors, some better than others. Tune your ear to the good music and gaze at memorable sights.
These are good local activities to do in Buenos Aires while you're here.
There's a long strip of street vendors, so make sure you're prepared and feel comfortable walking.
Also, keep your travel gear and belongings to a minimum because pickpockets operate in this area.
La Boca
La Boca is a very engaging neighborhood within the city of Buenos Aires.
La Boca retains a rich European heritage that hails from the earliest settlers from Genoa, Italy, who came here many years ago.
Therefore, it is different from the rest of the city, and it can feel comforting for European visitors to get a little taste of 'back home' in a sense.
A truly exceptional part of the city near the south-east towards the old port is well worth visiting.
Especially if you are looking for free things to do in Buenos Aires, or you're on a tight budget.
Caminito is the main street of La Boca and the perfect place to do a free walk. See this Buenos Aires photo tour for inspiring images.
You'll find colorful buildings, murals, people dancing the Tango and plenty of artistic expressions full of culture.
Popular Tours From Buenos Aires
Also, La Boca is world famous because of La Bombonera, its football stadium, which is the home of the Boca Juniors team.
You'll feel the Argentinian passion for football.
Many tourists view La Boca as one of the top things to see in Buenos Aires as it is set up for tourists.
But as many locals have told me, they rarely ever go here or haven't been since they were children.
Remember, La Boca is just one of many things to see in Buenos Aires. Remain open-minded, and I'm sure you won't feel disappointed.
Barrio Chino
Wondering what to see in Buenos Aires besides popular places?
I like to recommend Barrio Chino, the Chinatown of this wonderful city.
Barrio Chino is part of the Belgrano district and is one of the best places to go in Buenos Aires for buying imported goods.
This is thanks to its rich and diverse collection of restaurants and stores.
The streets of Barrio Chino do go deeper than meets the eye, so make sure you do a detour down one of the many side streets.
Not only is this a great place to purchase traditional Chinese ingredients, but you can eat some of the best Chinese food in Buenos Aires.
When looking for extra diversity in the city, Barrio Chino gives you a taste of the wonderful, unique culture that runs through Buenos Aires.
Palermo
Palermo is one of those unique neighborhoods of Buenos Aires Argentina and also likely one of the best barrios to go and visit as a tourist.
Take your time here as Palermo is the largest neighborhood in the city.
Palermo has many smaller parts, from its mini takes on famous places like Soho and Hollywood.
Palermo Hollywood is famous because of the film industry.
On the other hand, Soho is mostly known for restaurants, fashion, and art.
It's a must-see if you want to experience the largest and most rambunctious part of the city.
In Palermo, you'll find fun things to do surrounded by nature.
Take a bike tour to go to Parque Tres de Febrero and Jardín Botánico Carlos Thays; they're some of my top 10 things to do in Buenos Aires.
Visiting this neighborhood is one thing you shouldn't miss when you're visiting Buenos Aires.
It's a completely different experience compared to the rest of the Latin American countries.
Corrientes Avenue
Do you still have space in your list of Buenos Aires of what to do?
No Buenos Aires Travel guide would be complete without mentioning this stunning part of the city.
Corrientes Avenue is famous for its rich tango identity, for which the area is still very much proud of.
Known as 'the street that never sleeps,' there's always something wild going on.
If you walk at night, it's possible to feel a bohemian spirit, so a Tango show like this one is a must-see as it's considered one of Buenos Aires' excellent tourist attractions.
Add this to your plan if you're looking for creative things to do in Buenos Aires at night.
This part of the city can give you a taste for the classy side of Buenos Aires nightlife.
Is Buenos Aires Safe?
I have written a safety guide for Buenos Aires to give you some ideas on what to look out for.
Something as simple as walking down the wrong street can change your experience (in a bad way) whilst exploring the city of Buenos Aires.
Travel Insurance for Buenos Aires
I always recommend backpackers and travelers (no matter who you are) use World Nomads Insurance for fully comprehensive cover.

If you are due to travel soon, you can get a Get A Free Quote by clicking the link or the image above and filling out your details – that way you'll get instant cover from the exact date that you choose.
On many occasions World Nomads has provided me with reliable insurance cover for travel in Latin America and the rest of the world.
What to pack for Buenos Aires?
Learning about backpacking and travel over the years, I now practice traveling light. It's not easy when you are used to carrying lots of things.
I don't know about you, but there are items I always travel with.
Items that help me feel good and support my travels. In other words, below are the five things that I can't travel without:
Why I like to use it:
Facilitate better sleep
Perfect for travelling
Easy Washable
---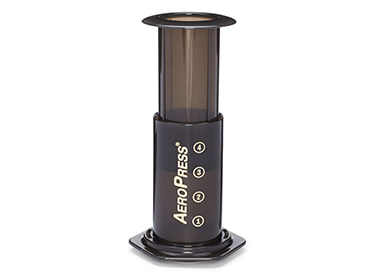 Why I like to use it:
Makes perfect cup of coffee
Simple and quick to clean
Easy to carry
---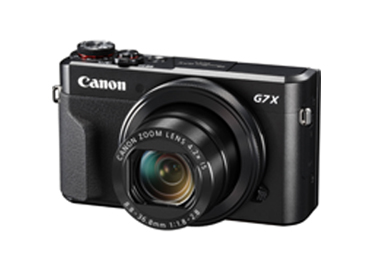 Why I like to use it:
Powerful and pocket-sized
Full HD movies
Perfect for VLOGGING
---
Why I like to use it:
Tones major muscle groups
Super compact
Perfect for stretching
---
Why I like to use it:
Carry On Sized
Weather Resistant
Protect Your Electronics
---
To get more ideas on what to pack on for Buenos Aires and advice on how you can travel lighter, see my packing list tips which I've fine-tuned over the years.
Books to Read on Buenos Aires
If interested in Argentinan culture you will love reading these books:
Great if you wish to read about Buenos Aires before your trip.
Buenos Aires Travel Guide
As one of the most vibrant cities in South America, it's a perfect way to introduce yourself to the rapid and wild culture of Argentina.
Buenos Aires is a high-paced city that gives you a big mouth full of Argentina.
You can easily head to places like Patagonia in the south later on.
Also, if you're thinking of heading over to the wineries in Mendoza, Buenos Aires will easily prepare you for some private wine tasting.
Buenos Aires makes a great launchpad for travel to the north of Argentina or finding true tranquility in places like El Calafate down in the South.
Other cities that you many find dotted around the country are Salta, La Plata Cordoba, Bariloche and many more.
For solar eclipse fans, there are known sightings in places such as San Juan, Río Cuarto or Junín, all located within the borders of Argentina.
I hope this Buenos Aires travel guide gave you some more insights on how to spend your time in the city.
If you're interested in seeing one of the best cities in Latin America, then a trip to Buenos Aires should be on the cards.
📌 Like this article? Pin it…
Missing something? Got tips, tricks & advice we can learn from?
💬 Leave a nice comment or let's start a conversation below!
---
"Dear friend! Some links in this post contain affiliate links. Meaning, if you click through and make a purchase, book a hostel or sign up for a tour, I may earn a small commission at no additional cost to you. Your support means a lot and helps me to keep traveling and maintaining the quality of this site for you."