Are you looking to visit some of Brazil's tourist attractions?
With hundreds of tourist attractions throughout Brazil, I've highlighted the top six in today's article.
---
Quick Answer – Brazil Tourist Attractions
---
As the largest country in South America, Brazil's tourist attractions make it an ideal place to visit throughout the year.
Brazil Tourist Attractions
If you're thinking of coming to Brazil here are some of the reasons that may entice you to pay a visit.
However, let's go a bit deeper into the reason why anyone in the right mind would come here:
Why Visit Brazil?
Aside from the mountains and southern areas, temperatures rarely drop below 20C. Most people can easily claim the weather as one of the main reasons to visit Brazil and its attractions.
So you know what to pack for your trip, Brazil's climate is warm and humid around the rainforests, while the interior is hot and dry.
Resulting from a massive volcanic eruption roughly 132-million years ago, Iguazu Falls is a series of cascading waterfalls with nearly a 260-degree panorama of breathtaking views. Your guide will take you along forest trails where you can see the falls from different angles capturing magnificent views.
Throughout the year, Brazil hosts multiple cultural events from Carnival to the Parintins Folklore Festival.
The cultural events held throughout the year celebrate everything from the countries history to its religion and even its culinary delights, as seen in Oktoberfest.
No matter when you visit Brazil, there's sure to be an event happening.
Tourist Attractions in Brazil
As you may have gathered, idyllic weather, rich cultural festivities, and impressive geological formations are just a few reasons to visit Brazil.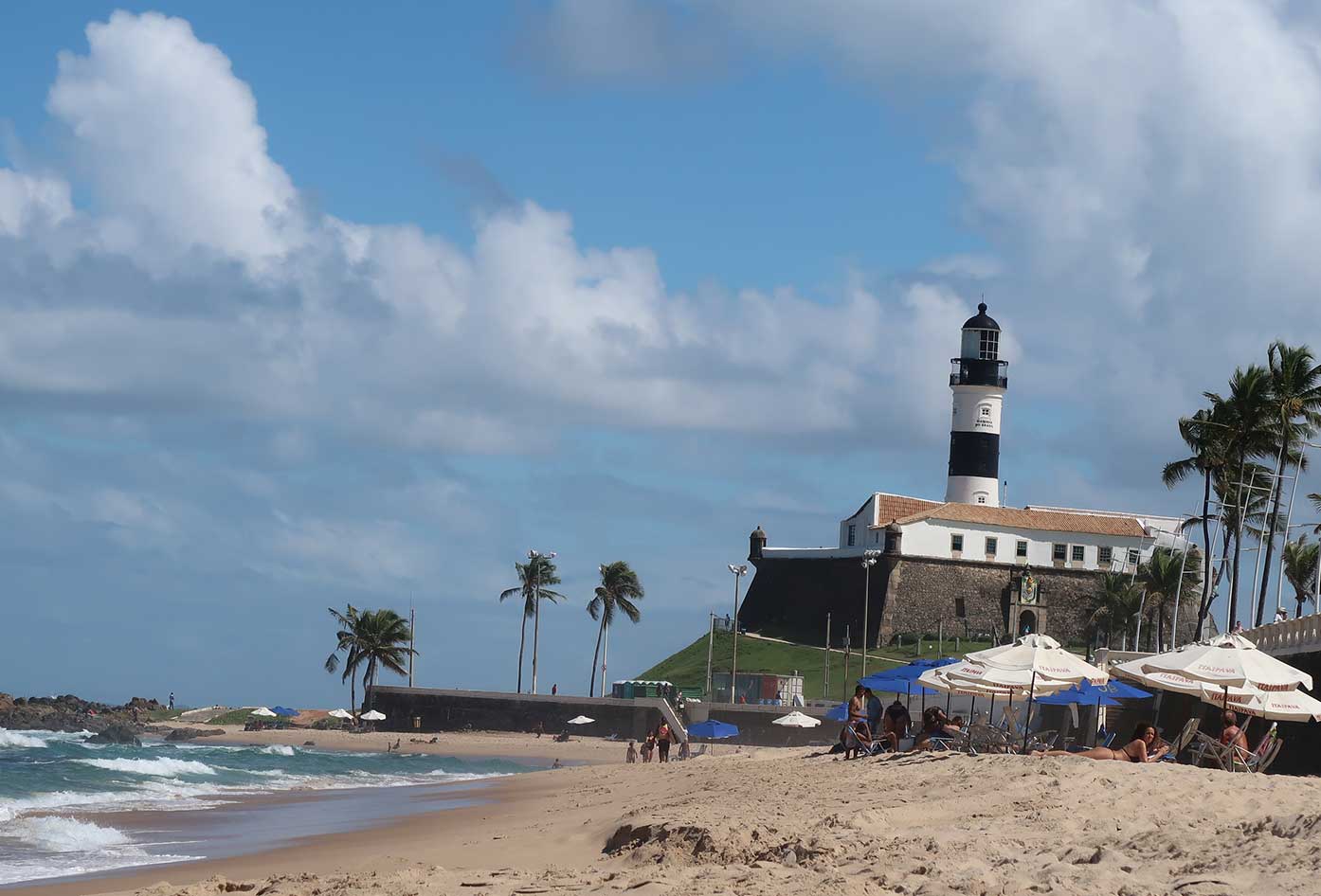 Now let's take a look at the most popular tourist attractions in Brazil that you can visit.
Visiting Rio's most symbolic landmark Christ the Redeemer has become more accessible.
Standing at 30-meters tall on top of Mount Corcovado overlooking Rio de Janeiro sits Christ the Redeemer. Rio's iconic landmark draws millions of visitors each year from around the world.
In 2003, with input from the public, Rio officials made visiting the statue easily accessible by installing a series of escalators and elevators.
Taking a tour or going independently, you'll experience magnificent sweeping views of Rio and the surrounding landscape.
The best time for visiting one of Brazil's most popular tourist attractions is before 8:30 am or after 3:30 pm on weekdays.
In 2007, Christ the Redeemer became one of the new Seven Wonders of the World.
Explore bucolic landscapes and cultural landmarks in two of Brazil's most popular neighborhoods.
Leaving from downtown Rio aboard the Santa Teresa Tram System, you'll wind your way through the cobblestone streets of Santa Teresa.
Embarking on this tour, you'll cruise over the Arcos da Lapa, a picturesque aqueduct that connects water from Santa Teresa to Downtown.
You'll get the opportunity to visit cultural and architectural hotspots, such as Ruins Park, Sugarloaf Mountain, and of course, the vibrant Selaron Steps connecting the two neighborhoods.
The tram departs every 15 – 20 minutes from Lelio Gama Street near Carioca Subway, with tours lasting 4-hours.
One of Rio's most recognizable postcards is the tram passing over the aqueduct and winding its way through narrow cobblestone streets.
Discover the hidden gems of the world's seventh-largest city with a private tour guide.
Sao Paulo is Brazil's largest city with fascinating architecture, delicious cuisine, and an exuberant nightlife. A private tour means just that, it's you and your tour guide, and whomever else you decide to bring along.
The best part about a private tour is you can customize it to what you want to see and do. You have the option of visiting Pacaembu Stadium, Ibirapuera Park, Se Cathedral Square, and even Paulista Avenue.
The tour guides in Sao Paulo speak several languages. You'll enjoy direct hotel pick-up and drop-off in a private car or van.
The majority of people traveling to Brazil only see a small portion of Sao Paulo.
---
---
Marvel at the immense beauty of the Amazon's caves and waterfalls. Embarking on this day tour from Manaus to explore the waterfalls and caves in the Amazon will create memories that last a lifetime.
You'll leave early in the morning heading towards Maruaga Caves Park, where you'll hike through the tropical rainforest.
You'll encounter indigenous wildlife in the form of birds, various reptiles, and bats.
For this day tour, you'll want to bring some bug repellant, comfortable clothes, a swimsuit, and close-toed shoes, as well as food.
After swimming in natural pools and exploring the caves, you'll be returning to your hotel around 5:30 pm.
Immersing yourself in this Amazonian day-tour is similar to taking a trip back through time.
Nothing is more serene than watching the sunset over white sand dunes and turquoise lagoons.
You'll depart from hotels in Barreirinhas around 2 pm traveling over sand dunes and white sand trails to arrive at Lencois Maranhenses National Park.
Nothing is more mesmerizing than watching the sunset over white sand dunes and clear turquoise lakes of rainwater.
The best time to go is during the dry season between June and September.
During the rainy season, torrential tropical downpours occur almost daily, which fills the area with the iconic turquoise waters.
Be sure to travel with a protective sun hat, sunscreen, and a fully charged smartphone.
Those are three things you can't afford to not to bring. Also, take into account, you'll return around 7 pm.
Lencois Maranhenses National Park has one of the most unique ecosystems in Brazil.
Immerse yourself in Afro-Brazilian culture and Historical landmarks in Brazil's former Capital.
This full-day walking tour will take you on a journey back through time as you visit such sites as the Municipal Square, Terreiro de Jesus.
Home to the Basilica Cathedral of Salvador, Largo da Roma, and the Model Street Market where you'll have the opportunity to purchase handcrafted items.
You'll also have the chance to take some incredible photos at the Barra lighthouse overlooking the bay of All Saints.
The Barra lighthouse is where the Portuguese defended the city during the colonial era. Be sure to wear comfortable shoes and local currency.
This walking tour of Salvador is the best way to meet locals and immerse yourself in their culture.
Brazil Tourist Attractions
When traveling to Brazil, you'll notice that the Brazilian people are warm and friendly. Brazil is one of the main tourist hotspots in South America and for good reason.
Beautiful landscapes, rich culture, and history dating back centuries, as well as warm tropical weather year-round.
Booking tours with a local guide will help enhance your experiences and give you deeper insights into this unique country.
Whether you're spending a week or a month in Brazil, we're confident you'll enjoy the many tourist attractions Brazil has to offer.
📌 Like this article? Pin it…
Missing something? Got tips, tricks & advice we can learn from?
💬 Leave a nice comment or let's start a conversation below!
---
"Dear friend! Some links in this post contain affiliate links. Meaning, if you click through and make a purchase, book a hostel or sign up for a tour, I may earn a small commission at no additional cost to you. Your support means a lot and helps me to keep traveling and maintaining the quality of this site for you."