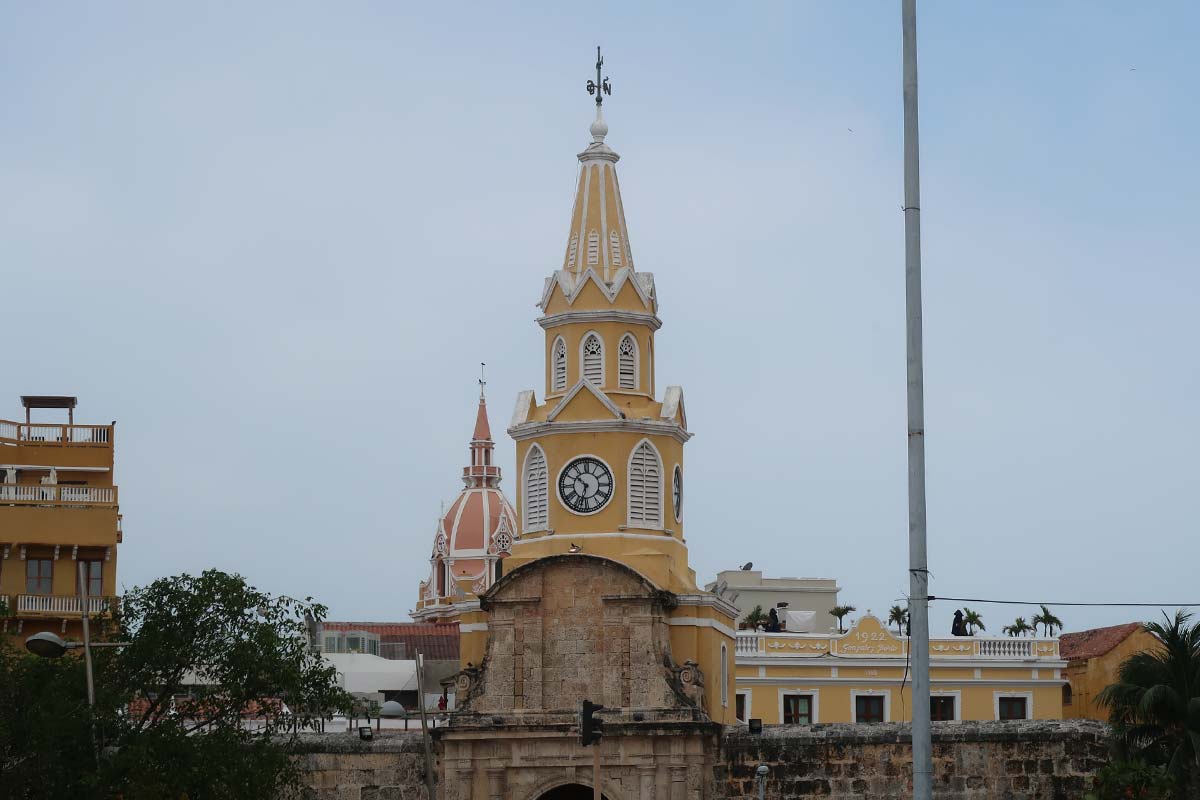 When comparing Bogota vs Cartagena, which city do you choose?
Anyone who has already visited Colombia knows that both of these giant Colombian cities are popular among travelers, and for similar reasons too.
Not only are they full of important historical sites, awesome things to do as well as a refreshing local culture, they're also two of the easiest cities to reach in Colombia when traveling from the United States or from Europe.
Bogota vs Cartagena: Which is Better?
This guide will explore the popular cities of Bogota and Cartagena, both of which are popular with international tourism from all walks of life.
What this guide will focus on is a fair comparison of each city using factors such as the best time to visit, food, cost of travel and things to do.
It is worth visiting both of these Colombian cities, but if your time is strictly limited, this will give you a better idea of which destination is best for you.
Best time to visit Bogota vs Cartagena
As you can imagine, both of these Colombian travel destinations have very different climates as well as varying weather patterns to contend with too.
Located up in the Andes, Bogota is mostly cool year-round, and also has a dry and wet season which surprises many (given it's so far from the coast).
Average daily temperatures in Bogota range from 55-56°F, with highs of 66°F and lows of 44°F but there are no guarantees when it comes to sun.
The dry seasons run from December-March as well as from July-August, and see between 1-4 inches per month. The other months of the year can see up to as much as 8 inches of rainfall so you need to pack accordingly.
Cartagena is situated on the Caribbean Coast, and therefore is much hotter. You'll need to carry sunscreen here as the average temperatures hover between 80-83°F, with highs of 88°F and lows of around 76°F.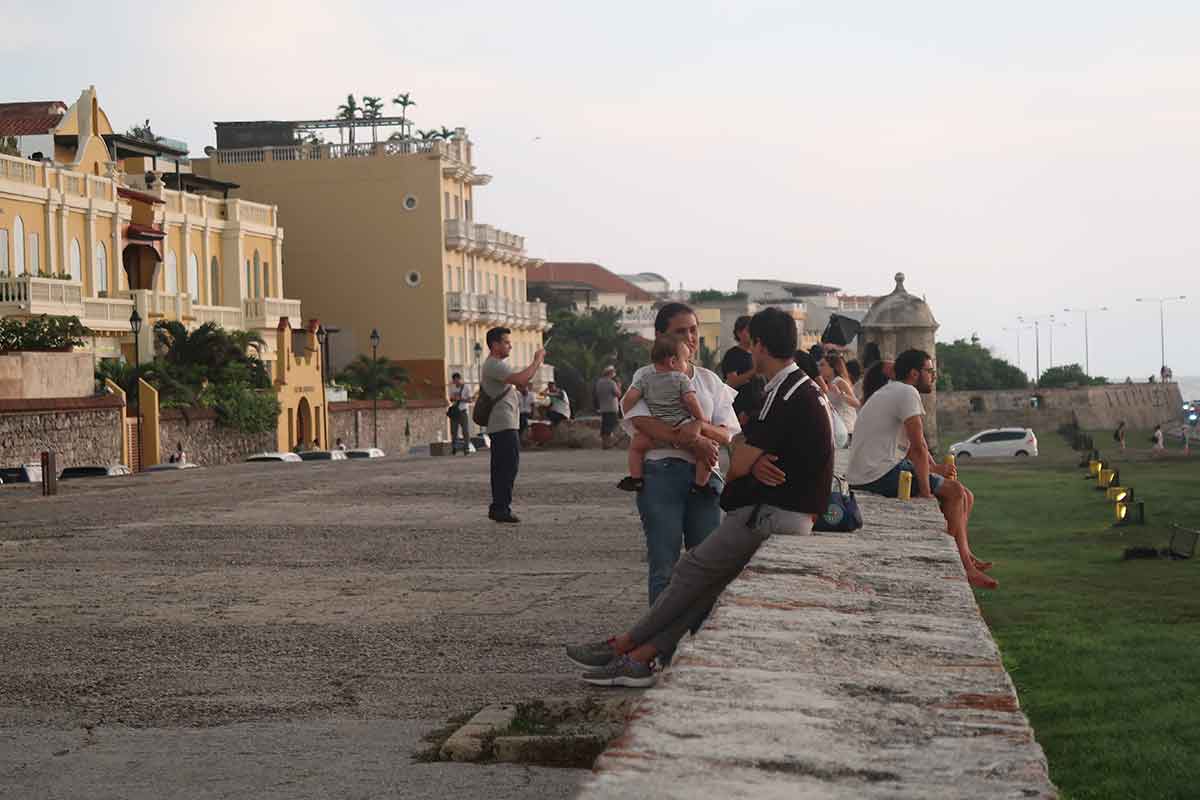 The rainfall in Cartagena is actually much lower compared to Bogota, which is surprising for many weather buffs like me who love analyzing these stats.
In Cartagena, the dry season (from December until April) sees just 0-0.5 inches of rainfall each month, whilst the wet season (May until November) increases to between 3-6 inches per month.
See my detailed guide on the best time to visit Cartagena for more in-depth information on each specific month of the year to visit this historic city.
🏆 Winner: Cartagena
Food in Bogota vs Cartagena
Both cities have a variety of both local and international eating options, however they vary in style as well as their main speciality dishes on offer.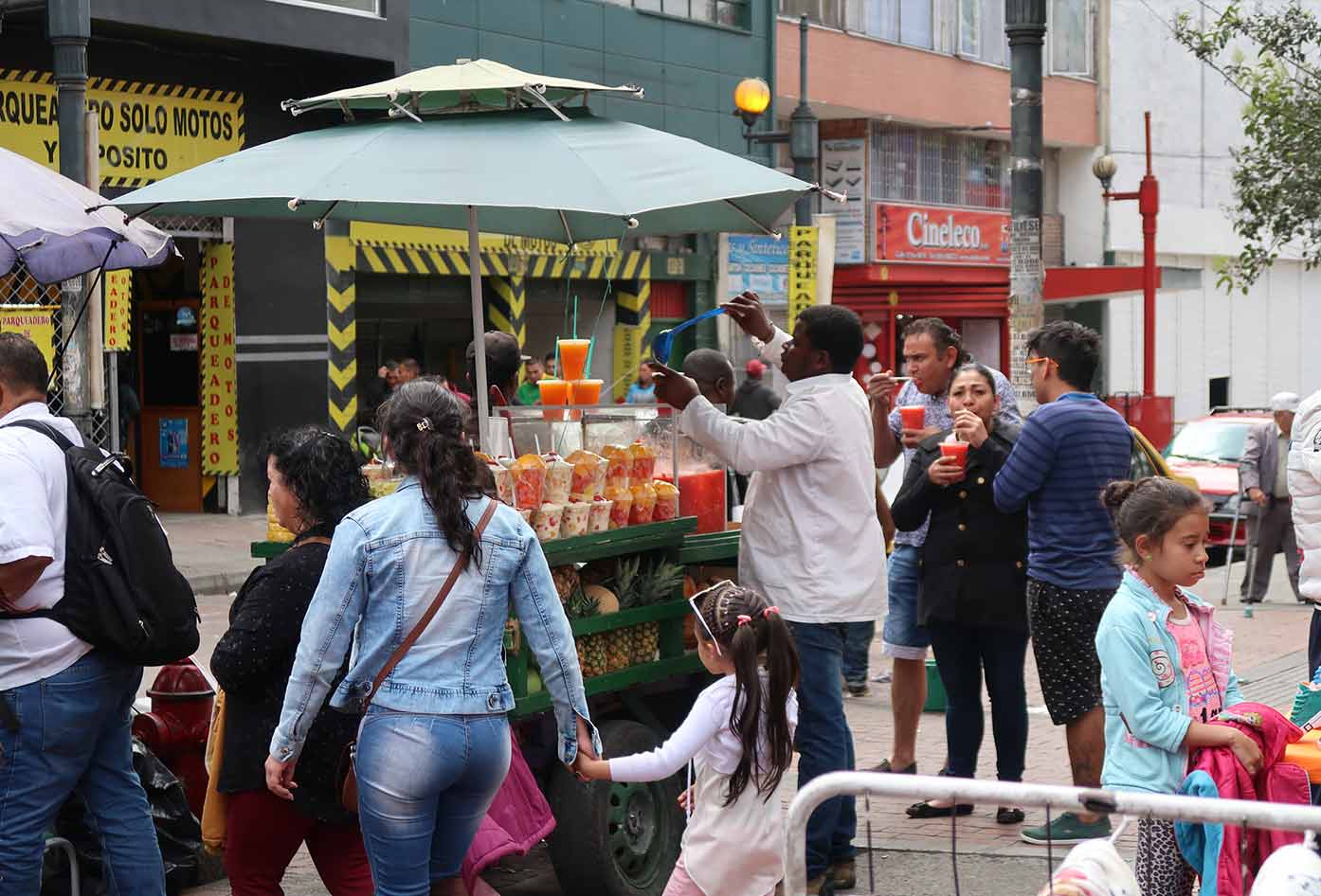 Bogota has the biggest variety of the two, which is expected given its much larger, better connected and is also the capital.
Another reason is the fact that Bogota is located at the foot of the Andes, meaning you'll find popular dishes here such as Ajiaco, as well as the ancient drink of Chicha. You can also find many Colombian fruits too.
Not to mention, here it's easier to find the Menu Ejecutivo, which is a budget-friendly meal that serves local dishes such as Tamales and Arepas.
I've found trying food a great way of getting to know Colombia on a more local level, as well as meeting people while you learn about their dishes.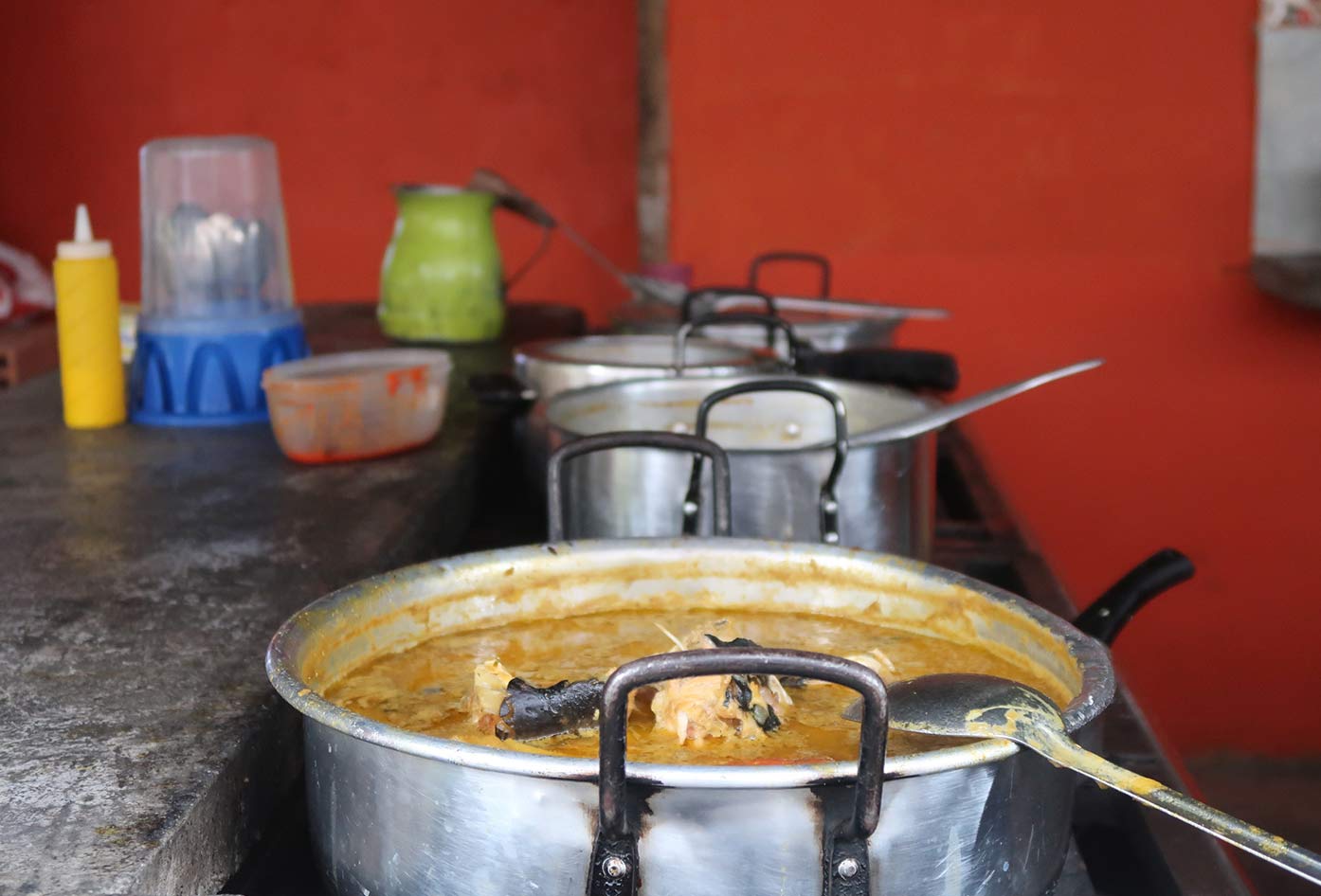 You'll also see tons of internationally-focused restaurants and chains all over the city, with the neighborhood of Candelaria being one of the best areas to eat-out at. El Gato Gris is one of the popular spots you can try.
If you're strapped for time this this food discovery tour is the quickest way to get acquainted with Bogota's vast food scene in a short space of time.
Whilst Cartagena has slightly less options, the range is pretty impressive. Within the Historic Centre and coastal district of Bocagrande we can find many authentic Colombian diners as well as top international restaurants.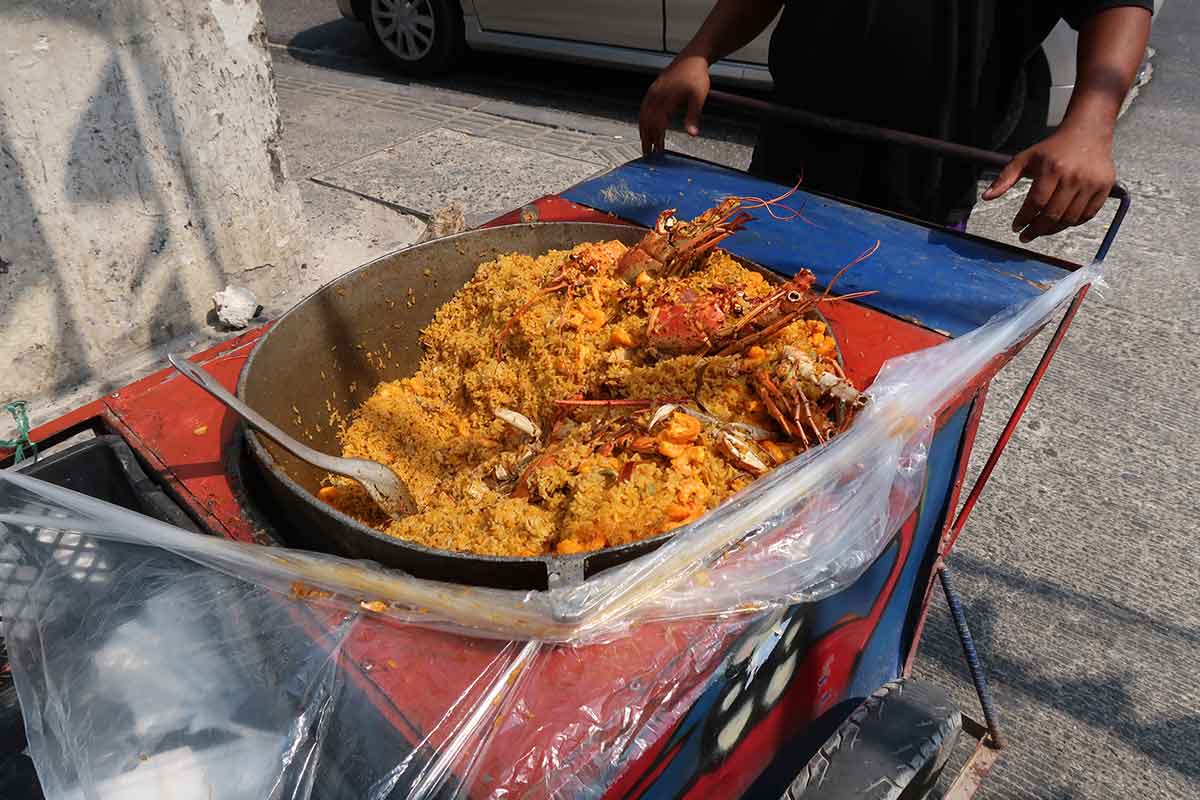 For those set on the Caribbean, Cartagena definitely has more of a focus on seafood dishes, and is the best choice for those who love mariscos.
For example, Camarones al Ajillo is a local's favourite, and whilst here you'll definitely want to try out Cazuela de Mariscos too.
Be sure to visit Restaurante Celele which is a great option to try these type of dishes in Getsemani, and in this district you'll also find venues that focus more on the in-land Colombian specialities (rather than seafood alone).
Taking advantage of this local cooking class may be something you're interested in if you want to hone in on your culinary skills while in this city.
🏆 Winner: Draw
Cost of Travel in Bogota vs Cartagena
Whilst many travelers can be put-off with visiting large cities, one of the real advantages is the large range of accommodation options on offer.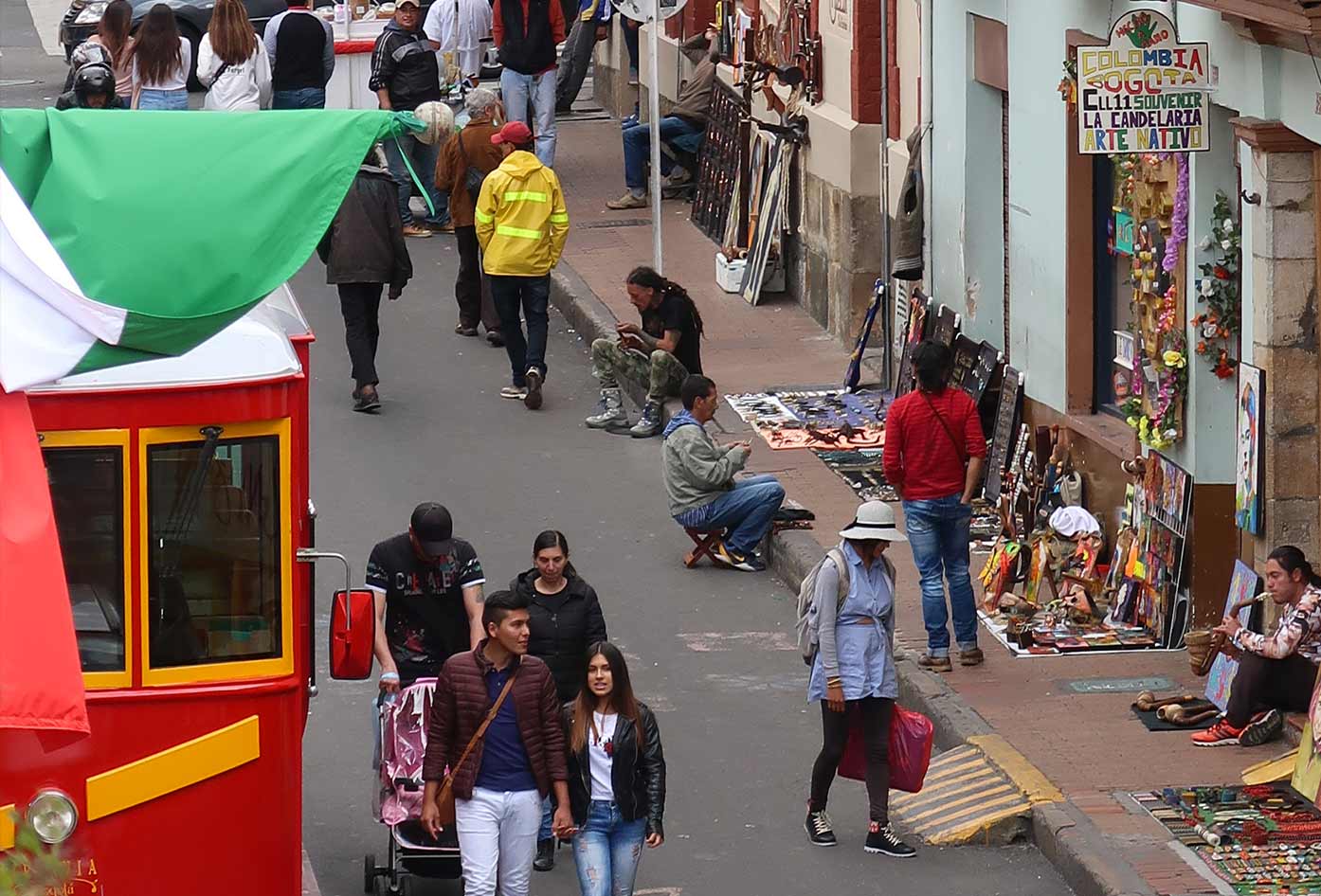 Bogota can be pretty cheap, with budget travelers able to stay in a dorm at a place such as Granada Hostel for as little as $10 a night! Those after more privacy can upgrade to a private room for between $45-55.
Popular places such as Cranky Croc will charge slightly more but are well worth it for the type of people that you can connect with while there.
Most of the cheap hostels in Bogota are also located within the Candelaria neighbourhood too, so you'll feel pretty safe when walking around here.
Cartagena has a nice amount of variety too, and you can choose the district depending on the level of luxury that you want.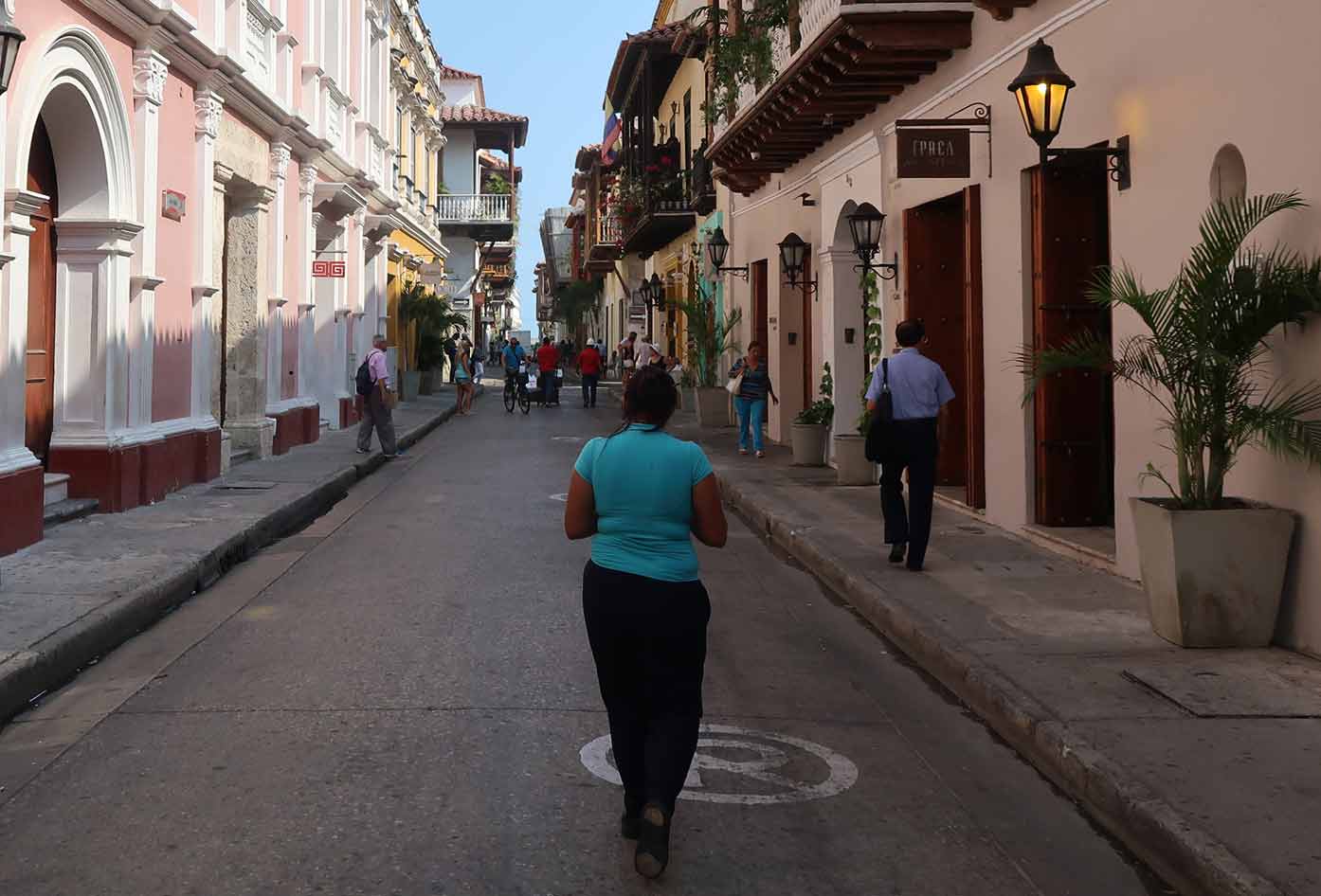 Getsemani is best for those after local culture and low prices, whilst The Historic Centre is more classy and also has nice hotels and restaurants.
Check out Hotel Casa Canabal for the best located accommodation and if you're on a budget The Clock Hostel offers some pretty nifty dorm rooms.
Those who want the beach at their feet will love Bocagrande, which is also known for having many luxury hotels and resorts. A dorm bed in Cartagena will cost $6-7, whilst a private room will be anywhere from $15-25+.
🏆 Winner: Bogota
Things to do in Bogota vs Cartagena
Definitely among the more abundant cities in Colombia, both have a large variety of awesome things to see and experiences to be had.
In Bogota you can head on a walking tour to see impressive architectural delights such as those around the Plaza Bolivar, as well as the unorthodox paintings within the Museo Bolivar. Then you even have Parque de la 93.
Whilst in Candelaria, it's worth visiting the Gold Museum, which with 55,000 artefacts, is one of the largest collections of Pre-columbian gold on earth!
You'll definitely want to head up to the mountain of Monserrate whilst here too, which offers incredible panoramic views over the capital.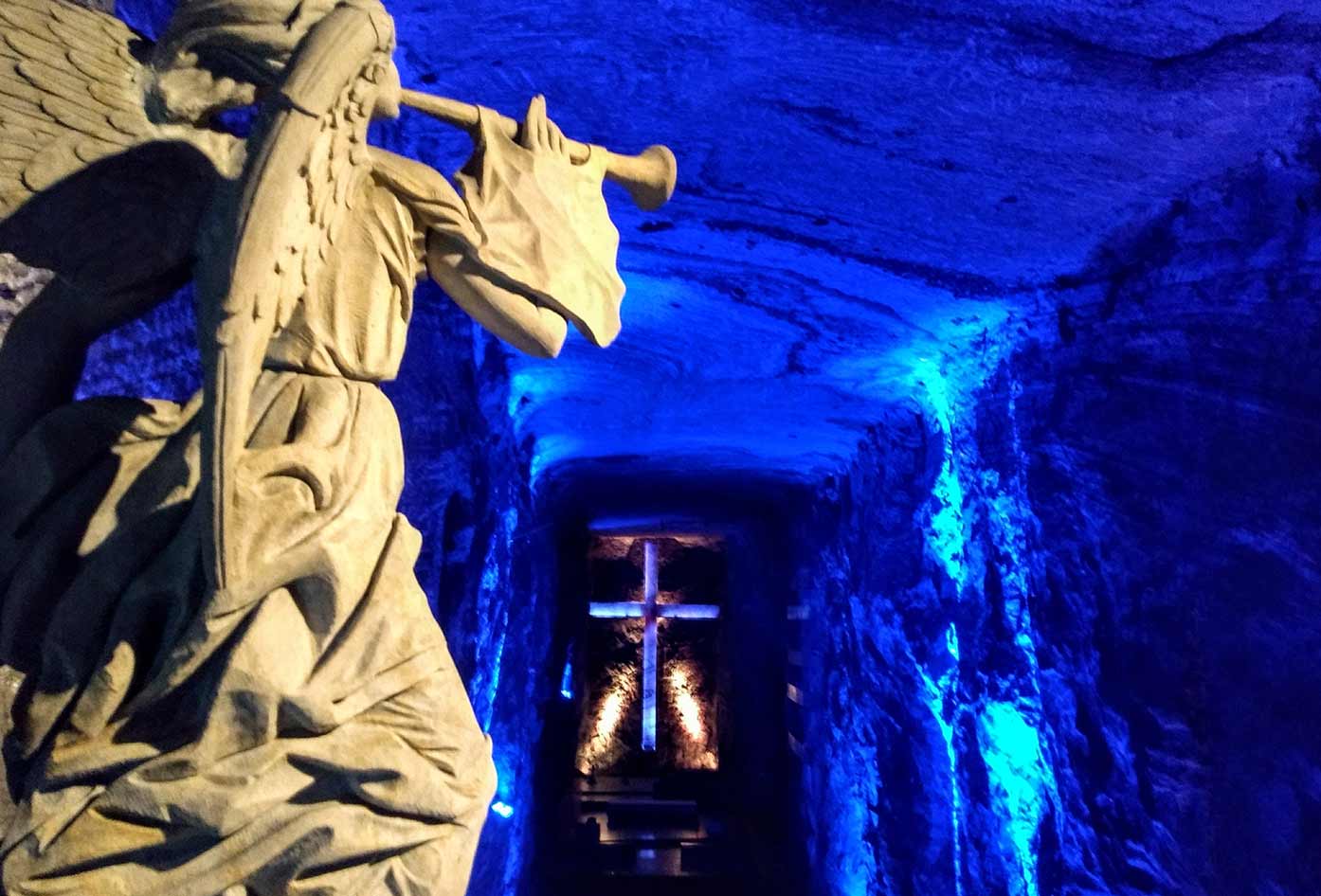 It's also worth doing a day trip to Zipaquirá, which is home to a Cathedral made entirely out of Salt – and is located underground within a mountain!
Cartagena's highlights of course include the beaches. It is home to some of the best beaches in Colombia after all. Whilst those of Bocagrande are nice for soaking up the sun, the true gems are found within the Rosario Islands.
The Rosario Islands are located roughly 100 km away and, you'll find plenty of spots for enjoying the multicoloured waters and snorkeling to see many exotic marine wildlife. Most of the tours include both lunch and snorkeling.
Other great things to see in Cartagena include the El Totumo Volcano for a day of mud-bath relaxation, as well as hiking up Cerro de la Popa for some postcard-perfect views over the city. Just be sure to carry your hiking shoes.
The walking tours around Getsemani are a must, the local guides will show you many picturesque streets full of vibrant colours and local culture.
🏆 Winner: Cartagena
Tourist attractions in Bogota vs Cartagena
Both cities are pretty massive, which naturally means there's going to be a lot of different areas to explore. Some of which you'll have to travel to.
Bogota is the best all-rounder of the two, and perhaps of all cities in Colombia too. The district of Candelaria is known for its clash of contemporary artsy vibes as well as old colonial architecture, and walking around will feel more eye-catching compared to Cartagena.
In the capital you can also head up to Monserrate, which features an old monastery on the top of the mountain. You can get lunch at the top, too.
Still used today, it paints a different perspective of Colombia, as well as how religion has played a major part in the country's development (as well as offering some pretty neat views over the capital too).
Cartagena also boasts strong cultural roots which can be explored in various parts of the city. It's definitely a better choice for those who love colonial buildings as well as colorful streets and a more friendly vibe.
The main area to explore is The Old Town Cartagena, which is known for its imposing walls that seal this area off from the rest of the city.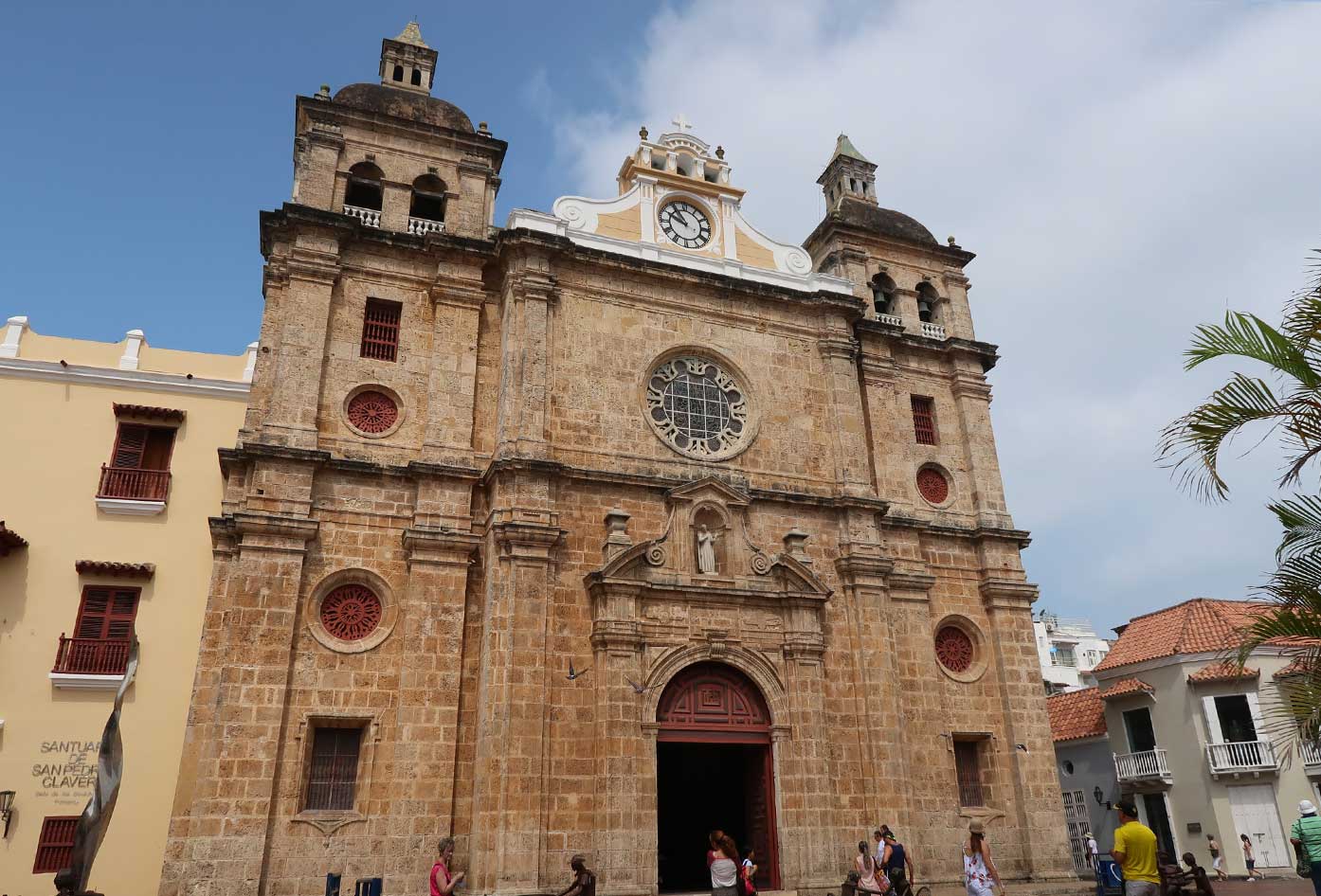 Inside there's also many defensive structures such as cannons, which can also be seen in the nearby Fort of San Felipe. The other area to visit is Getsemani, which has an abundance of narrow streets and colorful murals.
🏆 Winner: Bogota
Getting Around Bogota vs Cartagena
Both cities are pretty big, although the majority of the main sites are located in just one or two major districts of each.
Bogota is definitely the most intimidating of the two, given everything looks pretty far on a map (the airport is a good 25 minute drive to be fair).
However the majority of the attractions here are located within Candelaria, which can easily be reached on foot. Or you can do this 4-hour E-Bike tour.
Some of the day trips will require use of the local buses and TransMilenio, however these services depart pretty frequently and are easy to use.
To be able to move around independently I recommend that you get up to speed with some Spanish phrases from this book before traveling here.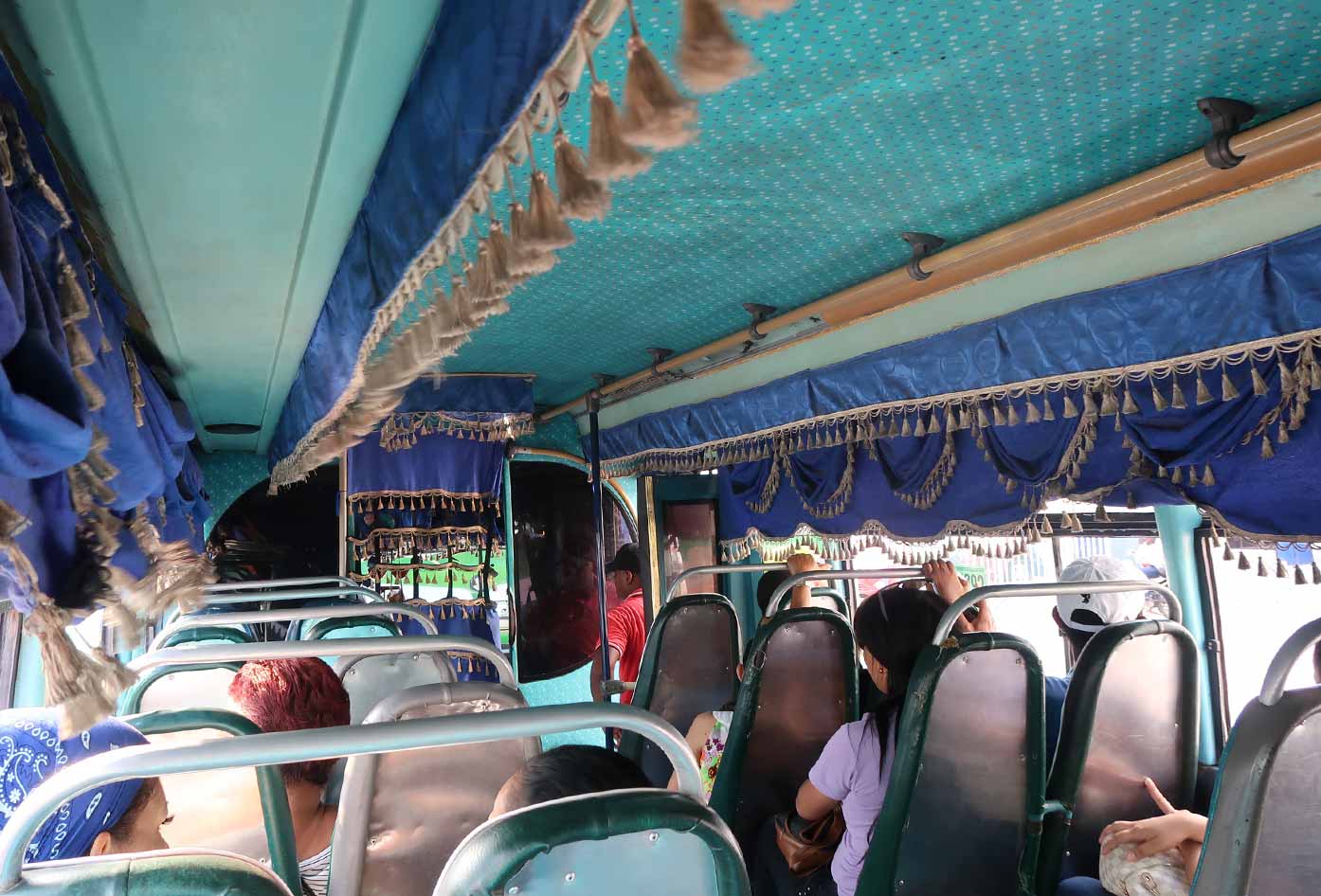 Cartagena is similar, although most of the top sights are found somewhere between the Historic Center and Getsemani.
These can be walked or reached by bike, although you'll sometimes want to use a taxi or Uber (prices are reasonable here) given how hot it gets.
Also, for safety reasons be carful where you walk in Cartagena. I will link to my safety guides for each city below so you can see exactly where to avoid.
In Cartagena, major sights that are further away like El Totumo and the Rosario Islands will require an organized trip like this one to get to, although the more adventurous can also get here independently too.
🏆 Winner: Cartagena
Now that I've summarized the main points of both Bogotá and Cartagena, you should now have a much clearer idea of which destination to visit.
🏅 Summary: I still recommend that you continue to do more independent research to get to know these cities better (especially with the more low-key trips and activities you can do in both) which will take more time.
Also, consider travel safety in Cartagena as well as travel safety in Bogota because both cities have a more sinister side that you can easily run into.
Got Travel Insurance for Colombia?

Designed by travelers, for travelers, World Nomads covers more than 150 adventure sports and activities so you can explore your boundaries.
Bogota vs Cartagena: Which is for you?
That's all for this guide on Bogota vs Cartagena. This guide has looked at both of these popular Colombian cities, and why each one is worth a visit.
It has compared major factors to help you decide which one is right for you (or to head to first). Personally, I've found Bogota to be better overall.
As always it's important to remember that everyone is different, and has different wants from their own trip. For this reason you'll want to do extra research on these destinations to find out which one is best for you.
While you're here, why not see these safe cities in Colombia to visit for ideas on where else you can go while exploring this megadiverse country?
📌 Like this article? Pin it…
On comparing Bogota and Cartagena do you now have a favorite?
💬 Leave a positive comment or lets start a conversation below!
---
"Dear friend! Some links in this post contain affiliate links. Meaning, if you click through and make a purchase, book a hostel or sign up for a tour, I may earn a small commission at no additional cost to you. Your support means a lot and helps me to keep traveling and maintaining the quality of this site for you."