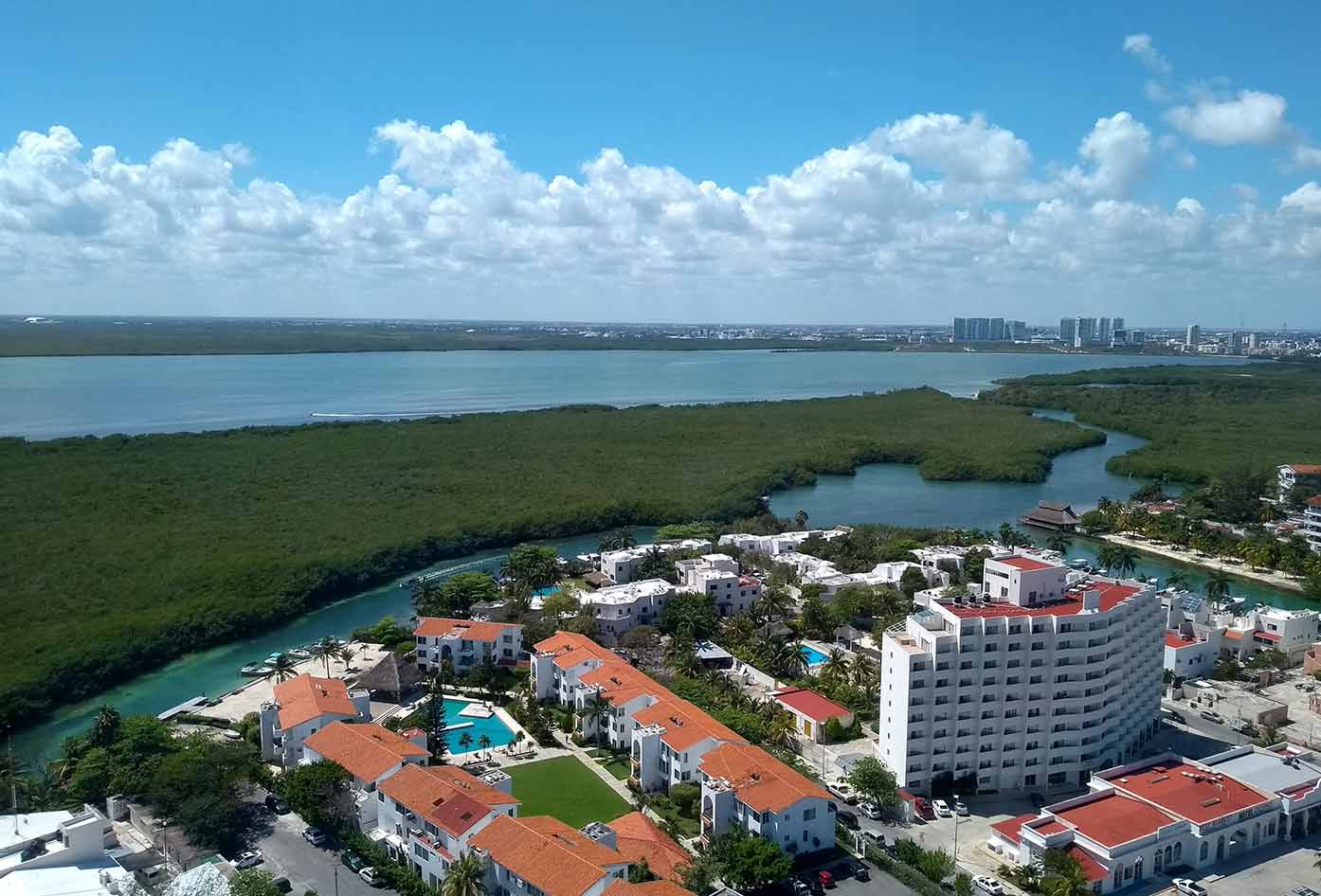 Welcome to this guide on the best time to visit Cancun.
When planning your trip to Cancun, it can be too easy to just narrow into when the weather is good.
However, there are more things to consider which include cultural events, festivals, tourist seasons, and the torrid hurricane season.
Best Time To Visit Cancun
This guide will breakdown why you should visit this great city which is one of the safest places in Mexico and the surrounding region.
We'll also look at the weather each month, helping you to decide when you'll want to head out for the best weather in Cancun.
When is the Best Time to Visit Cancun?
Cancun is located in the south-east tip of Mexico, on the Caribbean Sea, and is one of Mexico's most significant tourist destinations.
But, which is the best month to go to Cancun?
Whilst temperatures are fairly warm throughout the year, there are some considerations to look at.
Here we will explore why you should visit, the hurricane season, and the best time to spot different wildlife.
Why travel to Cancun?
Aside from being the most connected and safest city in the region, Cancun has literally everything.
Whether you want a beach vacation, to venture into ancient ruins, or hang out in the cool cenotes, this city and region have you covered.
And that's without mentioning the crazy nightlife scene here too.
When is Hurricane season in Cancun?
The official hurricane season runs from June to November, however, historically there has been more activity in the months of July, August, and September.
If traveling to Cancun in these months, then you can expect heavy downpours seemingly out of nowhere, although these last a couple of hours at most.
When is the best time to spot wildlife?
There is an abundance of wildlife to be explored and knowing exactly when to visit Cancun can give you the best sightings.
If you want to dive, then you will want to head to Cancun between the months of December and April, as the water visibility is at its best and the weather remains fairly consistent throughout this period.
However, if you want to spot Whale sharks, then it is best to head out between the months of June and September.
On land, you can see iguanas, snakes, coati, caiman, geckos, and more year-round!
Cancun Travel Seasons
As with any popular destination, there tends to be a pattern in the most popular times to visit.
Below we will explore both the high and low tourist seasons, and why you may want to visit in both.
When is the low season in Cancun?
Cancun's low season runs parallel to the wet season, unsurprisingly.
This is from the month of June through to October, where rains and stormy weather are more frequent.
Visiting during this period is not all that bad though. As well as cheap flights and hotels, the weather is still great, if not hotter than the high season. It's also a great time to find rent a car deals if on a budget.
The rains typically last an hour, so if you can tolerate then this is a great time to visit Cancun.
When is the high season in Cancun?
The high season unofficially starts in December and lasts until March.
Given that there are lots of holidays during this period, many flock south from the USA and other countries to get some winter Sun.
Visiting Cancun in the high season will almost guarantee you with good weather and less rainy days.
However, flight and accommodation prices will soar in the city and around the region. This is something to bear in mind when comparing Puerto Vallarta vs Cancun for example.
Cancun Weather by Month
Having already mentioned the weather a few times, you may wonder which are the best months to visit this Caribbean gem.
Here we will look at every month and what you can expect.
Cancun Weather in January
The weather in Cancun in January is often considered one of the best months to visit.
January also happens to be one of the most popular months, too.
The average temperature is around 78-80°F, and rainfall is very low, with an average of 60mm throughout the month.
Meaning January is a great choice for those looking for reliable, warm weather where you can soak in the sea and not overheat too easily!
Cancun Weather in February
February continues this theme of good weather. You find the temperature in Cancun in February has a slightly higher average of around 81°F high.
The level of rainfall drops quite a bit this month, hovering around 50mm this month historically.
February is another good choice for weather and could be one of the best months to visit in the year as crowds begin to lower around then.
Cancun Weather in March
March again is another great month to visit and travel to Cancun.
It also has an average of 81°F like February, meaning it is a great time to visit the beach and explore the city.
You can even head out to places like Playa del Carmen to connect yourself with the tourist attractions on offer.
Historically, levels of precipitation in March are the lowest of all.
It usually records an incredibly low amount of just 35mm!
This means that March can officially be declared as the best month to visit, with sizzling temperatures, low levels of rainfall, and cheaper travel and accommodation prices.
Cancun Weather in April
April continues the low rainfall theme like March, with only 40mm throughout the month.
Temperatures pick up a bit here, as we enter the shoulder season, just before the hot wet season arrives.
Bear this in mind if you're backpacking here or looking for other things to do in the Riviera Maya region during your trip.
Daily highs can reach up to 84°F, with averages circling around 80°F.
Cancun Weather in May
May is the last month of the dry season, and as a result, many will come then rather than later to avoid the rains in the summer months.
Temperatures average around 85°F, with some highs of 87°F.
Precipitation levels hover around 80mm, as the weather begins to transition out of the dry season.
May is a good trade-off month to visit, and temperatures are a lot hotter than those in January and February, yet there is not too much rainfall. A great month to visit for those looking to tan up!
Cancun Weather in June
June officially marks the start of the rainy season in Cancun, and much of the Caribbean especially in places like Jamaica and nearby islands.
However, despite the rains, it is still a popular time to visit as it coincides with summer breaks and hotter weather.
Some tourists even compare Cancun vs Rivera Maya as a whole to determine other spots that may encounter a little less rainfall.
Temperatures can reach as high as 88°F on a good day, whilst precipitation tends to around 185mm throughout the month, making it the joint-most rainy month of the year along with October.
Cancun Weather in July
There is not much difference between the weather pattern of June and July, although rainfall has historically been lower during this month.
With around 130mm falling throughout July, you can expect roughly 12 days to be affected with some rain (although this kind of rain tends to disappear as quickly as it comes).
The temperature in Cancun in July is similar, with highs of 88 and an average of between 80-84°F.
Are you concerned about the mosquitos in Cancun?
Although you won't encounter many in Cancun, it may be worth carrying a travel sized bug spray or equivalent if you're prone to be attacked by mosquitos to be on the safe side.
Cancun Weather in August
Continuing deeper into the rainy season, August has a much higher chance of experiencing hurricanes and stormy weather.
Precipitation rises to around 150mm throughout August, and temperatures continue to be hot, whilst somewhat humid.
The average temperatures linger between 80-87m with lows of down to 77°F. August also happens to record some of the hottest temperatures, with highs of 90°F not too infrequent!
Cancun Weather in September
Visiting Cancun in September is the least popular option, as hurricanes are more frequent in this month than any other.
Temperatures remain similar to that of June and July, making it one of the hottest months of the year for Cancun.
Rainfall is the heaviest this month, with around 225mm recorded in previous years. It is also important to mention exactly what this means before you skip this month too quickly!
You will quickly learn that the rain season in Cancun and much of Central America are not the type of "long" rains that last all day.
In fact, they are usually heavy downpours that come out of nowhere, and seemingly disappear within an hour or two.
If you're planning a trip to Costa Rica or a similar tropical nation, you'll find that it is a little easier to time when the rainy season will be.
With this in mind, traveling to Cancun is actually not so bad this time of year, and the humidity can actually be a breath of fresh air!
The raining season in Cancun can make your trip unpleasant and maybe even wish that you had chosen to go to a place like Cabo San Lucas where the weather is more favorable this time of year.
Cancun Weather in October
This month is similar to September, with rainfall still higher in this time of year, although it does drop from 225mm down to 180mm.
October begins to mark the shoulder season transition, and whilst hurricanes are expected, the temperatures and humidity slowly begin to lower. Another great time to rent a car and spend less than usual.
Average temperatures are still hot, which range from 80-85°F. Highs can hit 88°F, with lows going down as low as 75°F.
Cancun Weather in November
November officially marks the end of the torrid rainy season and gives way to the less extreme and more reliable dry season.
For any adventurers traveling from Cancun to Playa del Carmen, you can expect to see an influx of newcomers to the region.
Whilst is it possible for some storms to appear in November, they are less likely and usually not as potent.
The average temperature drops in this month down to 80°F, with highs of 82°F.
Average rainfall this month is around 85mm, and the drop of humidity experienced in this month makes it a great time to explore the jungle and ruins, or chill out on the beach.
Cancun Weather in December
December is one of the most popular times to visit Cancun, and it's not hard to see why!
Temperatures remain around 80°F and up to 82°F on a good day. Precipitation is not a concern, with only 70mm falling throughout the month.
December is characterized by warm days, cooler nights, and endless days of clear sky.
As well as this, the ocean's temperature is around 80, which is great for a cool-off after long days exploring or sunbathing on Cancun's array of endless beaches.
Many people consider December as the best month to visit Cancun!
Cancun Events and Festivals
When considering all the things to do in Mexico City and other tourist hubs in Mexico, Cancun really is a blessed city.
As well as having beautiful beaches, jungle and ancient ruins, the city, and the surrounding region is also home to some of the biggest festivals in Latin America.
Below we will explore these, as well as some cultural events and a mysterious, unique spectacle that you simply must witness!
Año Nuevo
We will kick start with the first (or last if couldn't remember the night!) festival of the year. Año nuevo, which is Spanish for New Year is a very big deal in Mexico, like most places in the world.
There are tons of options to celebrate this event, with lots of big discotecas such as Cocobongo to celebrate and dance the night away.
If you find yourself traveling to the capital in search of more cultural options, take a trajinera along the canals of Xochimilco for a unique experience!
El Día de Los Reyes
Celebrated every year on the 6th of January, this religious event is akin to Christmas Day, although celebrated a few weeks later.
Whilst most known for children receiving presents, the festival itself is celebrated in the streets with religious ceremonies and parades throughout the city.
Whilst more tranquil than other events celebrated in Cancun, this one is great in its own right to experience if you are in town around this time.
Mayan Village Show
For anyone wondering the best time to travel to Cancun, this cultural event unique to the Yucatan region of Mexico is great for a peek into ancient Mayan life.
Celebrated every day throughout January, this festival takes place in the eco-tourism park of Xcaret a little south of Cancun.
It is a very captivating experience, where you can witness recreations of ancient Mayan civilization life as well as walk through dense jungle making you feel as if you are really there!
The Mayan Village show is one of the best events around Cancun to learn more about the incredible Mexican culture and it's history.
El Día de Candelaria
Another religious festival, el día de Candeleria marks 40 days passing after Christmas and therefore falls on 2nd February every year.
The event is rooted in ancient culture, in that 40 days after a baby was born can it be brought to the temple to be blessed.
This festival is a great opportunity to try out authentic Mexican food, where tamales and Rosca de Reyes (a special kind of sweet bread) are custom to the event.
Cancun Carnival
Taking place each February, Cancun's Carnival lasts 5 days and coincides with the start of the Catholic practice of lent.
Similar to the carnival in Rio de Janeiro, this is one of the most popular festivals of the year.
Crowds flock to the streets to see massive parades, exotic dancers with Caribbean music, and organized concerts.
You can opt to purchase a seat, where you will be able to witness this event almost as a box-office show, with food, drinks, and souvenirs all provided!
Chichén Itzá Equinox
The equinox is of the best time of year to go to Cancun for me personally and my favorite cultural event in Cancun, it really is one to behold.
When the equinox happens (one day each respectively in March and September), magical, natural events unfold in the ancient ruins of Chichén Itza.
With the Mayans being some of the best astronomers of that era, they were able to design the Pyramid of Kukulcán in a way so that during these two days, a shadow of a snake appears on the ruins!
Held every Spring, this event is a must for foodies and those who are in love with authentic Mexican cuisine.
Here you can taste and sample the best foods and wines made from the best chefs in Mexico, with also some world-renowned chefs joining in too!
As well as food and wine tasting, you can watch cooking demonstrations, enjoy live music, and more.
Holy Week
Originally celebrated as a religious event, Holy Week takes place for two weeks every Spring and is mostly a time where families can spend time together.
It also happens to coincide with Spring Break for the US, and as a result attracts thousands every year who come to enjoy what the region has to offer, in arguably one of the best months to visit Cancun.
This event is commonly confused with Mexico's Independence Day, however, Cinco de Mayo is instead celebrated on the 5th May.
It refers to the battle of Puebla, where the Mexican army defeated an organized coup by France. This festival is a big deal in Mexico, just as it is in the USA.
There are lots of parties, mariachi music, food, and public parades throughout Mexico. Whilst Puebla is the heart of the party, there are lots of great parties and celebrations to get involved in Cancun.
Held every year in late October, the Cancun Jazz Festival is one of the biggest jazz festivals in the entire Caribbean!
Taking place for four days (over the Labor Day weekend), this festival promises a great time with both world-renowned artists and also upcoming Mexican ensembles taking to the stage.
Day of the Dead
Widely known around the world, Día de los Muertos is one of the biggest cultural events celebrated in Mexico.
Cultural practices during this time involve reaching out to loved ones that have passed away, with big memorials and also celebrations brought to the grave.
Cancun is a great place to experience this festival, with its very own Mayan Day of the Dead celebrations!
Got Travel Insurance for Cancun?

Designed by travelers, for travelers, World Nomads covers more than 150 adventure sports and activities so you can explore your boundaries.
Best Time To Visit Cancun
So, when is the best time to go to Cancun?
As you have seen, the weather can vary wildly throughout the year, with the dry season the more popular time to visit.
However, if you don't mind the odd shower here and there, then visiting during the rainy season can be just as rewarding.
Be sure to check out the different events and cultural festivities for when you will go, as this will enrichen your experience in Cancun!
See this Riviera Maya travel guide for more ideas on how to spend your time in this region.
📌 Like this article? Pin it…
Did this guide help you to decide the best time to visit Cancun?
💬 Leave a comment below or let's start a meaningful conversation…
---
"Dear friend! Some links in this post contain affiliate links. Meaning, if you click through and make a purchase, book a hostel or sign up for a tour, I may earn a small commission at no additional cost to you. Your support means a lot and helps me to keep traveling and maintaining the quality of this site for you."