Are you on the lookout for the best places to visit in Peru?
One of the most diverse countries to visit in Latin America, Peru is full of many exciting and mysterious destinations.
From the humid jungle and dizzying Andean peaks to remote villages and the Pacific coast, this country has something to satisfy all tastes.
Best Places to Visit in Peru
In this guide, we'll explore some of the best places to visit in Peru, including both the famous and lesser-known, as well as look at when to go and how to stay safe in this eclectic Latin American nation.
Is Peru worth visiting?
Just some of the reasons to visit Peru include:
First and foremost, Peru is one of the most diverse countries you can explore. From mountains and deserts to jungle and ancient ruins, there is enough to keep you occupied for months on end here.
Peru is also cheap to backpack around. This is especially true in the less touristy zones (outside of Lima and Cusco), but even then you can easily live on a daily budget of $25.
Another reason to visit Peru is for the cuisine. Home to ceviche, many come from all over the world to taste the very best here in Peru. The country also has dishes that have been influenced by China, Spain, Italy, and beyond, leading to some tasty and unique fusion foods.
Is Peru Safe?
Backpacking Peru is safe as a country when compared with neighboring nations. Most incidents involve pick-pocketing, so keep valuables in your front pockets and leave jewelry at home and you'll be fine.
Danger is relative and some areas are best avoided. Aim to stay in the cultural and tourist centers of each city as these are much safer.
People are friendly but arriving in Lima it can be hit or miss! If you stay in Miraflores and avoid going anywhere near Callao in the north and you should be fine.
If you are planning a trip to Peru in the near future, see this guide on safety in Peru to get more ideas on how to stay safe traveling around.
Places to visit in Peru
Let's now take a look at some of the best places to see in Peru so you can start to see exactly how you can make the most of your visit here.
Lima
The capital of Peru really is a unique fusion of Latin American, European, and Asian cultures.
This is seen in the architecture in the centro historico as well as a wide variety of foods such as ceviche, soups and the popular chifa. There are interactive workshops and foods tours which allow you to try dishes.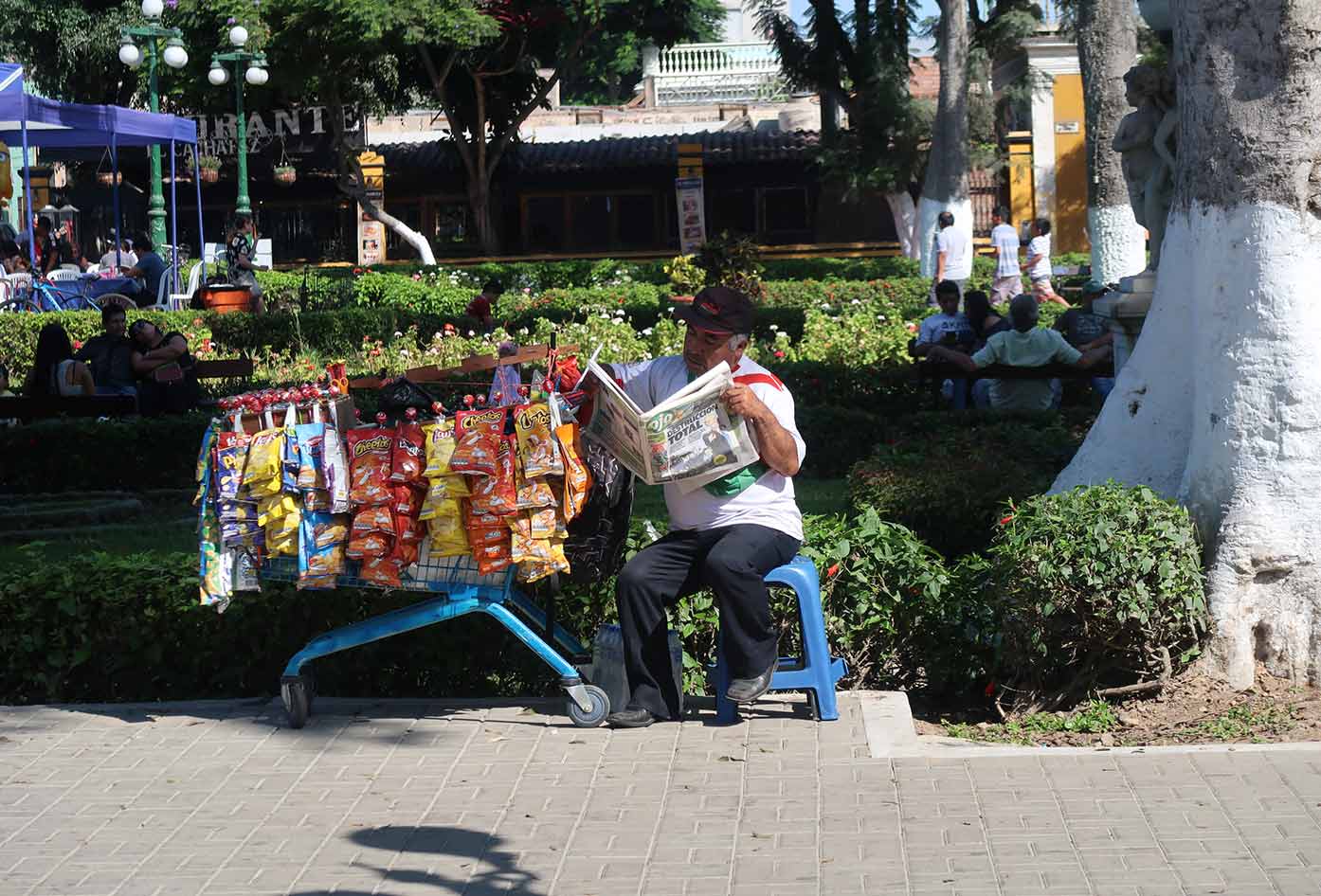 The best things to do in Lima include a visit to the stunning Plaza de Armas and the creepy San Francisco Catacombs, as well as its church.
Know for it's arts and culture tours the south of Lima is the most popular areas for tourists. The bustling district of Miraflores is great to explore, as well as kicking back in the bohemian district of Barranco.
Marcahuasi
If you fancy doing some hiking in Peru visit these stunning rock formations that are located 13000 ft above sea-level, outside of Lima.
Here you can walk around the national park, explore a nearby lagoon as well as explore the huge boulders that peak over the precipice.
As well as the impressive views, Marcahuasi is a popular place to camp, which is best considering the effort it takes to climb up.
To get here you'll need to first head to San Pedro de Casta by bus or driving, and then begin the 3 hour ascent up to the camping zone.
Paracas
This small coastal town is roughly 3.5 hours south of Lima, and 2 hours west of Ica.
Paracas is arguably the best beach town you can find in the south of Peru, where any further south the temperatures can get cold, especially during the winter season.
Here, even in the winter the day can get pretty warm, although at night it can get chilly so take extra layers with you. The best things to do here include visiting the incredible Ballestas Islands.
Home to many animals including penguins, seals and birds, it's one of the best off-shore wildlife experiences you can have in Peru.
Paracas is also known for its windsurfing, with the town being one of the most popular areas in Peru to head for the waves.
Huacachina
This stunning oasis town is located in the Ica desert, roughly 5 hours south of Lima.
Known for its towering dunes (largest in South America), Huacachina is famous for its sandboarding, where you'll literally grab a plank of wood and propel yourself down the side of these massive slopes.
Here you can also chill by the lake, as well as go on an adrenaline-packed sand buggy tour. See these day trips which include a buggy.
Huacachina is about 10 minutes from the city of Ica and you'll need to head there first to its bus station as Huacachina does not have one.
Nazca
Famous for the stunning Nazca Lines. Nobody knows too much about why these mysterious ruins are etched into the earth.
Some measure up to an impressive 4000 ft, and the best way to see them is by hopping on a small aircraft, which whilst is somewhat expensive, is by far the best way of seeing these.
You can also view from the observation tower if on a budget. Close-by you can also visit the spooky Chauchilla Cemetery as well as hike up Cerro Blanco, which is one of the tallest sand dunes in the World!
There are a few other things to do in Nazca, but in general the town itself doesn't have too much going for it.
Arequipa
See this guide on things to do in Arequipa which is known as the "white city" of Peru! This city in my eyes is one of the most beautiful.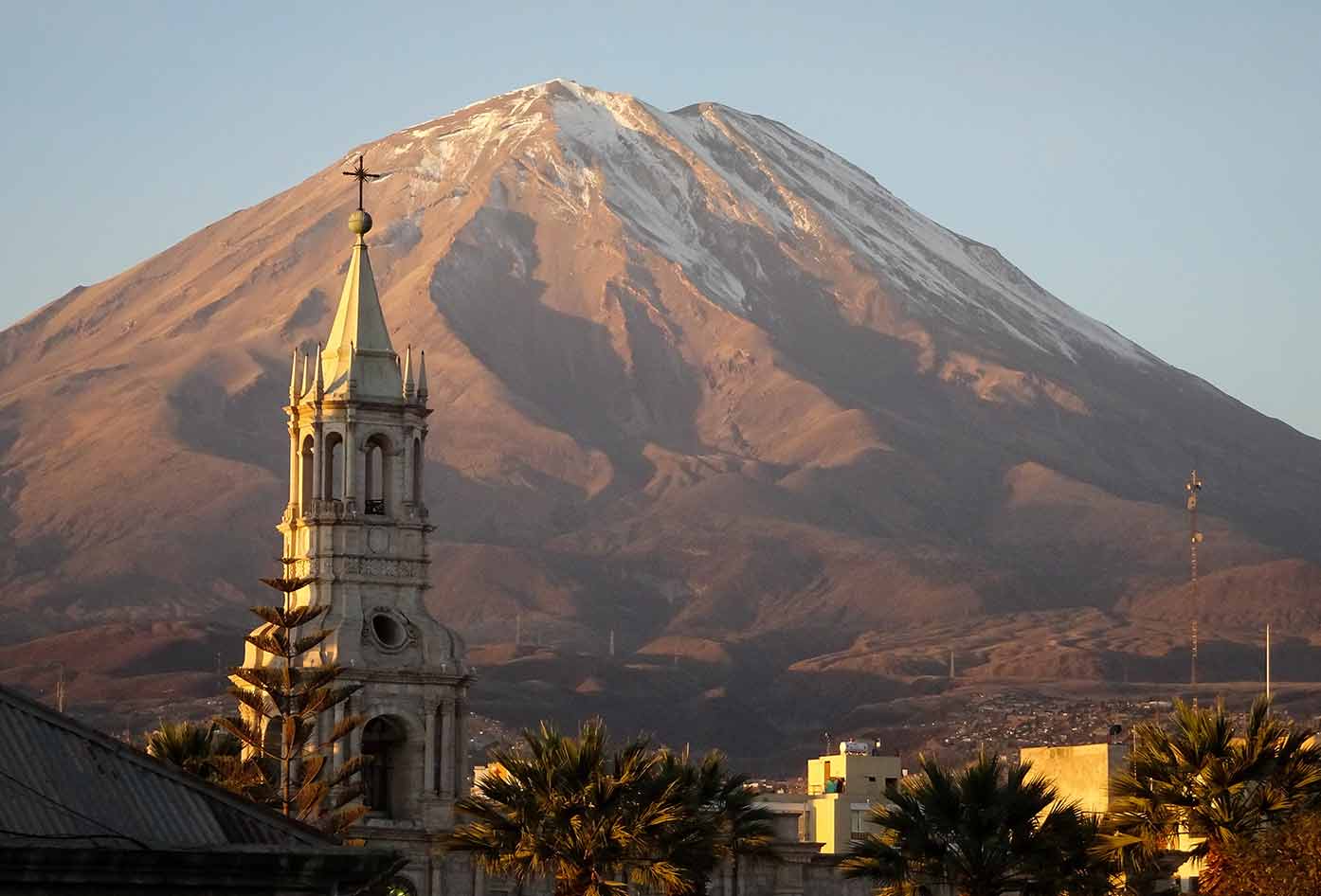 As the second largest city in Peru, Arequipa has lots of colonial architecture, churches made from the sillar volcanic rocks as well as the stunning backdrop of the El Misti and Chachani volcanoes.
This in itself makes the city great to visit, and that's without the impressive gems located nearby too. See this bus tour for more!
As well hiking these 18000 ft volcano beasts, which can be done as a tour, you can also explore the nearby winding Sillar de Ruta, with the small canyon famous for its volcanic rocks that are unique to Arequipa.
Colca Canyon
At over 11150 ft deep, this canyon is one of the deepest on Earth! For some better perspective, it's four times as big as the Grand Canyon, and over twice deep in some areas.
Colca Canyon is close to Arequipa, with many hopping on a day tour to visit the highlights, which includes the mirador, where you can see the striking condors glide through the fresh mountain air.
On a tour you'll also visit some hot springs, meet locals from the area and try some typical Andean food such as Cuy (if you can stomach it).
Another popular option is to hike here independently, with trails usually taking between 2-4 days. This way you'll be able to venture deeper, and explore cool lakes and landscapes along the way.
Cusco
At over 11,000ft, Cusco is not only one of the best places to visit in Peru but one of the higher altitude destinations you can visit. It's also one of (if not the most) popular cities to visit in the whole country.
Cusco is known for its incredible architecture, which is best seen by exploring the winding and steep streets throughout the city, and also climbing up to the Mirador de Plaza Sán Cristobal for the best views.
It's also the prime jumping off point to visit Machu Picchu, however there are lots of other stunning gems to see.
Rainbow Mountain is one of these, with the day hike rewarding those with a multi-colored mountain, with 14 different colors made from different minerals in the mountain.
You can also explore the Sacred Valley, as well as the Ausangate National Park which is home to over seven picture-perfect lakes.
Machu Picchu
The ultimate Peruvian destination! Rightfully on most bucket lists, Machu Picchu is one of the seven new wonders of the world.
This ancient archaeological zone is located 8000ft above sea-level, and is perched on top of a mountain, surrounded by lush forest and incredible mountain landscapes.
Here you can witness the site from a vantage point, as well as hike different paths such as Huayna Picchu for alternate views.
Getting here is also an incredible experience in itself. The easiest way is by taking a colectivo from Cusco to the Hidrolétrico.
Then from the Hidrolétrico you can either hike to Aguascalientes or take the train. From here it's another couple of hours up to the peak, or you can take the bus.
As well as this you can hike the Inca Trail, where you'll spend between 4-5 days exploring legendary sites and epic landscapers along the way before reaching Aguascalientes.
Also, Machu Picchu Sunrise Tours are becoming more popular with visitors who are traveling to small groups looking to explore more.
Sacred Valley
A popular region in the Andean highlands, which stretches over 60km, The Sacred Valley is located close to the imperial city of Cusco.
There are tonnes of interesting things to do and see here. Pisac and Ollantaytambo are two Spanish colonial towns that are some of the most picturesque in all of the Peruvian Andes.
The latter also boasts some of the most incredible ruins, featuring a stronghold and temple with some really impressive stonework.
Head to Moray to see a different style of Incan ruins, with the numerous perfect circular ledges providing one of the best photo ops in the Sacred Valley region.
This area is also popular for those with a thirst for adventure, where you can plunge into South America's tallest bungee jump, paraglide for dramatic views over the valley and also go white river rafting.
Máncora
Located in the northern region of Piura, this area has hands down the best beaches in Peru. If you're feeling tired after hiking and need some beach-time, then head to Máncora.
This town itself is popular for surfing and backpackers and has some pretty good nightlife options most days of the week.
Las Pozitas is a white-sand beach close to Máncora, where in the morning the sea retracts and leaves behind stunning pools of water.
Other great beaches to visit include Vichayito and Punta Sal. Head to Órganos where depending on the season, you can jump on a tour and spot humpback whales, seals and also swim with turtles.
Trujillo
One of Peru's major coastal cities, Trujillo is around 8 hours north of the capital. Previously the stronghold of the Chan Chan, who were the most prominent in all of pre-Columbian Peru, there's lots of history to be seen here.
The Huacas del Sol y de la Lunar are the best ruins to visit, you'll discover ancient temples as well as artifacts that served them from the height of their empire.
You can also visit the nearby Chan Chan ruins which are the biggest of all and located in nearby Huanchaco.
The Central Park is another beautiful area to visit, which is home to the imposing Trujillo Cathedral Basilica, as well as many multicolored buildings all around the edge of the park.
Huanchaco
This relaxed beach-side town is a strong pull for surfers and partygoers alike. Huanchaco is well-known for its incredible waves which seem to go on forever before breaking.
A district of Trujillo, Huanchaco is way more chilled and perfect for kicking back. As well as surfing, you can visit the epic ruins of Chan Chan, which was the largest pre-columbian city in all of South America.
For a more hands on and authentic experience, jump on a Caballito de Totora tour, which is a reed watercraft used by fishermen.
You'll sit on the narrowboat heading through the waves and learning about this unique culture which dates well over the past 3000 years.
Iquitos
This jungle city is the gateway to the heart of the Amazon. You'll need to fly here from Lima since there are no roads, making Iquitos the largest city in the world which cannot be driven to!
Here you can see all kinds of exotic wildlife such as the native pink dolphins, jaguars, sloths, black caiman, and poison dart frogs.
If it's not to see one of the many types of Monkeys roaming around, those backpacking South America come to this part of Peru for the Amazon river experience which can be done as part of a group tour.
You'll arrive in Nanay and jump on a boat along the river, where you'll visit animal sanctuaries and also the Bora, an indigenous community native to the Amazon.
Iquitos is also one of the most popular places to experience the intense medicine of Ayahuasca, where those who take it tend to have intense visuals and sometimes life-changing introspection.
Read this valuable guide featuring things to do in Iquitos to get even more ideas on what to do during a visit to this remote part of Peru.
Peru Travel Tips
See these travel tips for Peru to ensure you have the best stay whether you're on vacation, backpacking, or traveling with friends.
⤵️ Dan's Travel Tips For Peru:
Use Lima as your base when visiting Peru! From there you can experience and explore the restaurants, museums, and landmarks.
Many people suffer from altitude sickness unexpectedly by forcing their body to go so high so soon.
Remember that many of the top rated hostels in Peru offer you the best experiences when it comes to getting off the beaten track so you can explore in a safe manner.
When planning hikes acclimatize as much as you can! When arriving in high-altitude regions such as Cusco, the more acclimatized you are, the more you'll enjoy the experience.
If you want to have the best culinary experience be sure to spend some time in Lima as it is there where you will find the best food.
Altough very common, be very careful when eating Street food! Avoid eating peeled fruit and drinking exotic fruits juices with unfiltered water or ice cubes.
Avoid camping (especially alone) in remote areas, it is better to camp with a certified tour guide when you want to go off the beaten track into high altitude zones.
Aim to use buses instead of planes when traveling around Peru. This way you'll reduce your carbon footprint as well as get more acquainted with Peru's unique landscape.
The majority of Peru's best hostels will get booked up fast, especially during public holidays and traditional events so always check the prices before you arrive if you want to get the best deals.
Always check the best time to go to Peru based on the specific region that you plan to visit. The weather can change drastically for places that seem relatively close on the map.
Look out for FREE walking tours which can be found in most larger cities. For example, the Lima walking tour leaves from the center at 10:15 am daily (except Sunday) ask at your hostel or the Tourist Information Center for more specific details.
Map of Peru
See this interactive map of Peru to get a better idea of the it's position:
Note that from Lima you now get direct flights to Medellin which when thinking of extending your South America trip is a great city to visit.
Remember to carry some sturdy hiking shoes and practice your Spanish to be able to pick up any inside knowledge from locals.
Travel Insurance for Peru
I always recommend backpackers and travelers (no matter who you are) use World Nomads Insurance for fully comprehensive cover.

If you are due to travel soon, you can get a Get A Free Quote by clicking the link or the image above and filling out your details – that way you'll get instant cover from the exact date that you choose.
On many occasions World Nomads has provided me with reliable insurance cover for travel in Latin America and the rest of the world.
Best time to visit Peru
Peru has climates ranging from the freezing Andean mountains to hot beaches in the north of the country, so the weather is not so clear-cut.
However, Peru has a dry and wet season that is quite predictable.
The dry season runs from May until October and is the preferred time to visit with less rain, although it will be colder as this is the winter for countries like Peru in the southern hemisphere.
The wet season from November until April is also good as it's warmer, and prices tend to be cheaper as it's off-peak season.
Places to Visit in Peru
Peru is a magnificent country to backpack as you've seen in this article.
It has some of the best variety of destinations and is also a lot more budget-friendly for the typical backpacker.
We've explored 14 of the best places to visit in Peru, why to visit, how to stay safe, the varied cuisine of Peru as well as the best time to visit.
While you're still here, read this guide on more safe countries in South America you can visit before and after your time spent in Peru.
📌 Like this article? Pin it…
Missing something? Got tips, tricks & advice we can learn from?
💬 Leave a nice comment or let's start a conversation below!
---
"Dear friend! Some links in this post contain affiliate links. Meaning, if you click through and make a purchase, book a hostel or sign up for a tour, I may earn a small commission at no additional cost to you. Your support means a lot and helps me to keep traveling and maintaining the quality of this site for you."