Are you looking out for the best North Face backpack money can buy?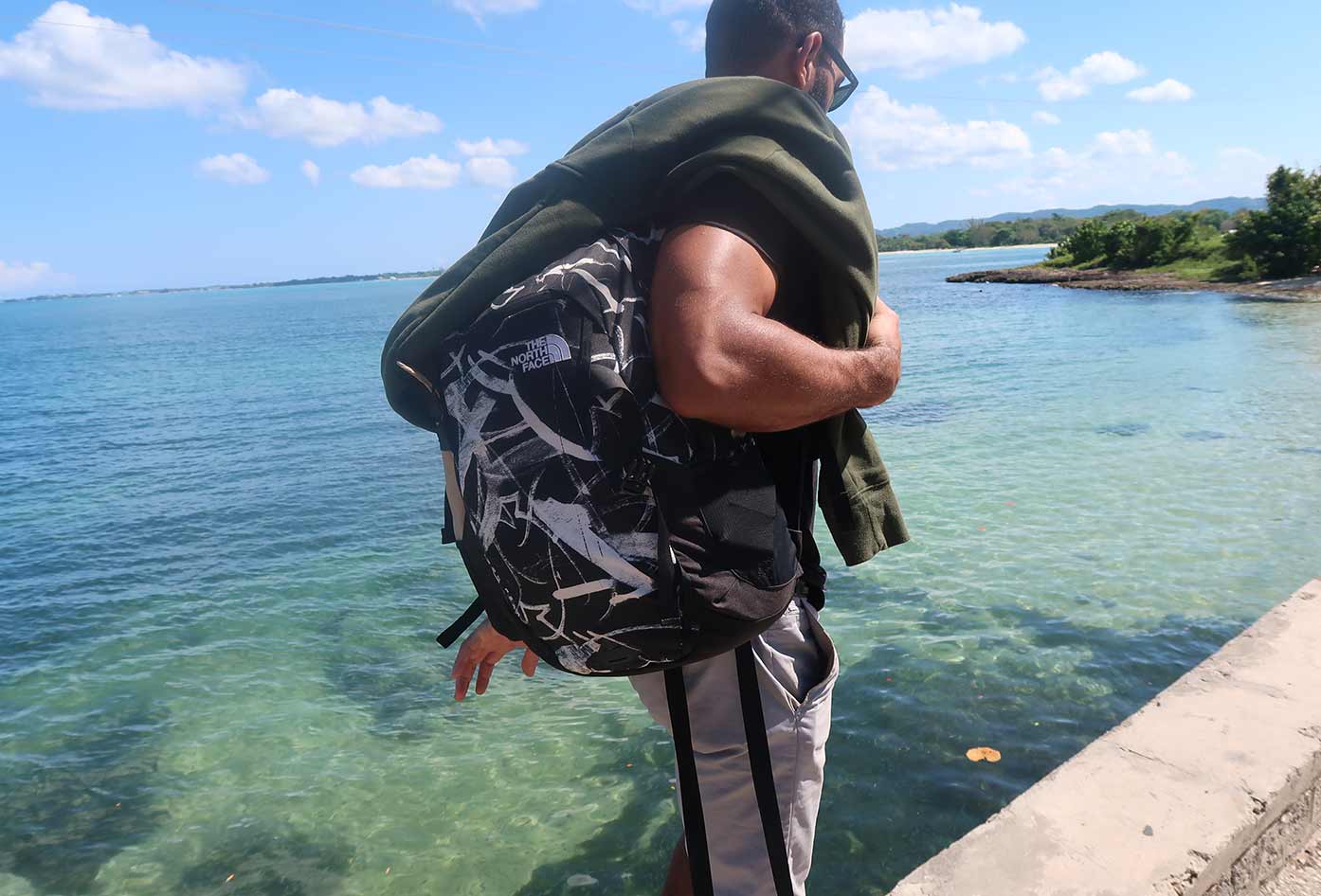 This guide looks deeper at a selection of backpacks that make a great choice for anyone whos already decided on The North Face brand.
---
Quick Answer – Best North Face Backpacks
---
North Face has some of the best outdoor and weatherproofing jackets and fleeces on the market today. They are a brand inclusive of fashion iconography, intelligent design, and overall likeness of appeal.
Best North Face Backpacks
Who would've thought that North Face would become such a huge brand on all plains? Yes, they also make amazing backpacks!
If you've been considering a new backpack, whether for traveling light or heavy, you've come to the right place.
This helpful guide will make sure you get the best North Face backpack bang for your buck.
First of all, let's look at why North Face has become one of the biggest brands on the planet and why you should be buying from them.
Why Choose A North Face Backpack?
The North Face was started in San Francisco, California by Douglas Tompkins and his wife Susie.
As hiking enthusiasts living in an area vastly populated by non-hikers, they decided they'd open a store in the bay area and encourage those unaware of the benefits of hiking to give it a try.
They started to test fabrics for waterproofing and invested in outdoor-wear technology.
It was during this time, as the store began to pick up in sales, that they started to endorse and sponsor expeditions.
These were no simple expeditions either, these were undiscovered and untouched regions that were still the frontier in the 1960s.
This is a practice that the company still partake in today, with expeditions in untouched regions such as the Towers of Tigray and Shishapangma.
What Does North Face Stand For?
Although Douglas left the company in the late 60s, most of what the company and Doug stood for together carry on today.
Wildlife conservation, expeditions to undiscovered routes, research, and development in technology.
These are all that the North Face stands for today, which originated from Douglas. Whether you choose to buy a large or small backpack, each one will have the Half Dome logo signifying the original intentions of this incredible company.
From the 60s leading into the 90s, North Face had developed a huge range of outdoor-wear to supply the demand from hikers and adventurers.
In the late 90s however, the company dedicated a small percentage of attention to the fashion world.
Supplying merchandise to fashion icons and pop culture icons fuelled the brand's revitalized fashionable appearance.
Soon, North Face became the major brand for not just outdoor-wear but also for status. Not many outdoor companies that started during the boom of the 60s saw a revitalized look as North Face did.
They're now considered the go-to company for all things jackets and rain-proofing clothing.
In fact, The North Face jackets you can buy on the market are some of the most respected.
Why you should choose North Face backpacks:
Fashionable and iconic.
A brand dedicated to conservation and sustainability.
Some of the most advanced technology on the market.
Are North Face Backpacks Unique?
North Face backpacks are designed and constructed from decades of trials and research into durability. These backpacks are the real deal when it comes to longevity and endurance through tough conditions.
When purchasing the right backpack or rucksack, it could be your trusty backpack for life. Not many major backpack producing companies have the necessary materials and construction to last more than a year from everyday usage.
With North Face, each bag has specific features for specific needs, whilst some of the range has the versatility to be used in both the hand luggage and student arenas.
Either way, it's a rarity to find a North Face backpack with faults or marks when ordered online. In fact, it's difficult to make any sort of mark or rip in any North Face item.
The major factor when it comes to why many people go for a North Face backpack rather than a more advanced or technologically compatible backpack is quite simple. It's not the look, the materials, or weather resistance.
It's comfortability! North Face backpacks are some of the most comfortable backpacks on the planet, with padding to support the spine and lightweight materials.
It feels like carrying around a comfy pillow on your back!
What makes North Face backpacks comfortable:
The FlexVent™ suspension system
Flexible moulded shoulder straps
Padded mesh back section
Breathable lumbar panel
Up to now, we've looked at reasons to choose a North Face backpack and why they stand out from other backpacks on the market.
Best North Face Backpacks
Let's review the backpacks themselves so you can make the right choice when choosing from the North Face's large range of backpacks.
Backpack Features:
Laptop compartment
Two external water bottle pockets
Scratch-free external fleece-lined pocket
This is the perfect backpack for any adventure you decide to take. It has the 28 litres required for hand luggage and hiking trips, but also the storage capabilities for gadgets and devices.
This is the ultimate baseline for anyone interested in buying a commuter backpack. An essential bag that can be used in every situation.
---
Backpack Features:
Double handles
Self-standing
Cycling reflectors
The ultimate backpack for the student. It has plenty of compartments for organization, a laptop pocket, and the ability to stand by itself so you don't need to lean it against a chair leg when you sit down to class.
It's perfectly designed for the student or commuter needing the necessary backpack space for stationary and devices, with the durability and comfortability to withstand daily bike rides. This is the best student backpack on offer, by far.
---
Backpack Features:
Classic design
Three major compartments
Breathable
For the commuter that needs all the space in the backpack they can get, this is the ultimate HUGE backpack to fit everything into. It can be used for camping and hiking, but it's 30L which could be used for anything.
The padded laptop pocket, along with zip straps make it evenly acceptable as the larger looking commuter bag. If you carry a lot of papers and gadgets for work, this is the one for you.
---
Backpack Features:
Easy-to-use OPTIFIT suspension system
Ultra-comfortable materials
Maximum adjustability
The backpacker's favorite! This is the ultimate camping backpack for those looking for 50-60 liter bags. The ultimate comfortable backpack for those who enjoy carrying their own body weight's worth of luggage.
It makes sense for the explorer of undiscovered parts of the world (and themselves) to use North Face weatherproofing on their clothes and with their stuff.
This bag can be as huge and lofty as you so desire, with compartments and clip-ons galore. This is the ultimate backpacker's rucksack.
---
Backpack Features:
Affordable
360 reflectors for visibility
Mulded shoulder straps
If you're looking for the lightest, most compact, most affordable backpack? You've found it. The Vault is extremely affordable, even for someone with a passive interest in finding a new backpack.
There's no denying how advanced and comfortable North Face backpacks have become in recent years.
They're so comfortable, that they're even molding to the shape of your shoulders and back to give you the ultimate comfort necessary for extensive and lengthy trips whether they're every day or occasional.
This backpack is advertised as being perfect for students, trips abroad, commutes, and pretty much every situation you could ever think of.
The only downside to this backpack is that it's one of the smaller variants of North Face. But other than this, the Vault is probably the best affordable backpack on the market today.
---
Now you should all the information you need to make an informed choice! The Borealis is the perfect adventure backpack.
Get the Borealis Backpack via REI
Best North Face Backpack
It's the Vault, of course! The most affordable all-rounder with all the pockets and attachments you look for in high-quality backpacks.
This is also the highest-rated products that North Face manufacture, with thousands of customers praising the design and comfortability.
The ultimate backpack can be used as a supplement to backpacking or camping trips, or when you need a quick grab-bag for trips out to the office or workspace. It has the compartments you need and the space you need.
Best North Face Backpack: Conclusion
Depending on what you need your backpack for, the North Face range has everything you could want.
You may agree with our findings, or do some digging yourself and find an even greater backpack.
Either way, there's no denying the superiority these backpacks have over other brands. Get out there and buy yourself a high-quality, lightweight, and affordable North Face backpack!
📌 Like this article? Pin it…
Did this help you decide which North Face backpack to choose?
---
"Dear friend! Some links in this post contain affiliate links. Meaning, if you click through and make a purchase, book a hostel or sign up for a tour, I may earn a small commission at no additional cost to you. Your support means a lot and helps me to keep traveling and maintaining the quality of this site for you."