Are you traveling to Colombia and looking for the best hostels in Bogota?
Here's a list I made after spending more than a few days in Colombia's capital.
---
Quick Answer: Best Hostels in Bogota
---
I was blown away by the number of activities, and things to do, I decided to extend my stay before heading up to Medellin.
There's some superb accommodation up for grabs and it's not difficult to find somewhere amazing to stay here.
However, knowing some of Bogota's best hostels (before you arrive) will make a difference.
What to Look for When Booking Hostels
Location: Bogota is one of the many places to stay in Colombia. As a backpacker or traveler, you'll probably be able to relate to how important location is. If you're on a budget making sure you're within close proximity to the attraction or central location you're visiting can save you money in the long run.
Price: Cheaper is not always the best way to go when choosing hostels. When taking into account the other key points you can find a happy medium. Try picking one or two hostels located in the same area and make a decision based on your personal priorities.
Comfort: For the seasoned backpacker comfort become ever more so important. A rock-solid bed, cold water, and loud background music can be an instant turn-off for some people. See the reviews for each individual hostel you're considering and try and find out if you'll be able to get comfortable there. If having WiFi in your room is a deal-breaker you may want to contact the hostel first to inquire.
Activities: What is there to do in the area and does the hostel offer any means of support for getting there or even guided tours with a local guide? This is an important one if you're planning is to live new experiences and make new friends. Taking part in this type of group activities really help you create long-lasting travel experiences.
So, whilst looking for places to stay in Bogota, check out some of these hostels. That way you'll get a head start planning your trip.
Best Hostels in Bogota
Now let's look closer at the best hostels in Bogota and find something that is really going to enhance your stay in Colombia's capital city: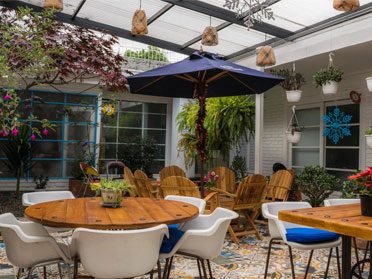 3 reasons to stay here
Friendly and endearing staff
Staff with great English
Very comfortable rooms
When it comes to quality and comfort, the Republica Hostel makes it nice and easy for you to relax and find quality standards of living in the city moving forward.
---
3 reasons to stay here
Easy to travel from
Hot drinks are available
Staff are wonderfully friendly
If you want to settle into a venue and feel comfortable as you do so, then you can find that Explora makes a fine place to start any day in the city.
---
3 reasons to stay here
Really engaging staff
Great standard of rooms
Located in city centre
If you are in need of a hostel that makes it easy for you to get around and have a good time, then this might be the ideal place to start.
---
3 reasons to stay here
Creative and charming décor
Very safe and comfortable
Staff speak excellent English
If you need to settle into a location that makes it easy to feel good, then Zohar Hostel is a fine starting point. The staff are friendly, room quality is outstanding.
---
3 reasons to stay here
Staff are wonderfully friendly
Excellent for arranging tours
Great value for money
A high-quality solution that should make it easy for you to get around, Hostel Baluaret is both well placed and affordable for those looking to get around.
---
🔗 Forgetting Something!?
Securing your belongings in hostels is a must whilst traveling.
Why Use a Cable Lock?
✓ 3 dial combination
✓ Gives Peace of Mind
✓ Coated Steel Cable
Staying at hostels in South America with camera equipment and laptops etc, I now secure my belongings: click here to learn more.
---
3 reasons to stay here
Staff are wonderfully friendly
Excellent for arranging tours
Great value for money
If you want to make the most of your time in Bogota, then you can do so with the Tip Top Hostel; the kind of place that makes settling-in simple.
---
3 reasons to stay here
Comfortable and classy beds
Breakfast is always available
Staff are very friendly
The CX Hostel makes it nice and easy for you to settle in and enjoy a high standard of care and conditioning.
---
3 reasons to stay here
Great location in city
Friendly staff always available
Security systems are reliable
The Iku Hostel is the perfect starting point for anyone who is serious about staying safe and keeping their items secure when on the go in Bogota.
---
3 reasons to stay here
Located in perfect position
Great breakfasts always
Rooms are well maintained
The Cranky Croc Hostel might just make the perfect starting point for anyone who is serious about making sure their trip to the city is as fun-packed as is possible.
---
3 reasons to stay here
Great quality of rooms
Lots of amenities nearby
Staff can always help
Few hostels can make you feel as welcome as Aurora does: the room quality and general charm of the people who work here make settling-in very easy indeed.
---
3 reasons to stay here
Great classic room styles
Excellent location in Bogota
Comfortable, quality rooms
If you need a place to stay that makes you feel nice and welcome, this might just be the place to start. The staff are friendly, too, making each trip stress-free.
---
3 reasons to stay here
High quality hostel rooms
Unique and artistic décor
Modern and stylish amenities
If you want to enjoy a hostel that really goes the extra mile to make you feel welcome, then the 12:12 Hostels make a fine choice for affordable accommodation.
---
Now you have seen some of the best hostels in Bogota, you should find one to fit your needs. If you're still undecided, take a look below at the reasons why I feel hostels are great for all travelers.
Why Choose a Hostels in Bogota?
Meet like-minded people: Staying in a hostel can be a great way to meet other backpackers, especially when traveling alone in a new city. Many people overlook this aspect when considering staying in hostels.

Save money: A great reason to save money and extend your budget even further. Hostels are typically one of the most cost-effective types of accommodation in Latin America. If you're traveling as a couple or not a tight budget remember that many hostels in Latin America offer private rooms. Meaning you can have the same privacy s you would in a hotel room but still benefit from the social and group dynamic of hostel life.

Find Cultural Activities: Whilst backpacking Colombia in South America, hostels are one of the best places to get inside information on all the local events and cultural actives in the area. Some of the most unique and spontaneous.
Got Travel Insurance for Colombia?

Designed by travelers, for travelers, World Nomads covers more than 150 adventure sports and activities so you can explore your boundaries.
Best hostels in Bogota
With the recommendations above you should find the perfect hostel for you to stay in Bogota.
Usually, when I arrive in a new place with my favorite backpack I like to know that I've got my accommodation already sorted.
Booking accommodation beforehand is wise not only for peace of mind but also for safety reasons.
That way you can reduce culture shock and concentrate on getting to the people, places, and local pleasantries.
📌 Like this article? Pin it…
Backpacking Colombia? Or, thinking of traveling to Bogota soon?
💬 Leave a nice comment or let's start a conversation below!
---
"Dear friend! Some links in this post contain affiliate links. Meaning, if you click through and make a purchase, book a hostel or sign up for a tour, I may earn a small commission at no additional cost to you. Your support means a lot and helps me to keep traveling and maintaining the quality of this site for you."