Are you deciding whether to visit Acapulco vs Puerto Vallarta for a trip?
Acapulco and Puerto Vallarta are two of the most popular destinations for tourists and visitors in Mexico.
So much so, that each has a Pacific-shaped place in the hearts of their visitors and are known historically as the go-to spots for Americans.
In this guide, we'll compare these two Mexican tourist destinations to give you more power to make a final decision on which to choose.
Acapulco vs Puerto Vallarta
Although Cancun and the Yucatan Peninsula is known as the most popular spot outside of Mexico City for tourists, there is a lot to be said for its overcrowding and overrated appeal.
Chances are, you can find a luxury holiday spot on the Pacific coast for a fraction of the price you'd find on the Caribbean side.
You've chosen the Pacific side, so which spot suits you?
Acapulco
Acapulco, also known in full as Acapulco de Juárez, is a city and port that could be considered one of the most popular spots in Mexico.
Found in Guerrero estado, the state in southwestern Mexico.
Situated on a deep, semi-circular bay, Acapulco is a resort town with the best harbor on the Pacific coast of Mexico.
Where is Acapulco?
Acapulco lies on a narrow strip of land between the bay and the steeply rising mountains that encircle it.
A truly wonderful sight reputedly. Acapulco has become the "Riviera of Mexico" for tourists attracted by the many facets of resort living.
An ideally warm climate, many luxurious hotels, excellent beaches, and deep-sea fishing. What else could you ask for?
More than 300,000 visitors can be found in Acapulco annually as a result. No railway tracks connect to Acapulco, but it is easily accessible by airplane, cruise ship, or car.
Automobiles have to travel via the toll road from Cuernavaca and Mexico City, 288 miles (463 km) to the north-northeast. You can easily rent a car if you're arriving at Mexico City's international airport.
Since the 20th century, Acapulco has welcomed a diverse international crowd ranging from star-crossed honeymooners to college party-goers.
The city and its surroundings hold a wealth of cultural attractions and natural wonders that appeal to all types of travelers.
Is Acapulco safe to visit?
The crime level in Acapulco is high, but resort areas and tourist destinations are not prone to the violence and serious crime reported.
This doesn't mean the area is dangerous, or that it's particularly safe either.
Drug-related violence has been increasing in the area, so tourists should be vigilant and be wary of their safety in Acapulco and surrounding areas.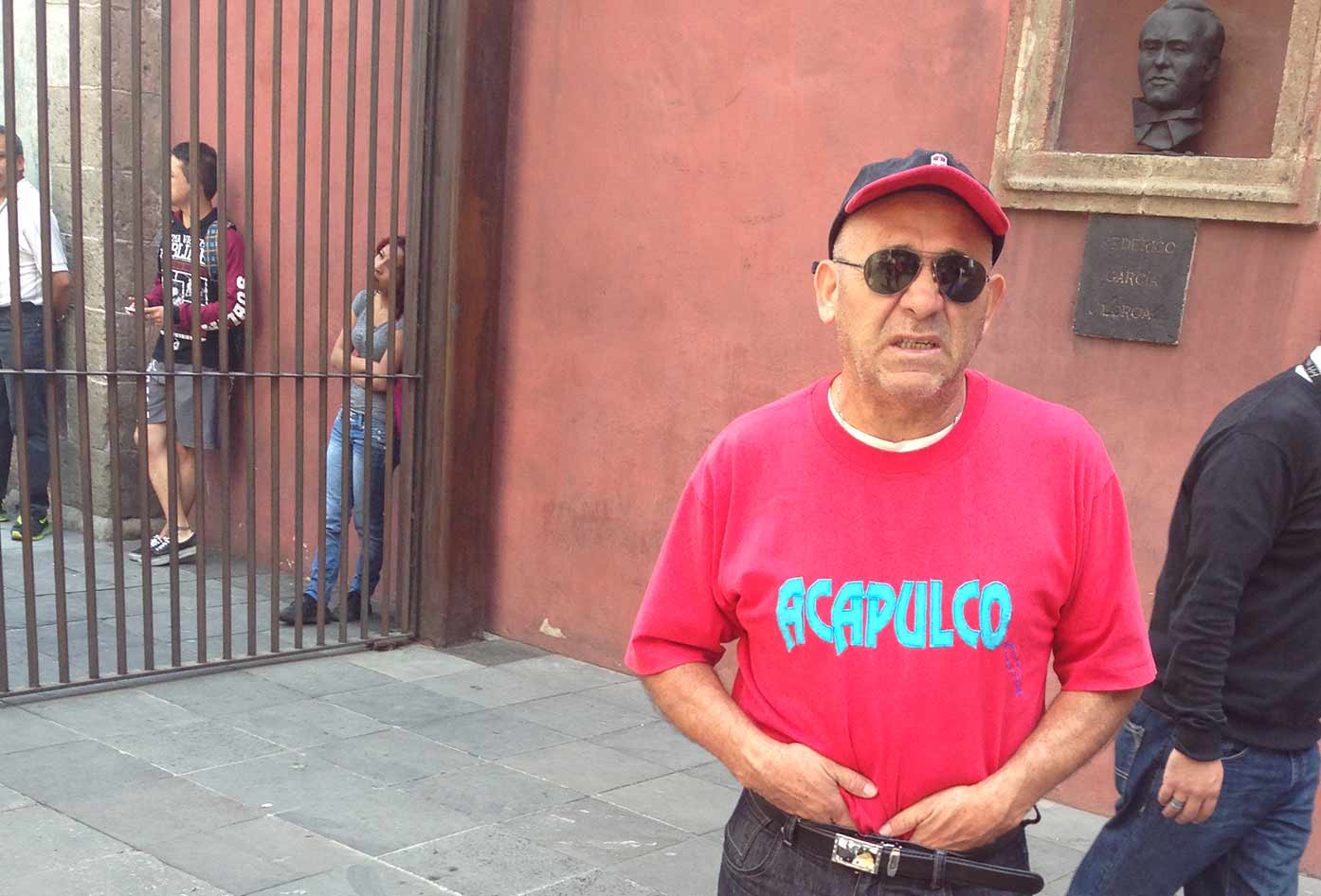 As is the case in most major tourist attractions, pickpockets operate everywhere. This is why carrying a neck wallet when out and about, to conceal your valuables, is always a good idea.
If you were to stick with one piece of advice, it would be to say; keep away from the public transport of the region.
Public transport is dangerous (on the smaller more local type buses) due to the constant theft of buses by gangs.
Unlicensed taxis are also risky because there have been reports of passengers being assaulted and robbed by unlicensed drivers. If the taxi is unmetered, it would be best to keep away or try Uber.
See this guide on Mexico bus travel if you are traveling long distance by bus to or from Acapulco. Or, want to get a grasp on buses in Mexico.
It is unwise to try to drive around in Acapulco since the traffic is heavy and drivers are very aggressive. But if you do rent a car – take care!
Stick to coaches or accredited taxis, even if the rates seem high. Prioritizing your safety in these situations is key.
Best Time to Visit Acapulco?
From May to November, the climate is hot, humid, and frequently rainy.
However, from December through April it is warm, dry, and pleasant. Summer is Acapulco's low season, so you're sure to find bargain-friendly price tags on both airfare and hotels.
The downside though, is that you won't be sure if the low rates are worth it.
The summertime yields temperatures in the high 80s and 90s paired with the sticky humidity that accompanies the region's rainy season.
You're also more likely to experience rain showers (June, July, and August see some of the area's heaviest rainfall), which can put a damper on the whole trip.
This season is likely to be unbearably wet on more than one occasion. It may be worth comparing Acapulco vs Cancun for a second comparison.
In many cases, though, January through February yields the best meteorological events.
Things to do in Acapulco
Acapulco's top historical monument is the Fort of San Diego. It was first erected in 1617 to ward off pirate attacks!
Can you believe that there were pirates here?
Fort of San Diego was the strongest fortification on Mexico's Pacific coast and was built to protect the Manila galleons, a fleet that sailed between Acapulco and Spanish-controlled Manila in the Philippines.
Since 1986 there has been a museum inside the fort, detailing Acapulco's past and explaining the fort's role during important moments over the last 400 years.
Our Lady of Solitude Cathedral is also a great spot to visit. Conceived by the architect Federico Mariscal, Acapulco's cathedral was built in the 1940s and 50s.
Its predecessor had only been started in the 1900s but was toppled by an earthquake and subsequent hurricane.
The cathedral's architecture is unique in Mexico, fusing Art Deco, Moorish and Byzantine styles.
How about a 3-course evening meal overlooking Bella Vista in Las Brisas Hotel? This is one of many ways you could have a more romantic evening at the most exclusive restaurant in Acapulco.
Best beaches in Acapulco
The popular beaches of Acapulco are located in the Dorado or Golden Zone. There, you can find Playa Icacos and Playa Condensa.
Both of these incredible beaches offer great swimming and beachside amenities.
Other urban beaches include Playa Caleta y Caletilla where you will find snorkeling around Isla de la Roqueta and surfers will be pleased with Playa Revolcadero because of the consistent beach breaking waves.
When you are seeking a more secluded beach experience then you should try Playa Pie de la Cuesta to the north or you can travel south to Barra Vieja Beach.
Puerto Vallarta
This spot in Jalisco has tons of visitors every year and is one of Mexico's most competitive spots in terms of value, experience, and climate.
Puerto Vallarta has some of the best Tequila in all of Mexico, which is a draw for thousands of visitors.
Where is Puerto Vallarta?
If you decide to take the Pacific Coastal roads through Mexico on a backpacking or nomadic trip through the country, this is guaranteed to be one of the best stops on your trip.
Even you do take the Baja route, you can catch a ferry from La Paz to Topolobampo, heading southward towards Acapulco and Guatemala.
Puerto Vallarta is easily one of the most picturesque spots on the North American continent.
Banderas Bay overlooks the world's largest ocean: the Pacific. Vallarta is situated technically inside the region of Jalisco, but it sits on the border to the neighboring region of Nayarit.
The nearest city is the historic town of Guadalajara, which is famous for its Tequila and rich history.
Is Puerto Vallarta Safe?
If you have concerns about the safety of Puerto Vallarta, read this article on safety in Puerto Vallarta for more advice?
In short, the safety of Puerto Vallarta is very minimal compared to the nearest major city Guadalajara.
By the way, Guadalajara is still 5 hours drive away inland, so there's no possibility of seeing any of the crimes you hear about on the news.
Millions of people typically visit this part of Mexico every year for the world-famous tequila tours that originate from here. Petty crime can be a problem, but for the most part, Puerto Vallarta is very safe.
Is Puerto Vallarta Cheap?
The average daily cost (including bed and board) for a trip to Puerto Vallarta is around $33 (USD) per day.
This is considerably cheaper than most popular tourist spots in Mexico, including Mexico City and the spots on the Atlantic Coast.
For luxury trips to Vallarta, in places such as the Marriot the average cost is $66 (USD) which is incredible compared to the rest of the continent, not just the rest of the country.
The average cost for one person to take a two-week trip is just $904 (USD). As you can see, Puerto Vallarta is a serious contender best budget location in Mexico.
It has everything you'd need for a safe retreat at a fraction of Cancun. More so when realize that many US tourists choose either Puerto Vallarta or Cancun for their vacations in Mexico.
Puerto Vallarta Nightlife
Puerto Vallarta doesn't just attract its thousands of visitors with climate and beaches alone.
There is a beachside promenade with boutique shops and unique public sculptures.
Whale watching is huge in Puerto Vallarta, with boat trips running regularly to ensure you get your share of the leviathan beasts.
Extreme activities such as skydiving, rock-climbing, zip-lining, and ATV tours are available here, with some of the best natural landscapes to explore as well as escape to.
Get a better idea of the activities in this area by reading this guide on things to do in Puerto Vallarta for more up to date travel advice.
Best Time to Visit Puerto Vallarta?
The best time to visit Puerto Vallarta is between April and June when the weather is pleasant and the room rates are affordable.
During these months, rain is scarce and there are fewer tourists compared to the winter high season.
Although many do travel during the Summer months, the temperatures soar to highs of 34 degrees Celsius.
If you're interested in whale watching, visit from December to March. You can do a tour to see the humpback whales in Banderas Bay.
The temperature can stoop to lows of 14 degrees Celsius, but for whale watching in North America, these are some of the higher temperatures compared to Alaska or North Eastern United States.
Got Travel Insurance for Mexico?

Designed by travelers, for travelers, World Nomads covers more than 150 adventure sports and activities so you can explore your boundaries.
Acapulco vs Puerto Vallarta
Whether you're looking for a budget holiday in Vallarta, or an escape full of natural wonder in Acapulco, Mexico has something for you.
Maybe now you have more of an understanding as to which of these two popular Mexican Pacific locations suit you most.
Either way, each location offering resort-level quality and comfort on the Pacific coast has its own claim to fame so you'll always be able to find the right place for you.
See this guide on safe places in Mexico for ideas on where to go.
📌 Like this article? Pin it…
On comparing Acapulco vs Puerto Vallarta do you have a better idea?
💬 Leave a positive comment or lets start a conversation below!
---
"Dear friend! Some links in this post contain affiliate links. Meaning, if you click through and make a purchase, book a hostel or sign up for a tour, I may earn a small commission at no additional cost to you. Your support means a lot and helps me to keep traveling and maintaining the quality of this site for you."