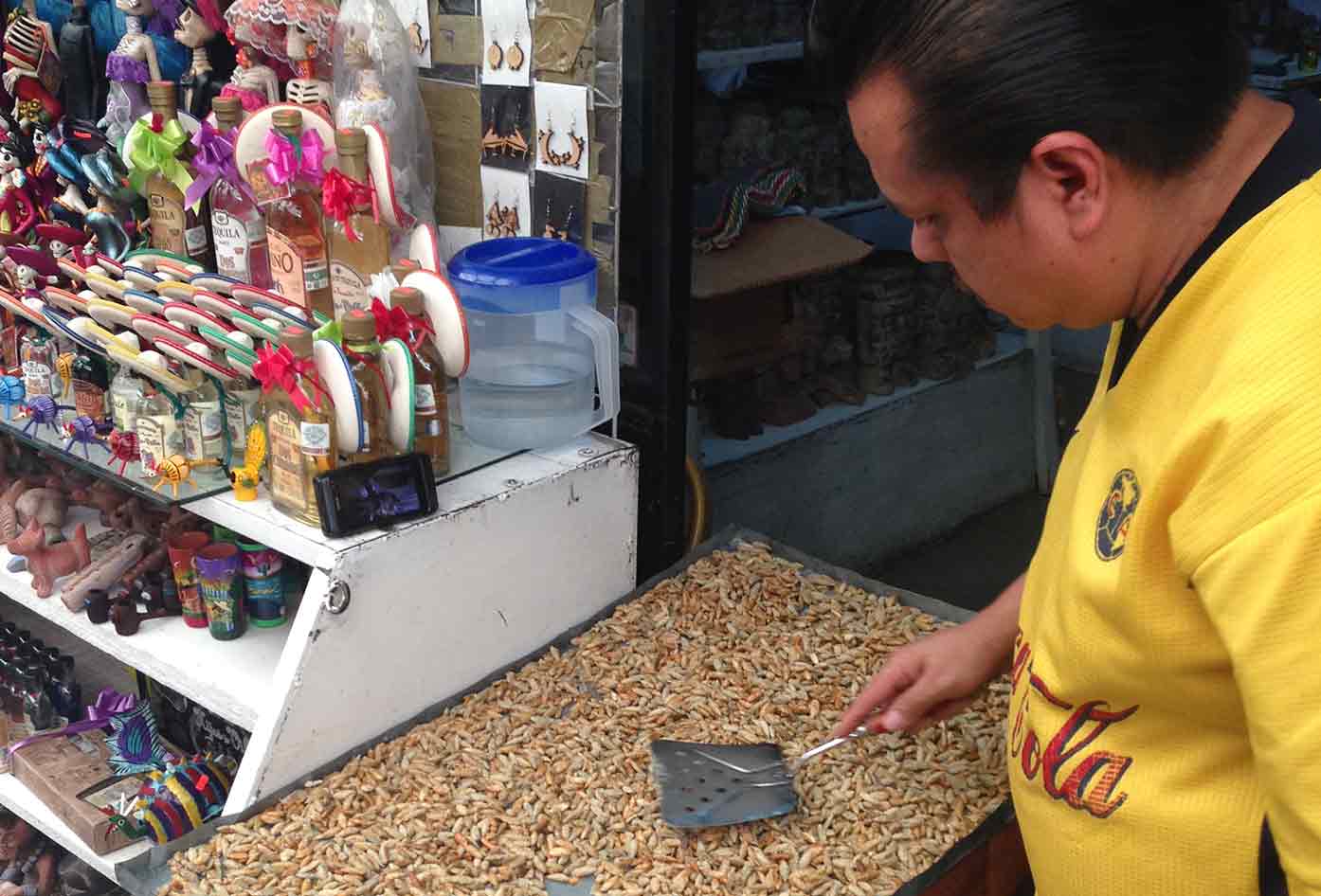 Below I am going to cover my easy 5 days in Mexico City itinerary.
With seemingly endless things to do and see in this sprawling capital, it can be hard to know where to start and plan your trip.
Having spent a lot of time in the city, I have drawn from my own experience in order to create this five-day itinerary below.
Mexico City Itinerary (5 Days)
This article covers everything from attractions such as Teotihuacan, smaller gems, and cool places to try out Mexican food and beyond.
Is 5 days enough in Mexico City?
Mexico City can be pretty intimidating, especially given it's one of the largest cities in the World!
However, when coming here for the first time, you may find 5 days is actually perfect for a visit.
You'll be able to see tourist attraction in Mexcio City such as:
El Zocalo
Palacio de Bella's Artes
Teotihuacán
You'll also start to get a feel for the bustling city, as well as get a great introduction to Mexico's most authentic food and dishes.
If you really want to see everything or want to get the "locals" feel, then you'll definitely need a minimum of 2 weeks in Mexico City.
Planning A Trip to Mexico City
Planning your trip in advance goes without saying. There are lots of benefits to knowing what you are going to do and for how long.
When it comes to managing your trip to Mexico City you want to have a basic idea of what to expect when you get here.
For a good primer of the city and all it has to offer for a new traveler, read my Mexico City travel blog that covers all the travel basics.
How Many days in Mexico City are needed?
After saying all of the above: how long should you stay, then?
This question is really hard to answer without knowing what your goals are for the city, etc. But you have some great ideas to help you decide if you need more than the 5 days suggested.
For a general itinerary, where you want to visit the top sights in the capital, perhaps do a couple of day trips, enjoying the nightlife I would recommend no shorter than 5 days in Mexico city overall.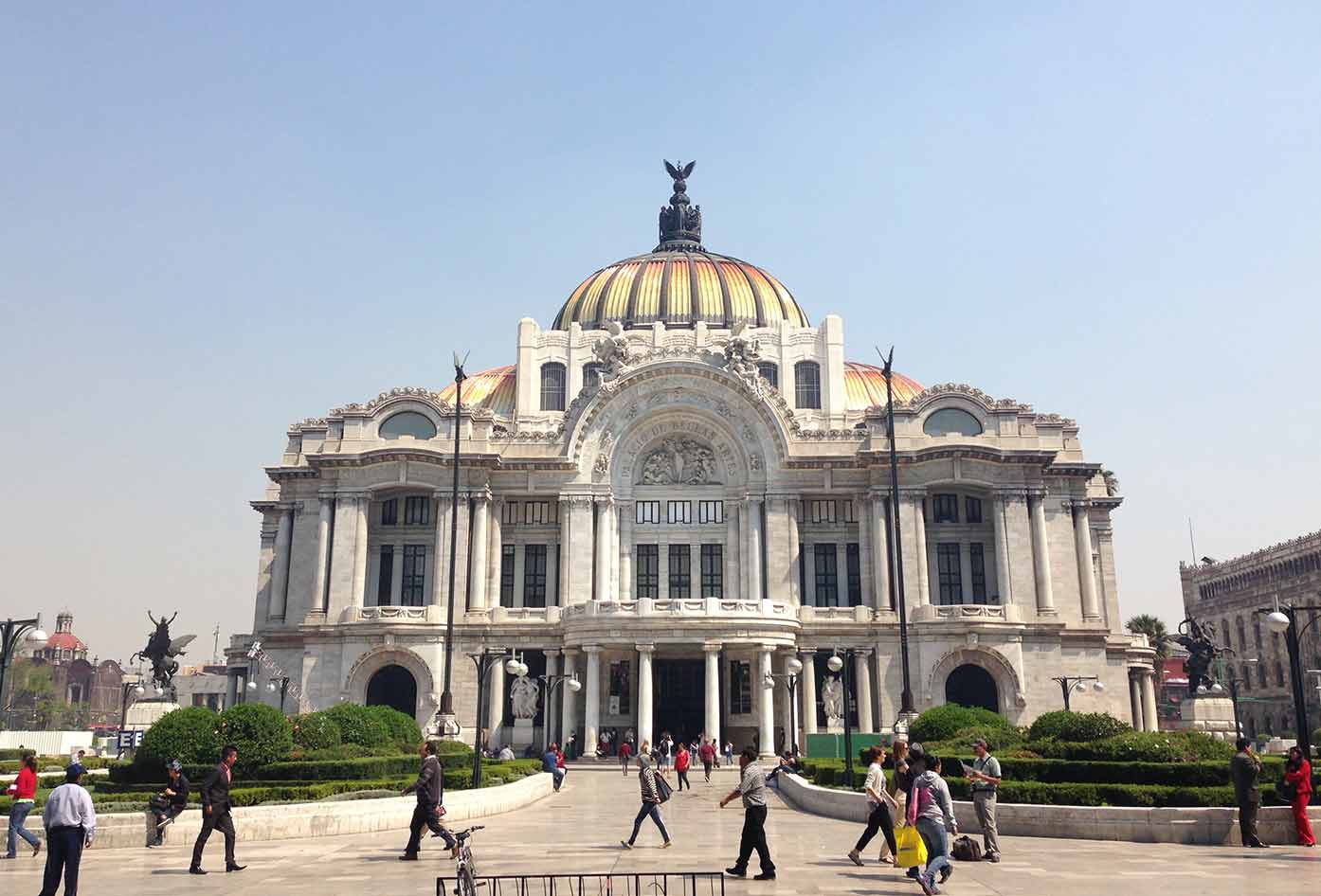 If you are not strapped for time and really want an authentic experience, then you should stay anywhere from 2 weeks to a month.
This will give you the best picture of the city and its nearby regions. Perfect if you're venturing out most days and open to new things.
Getting around Mexico City
I have covered bus travel in Mexico in much detail on this site.
There are three main options for getting around in Mexico City, which is by taxi, metro, and bus.
As noted in my other Mexico City blogs, the metro system connects everything, including the airport, bus stations, and major sites.
Each metro ride only costs $0.25, so I would recommend using this over a taxi which can be quite expensive in proportion.
Even that said, taxis are still pretty cheap compared to the Western World, so taking once in every while probably won't break your bank.
Safety, however, can be an issue with taxis, so make sure you only get in authorized vehicles or Uber in Mexico City (on the back there should be a printed photo of your driver and contact number).
Why travel to Mexico City?
As you will see as you read on, Mexico City has a massive variety of attractions and destinations to visit.
These include the museum of anthropology, the Frida Kahlo Museum, and Chapultepec Park. The Museum of Mexico City is a cool place too.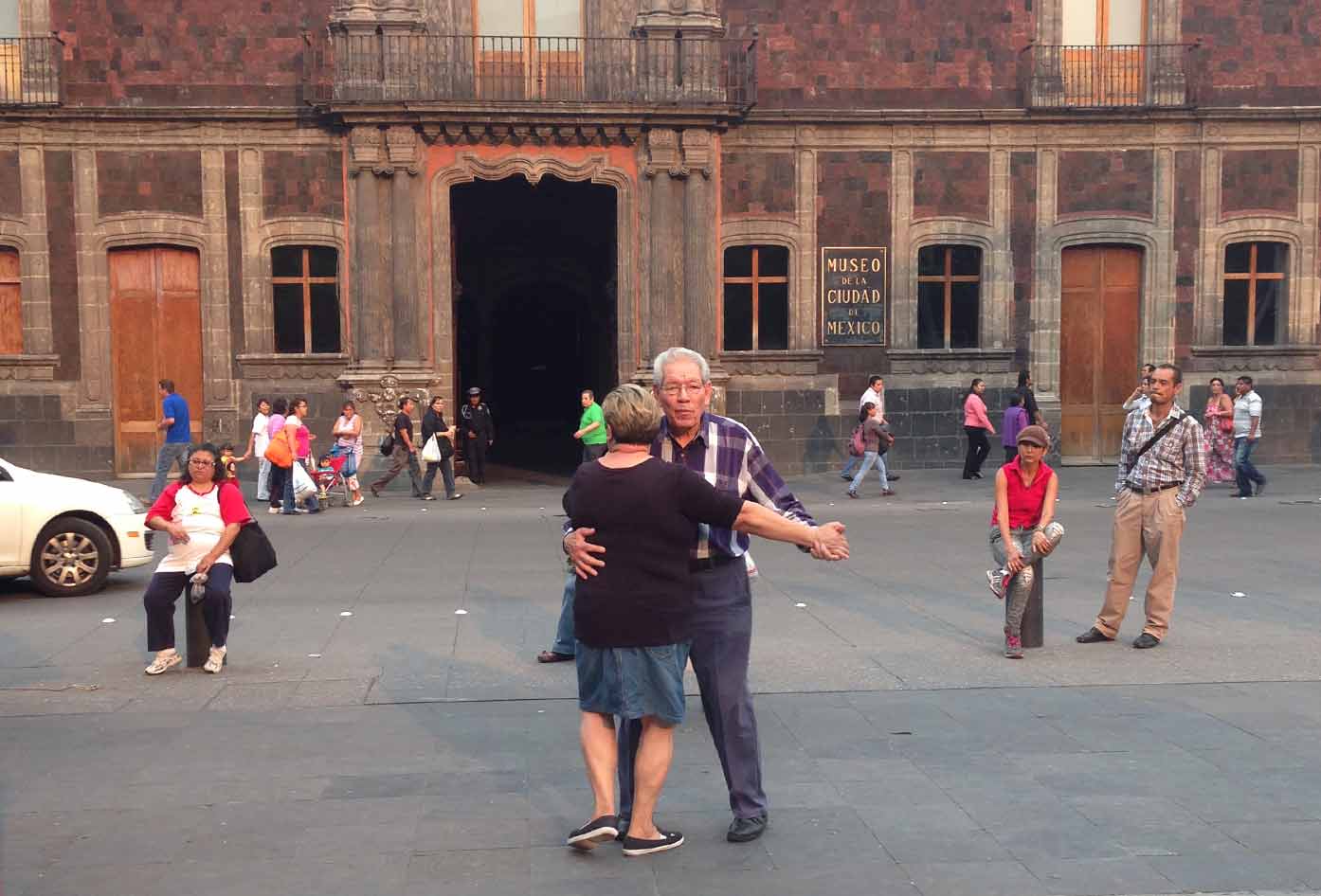 With close-by day trips such as Teotihuacan and Tula Ruins, Mexico City is the ideal place to base yourself when visiting other regions.
Even after backpacking Mexico and seeing the countries top things to see and do. Mexico City is still an extraordinary place.
On every corner, you'll find a gem or a surprise! Whether it is some street food, street art, or whatever else gets your whets your appetite.
Best time to go to Mexico City?
Mexico City's weather may surprise those who haven't been to Mexico before, who expect hot weather on a consistent basis.
Due to the city's high altitude, it can be cold in the winter months and tends to receive quite a bit of rain during the summer too.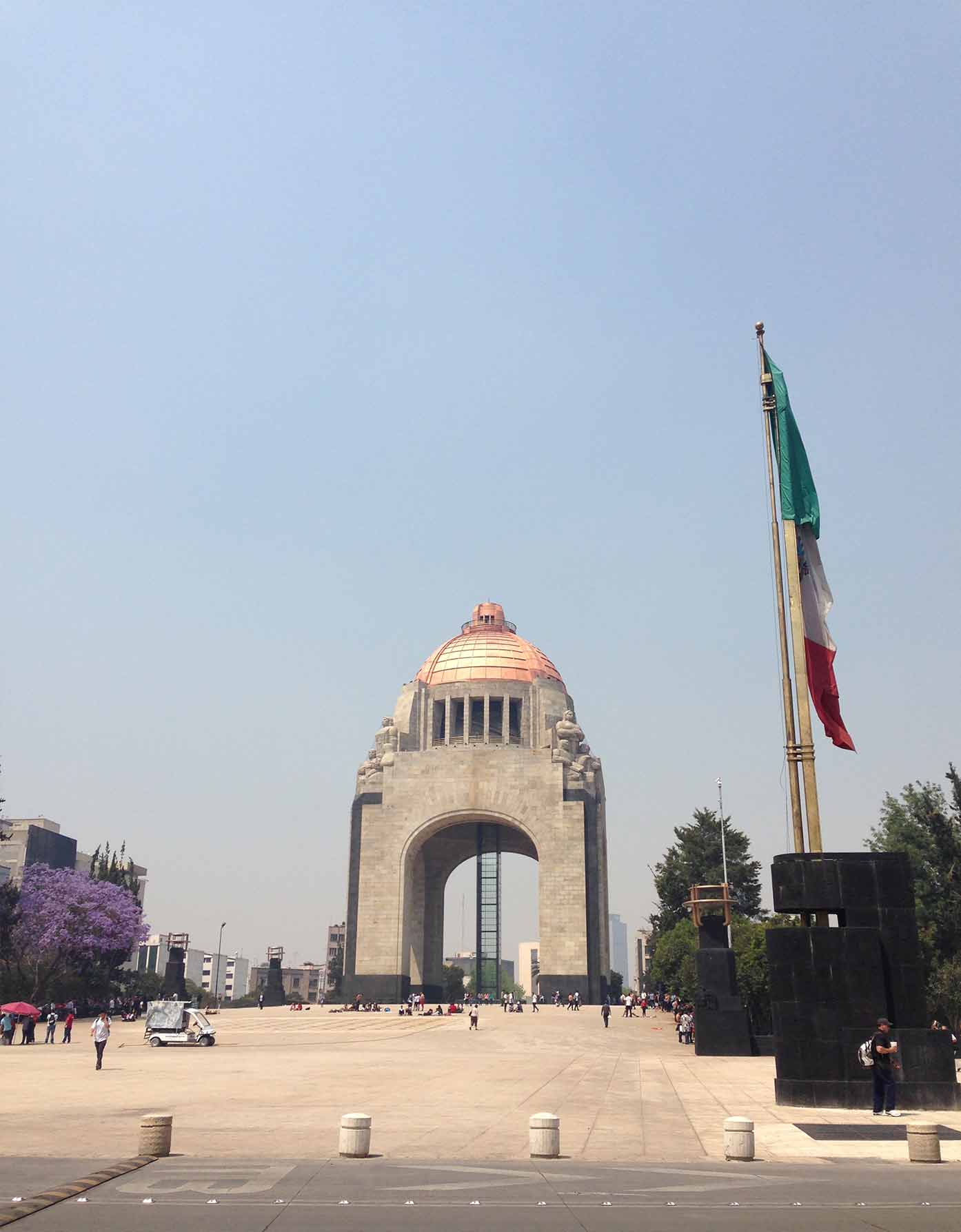 The period to visit for the best weather is Spring (between March and May). This time of year will have clearer skies and warmer temperatures of anywhere from 75-80°F but.
Still carry a packable travel jacket for those unpredictable days.
For those most concerned about rainfall, then take note. Visiting anywhere from October to May generally has very few days of rain.
The summer months see a much higher increase, with peaks in and around September.
💡Smart Travel Tip
There are many cultural events during the summer in Mexico, so plan to visit around then to get a taste of authentic Mexican traditions!
Is Mexico City Safe?
Like all major cities, Mexico City should still be treated with caution, especially when entering poorer areas.
Most of the major neighborhoods like La Roma and Condensa tend to be quite safe but still carry a Pacsafe for concealing your devices.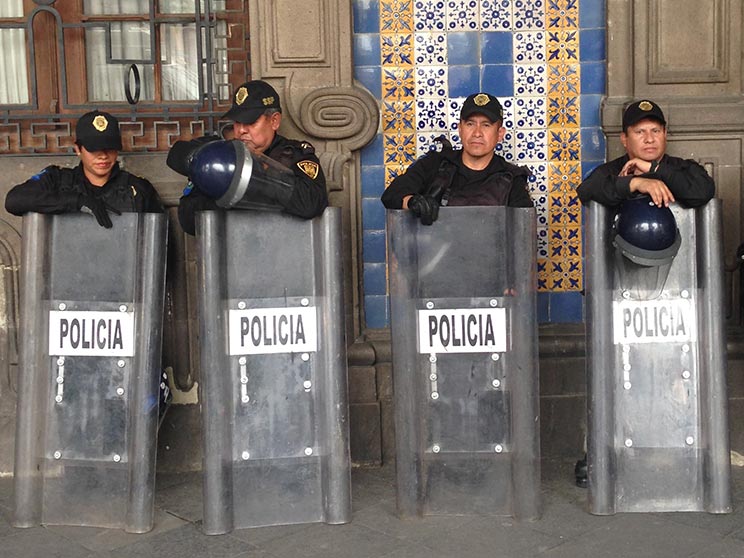 Police patrol most tourist areas. So as long as you stick around these and not be out at late alone, then you'll most likely have no problems.
Also, be careful with what you wear. Some parts of the city are poor and wearing flashy clothing and accessories can make you a target for opportunistic thieves.
I have written even more Mexico City safety tips and some universal safety tips for Mexico in my Mexico travel safety guide.
What to pack for Mexico City
The daytime is generally warm, however, during the evenings the temperatures can drop rapidly. Often, I was caught on in shorts and a vest shivering whilst making my way back to my accommodation.
Be sure to pack a combination of warm layers and light clothes too.
The weather in Mexico City is diverse, so carry a mix of clothing to make sure you will be comfortable wherever you head.
Best places to see in Mexico City
For this 5 Days in Mexico City itinerary, we'll visit 5 of the best places to visit in Mexico City.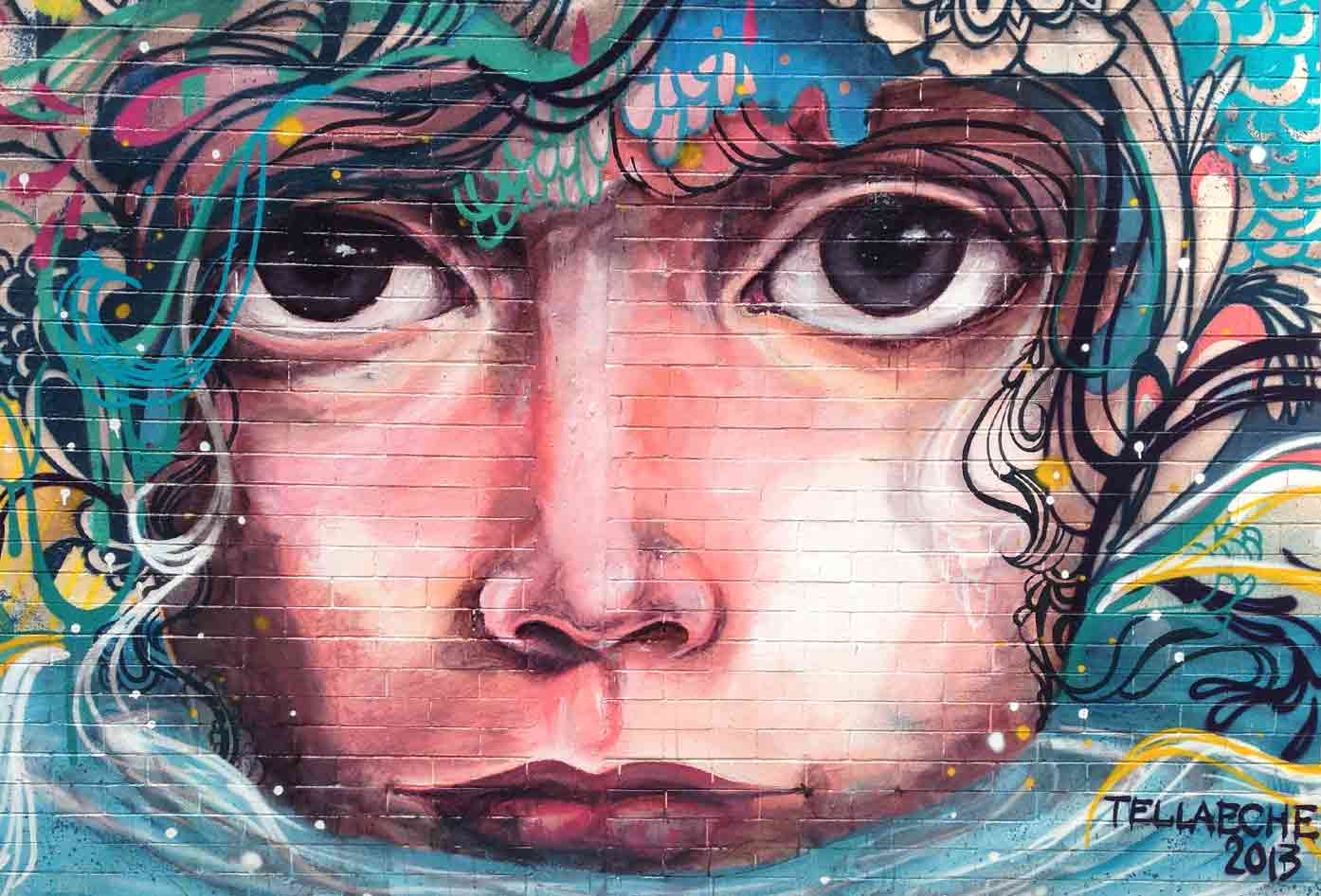 These places include a mix of landmarks, activities, and top food spots!
La Roma – Condensa
La Roma is a popular place to stay in Mexico City. It's one of the safest and has a variety of budget accommodation options.
La Zona Rosa and La Roma were my favorites for nightlife in Mexico City. Popular bars in this area include Patrick Miller and Biergarten.
El Moro Churrería is great for those with a sweet tooth, with a selection of churro desserts and sandwiches.
Historic Center of Mexico City
You will likely spend most of your time in this area for the sights.
Here you can find the impressive Zócalo, which is surrounded by the National Palace, Cathedral, and a huge Mexican flag at its heart.
You should also visit the Catedral Metropolitana de México which is the largest cathedral on the entire Americas continent!
For the best views of the city, head up to Torre Latinoamerica where you can check out everything over a 360-degree observation deck!
I recommend heading up just before evening to watch the town succumb to the night and its millions of bright lights.
A great food spot in El Centro is Azul Histórico which is located within the Downtown Mexico Hotel so be sure to check it out.
Prices will be more expensive; however, the setting and variety of food mean you must try it at least once during your trip to CDMX.
Chapultepec – Lomas
One of the best things to do in Mexico City is Chapultepec Park.
Often cited as the biggest man-made park in Latin America, Chapultepec is the place to go if you want to find some peace and serenity in one of the busiest cities in North America.
As well as having lots of restaurants around (be sure to try out the tacos dorados at Chispa!) you can stroll through the park.
Look out for the mural paintings near the north end, as well as picking a spot and chilling by the lake.
Coyoacán
An upcoming area which is popular with the artsy and intellectuals.
The best activity to do here is a visit to Frida Kahlo's house (also known as La Casa Azul – the blue house).
The house is now a museum and there are numerous gardens to relax in, such as Plaza Hidalgo and Plaza Centenario.
Food lovers head to Corazón de Maguey which has a range of authentic Mexican dishes that are sure to whet your appetite.
Day Trips from Mexico City
Although Mexico City itself can entertain for days and even weeks on end, it's no doubt you would have heard of some of the amazing day trips that can be taken from here.
Now let's explore some of the best day trips from Mexico City.
Teotihuacán
Any trip to Mexico City must (and generally always does) include a trip to the ruins of Teotihuacan.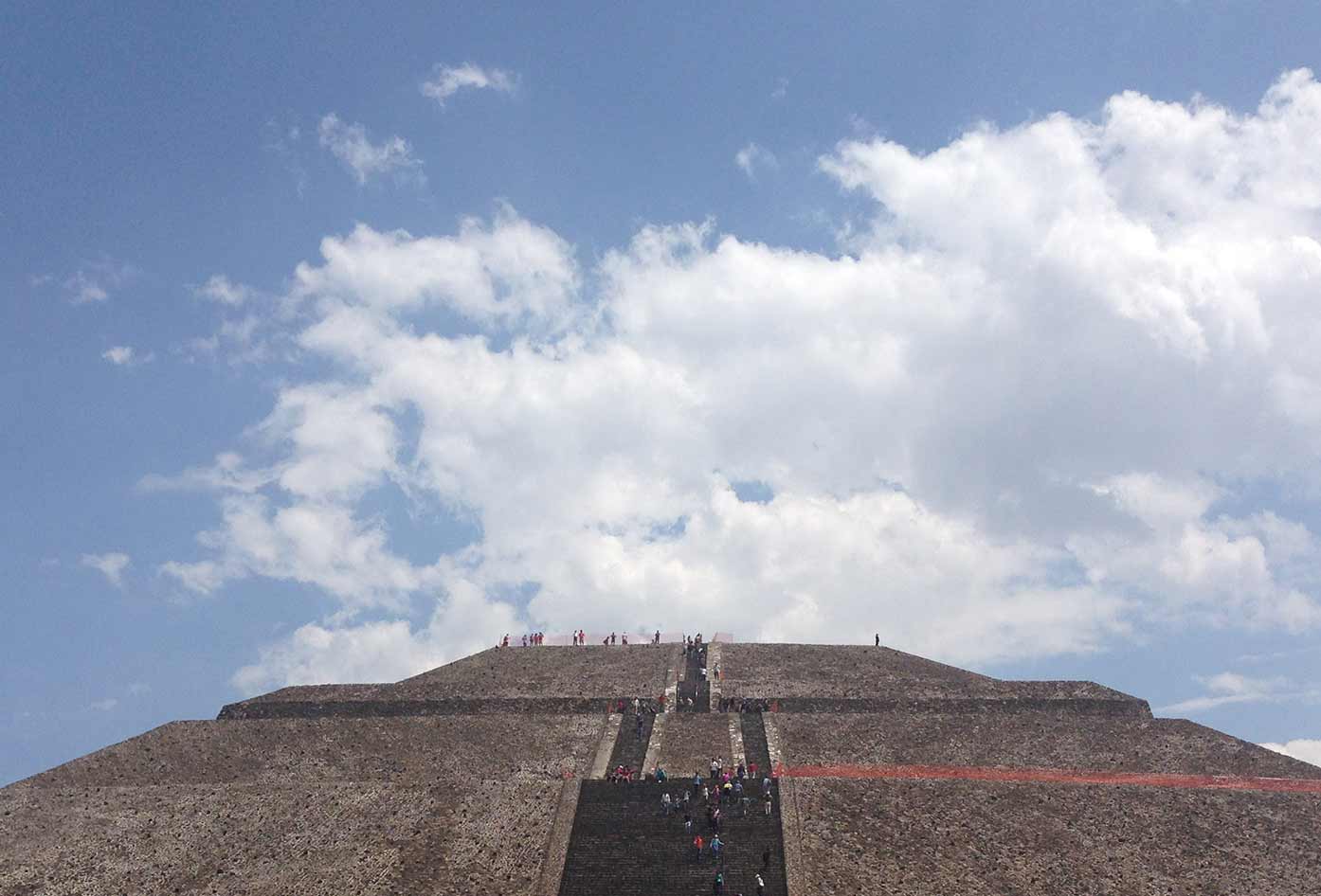 This archaeological site is one of the most famous and most visited in Mexico. You can visit with an archeologist as part of a morning tour.
Teotihuacan is made up of several temples that spiral above the surrounding town. The Pyramid of the Sun is the most notable.
Getting here from Mexico City is quite simple, and only takes under an hour by bus. In fact, they are so popular that there are now a few bus terminals in Mexico City dedicated solely to this destination!
Tula Ruins
Perhaps of this list, Tula Ruins may be the most obscure, and certainly lesser-known by international travelers who head to Mexico.
Located in the adjacent state of Hidalgo, Tula Ruins features a pyramid with dozens of giant-sized warrior statues!
With most ruins simply featuring a pyramid and/or crumbling features, Tula really stands out in its own way.
There are multiple buses leaving from Mexico City daily to the town of Tula de Allende, and only takes an hour and a half to arrive. Or you can go as part of a group tour and get pick up from your hotel.
Puebla and Cholula
Whilst certainly more popular to stay in the city of Puebla, you can easily make a day trip to this magnificent city.
There are many things to do in Puebla including visiting the picture-perfect zocalo and the Catedral de Puebla.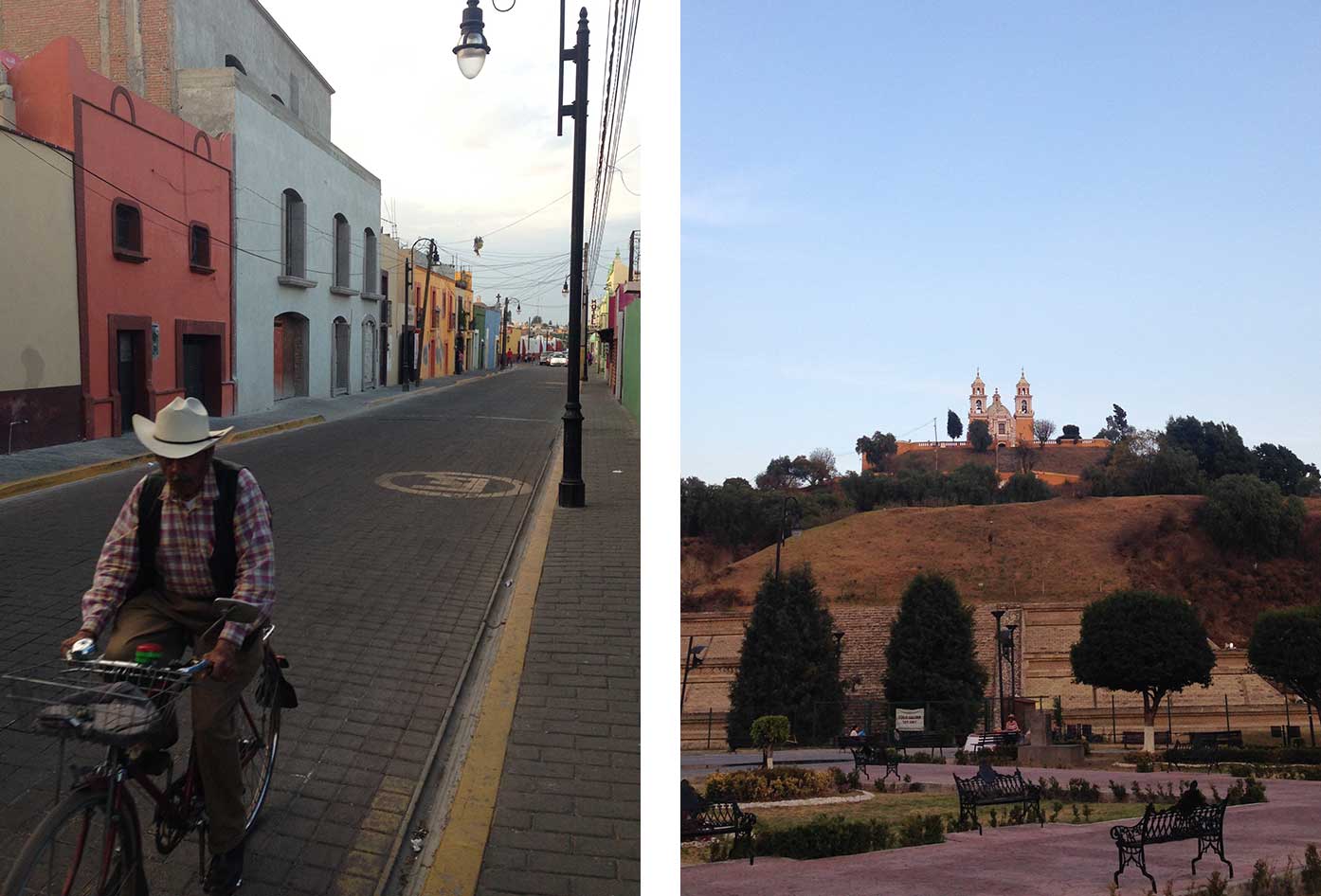 Many also combine a trip to Puebla with the nearby town of Cholula. The town has an awe-dropping pyramid located on top of a hill, with the imposing Popocatepetl looming behind.
If planning to do both in a day, then you will need to leave very early from Mexico City. It takes two hours by bus to reach Puebla, and a further half an hour onwards to Cholula.
Grutas Tolantongo
Tolantongo is an amazing destination to visit and one of my favorites.
Located in the wilderness of Hidalgo, this site is full of naturally warm pools of water that have a bright blue hue.
This looks even more impressive with the contrast provided by the sandy canyons in the background.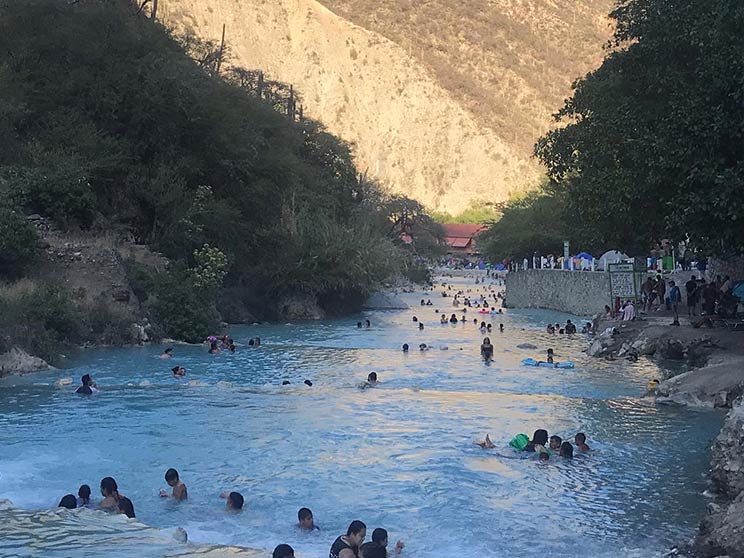 Getting to Tolantongo from Mexico City isn't impossible. However, it will be the hardest (and longest) to reach in this article but 100% doable.
I recommend taking a tour to Tolantongo , as you will want a few hours to kick back and enjoy the site.
If planning on traveling independently then take note. You'll need to wake up early (around 5 am) and take a bus to Ixmiquilpan. Once here, then you can find the shuttles that go onwards to Tolantongo.
Times vary, however you can expect it to take around 3-5 hours to reach the Grutas from DF using public transport.
Mexico City Travel Tips
See the tips below for travel to Mexico City! I will update this section on a monthly basis based on my notes and reflections from this trip.
Got Travel Insurance for Mexico?

Designed by travelers, for travelers, World Nomads covers more than 150 adventure sports and activities so you can explore your boundaries.
Mexico City Itinerary
As you may tell, a weekend in Mexico City is nowhere enough. Especially to experience this mammoth city properly.
Making an itinerary before you head there is highly recommended, in order to make sure you have time to visit everything. Be sure to factor in time for some of the day trips too!
We have also covered some of the other important topics such as transport, safety, and the best time to visit.
Will you be exploring other parts of the country? Read even more Mexico travel guides to get more ideas on what to see and do!
📌 Like this article? Pin it…
Are you thinking of traveling to Mexico City soon?
💬 Leave a comment below or let's start a meaningful conversation…
---
"Dear friend! Some links in this post contain affiliate links. Meaning, if you click through and make a purchase, book a hostel or sign up for a tour, I may earn a small commission at no additional cost to you. Your support means a lot and helps me to keep traveling and maintaining the quality of this site for you."